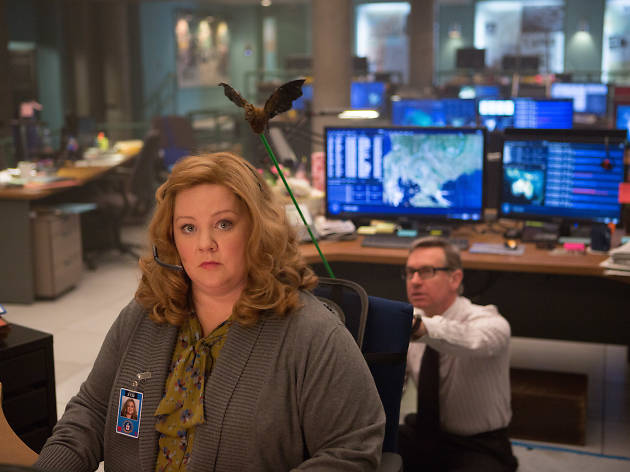 Time Out says
Star Melissa McCarthy and writer-director Paul Feig explore their unique (James) bond in this hilarious pastiche of spy movies
Rose Byrne is the greatest thing to happen to comedy since the invention of the microphone. To that end, perhaps the highest compliment that can be paid to Paul Feig's frequently hilarious Spy, in which the Neighbors star plays a supporting part as a villainous Bulgarian arms dealer named Rayna Boyanov, is that Byrne is barely the best thing in it.
A femme-friendly riff on the stultified gender roles of the James Bond movies, the film kicks off with debonair agent Bradley Fine (Jude Law) doing some quality espionage at a ritzy Eastern Europe cocktail party. Chatting intel into his earpiece from a bat-infested basement back at the CIA is Susan Cooper (Melissa McCarthy), a 40-year-old woman who's been on the job for 10 years without spending a single day in the field. No one takes Susan seriously, and the disrespect of her friends and colleagues has had a predictable effect on her self-worth. (Her mom used to write "Give up on your dreams, Susan" in her lunchbox.) But when Bradley fulfills his transparent function in the story by reestablishing the suave chauvinism of the spy genre and then getting shot in the face, Susan is inspired to take action, avenge her fallen partner and stop Rayna from selling a nuke to anti-American terrorists.
The action Susan takes isn't particularly compelling—despite shiny production values, the hero's breasts aren't the only reason that Spy won't be confused with Skyfall anytime soon—but the jokes often land with deadly force. The tricksy plot allows McCarthy to explore the full range of her comic persona, and Feig is smart enough to get out of her way as the mild-mannered Susan starts wielding f-bombs as comfortably as Bond whips around a Walther PPK. Although the laughs begin to trickle as the film zigzags to the finish line, McCarthy's gobsmacking improv skills have never been more brilliant than when she's volleying one-liners with an old-school rival agent (Jason Statham, legendary). And though it's been two years since they collaborated on The Heat, Spy makes the case that Feig and McCarthy are still just warming up.
Follow David Ehrlich on Twitter: @davidehrlich
Details
Release details
Release date:
Friday June 5 2015
Duration:
120 mins
Cast and crew
Director:
Paul Feig
Screenwriter:
Paul Feig
Cast:
Rose Byrne
Jason Statham
Melissa McCarthy
Jude Law
Miranda Hart

Users say