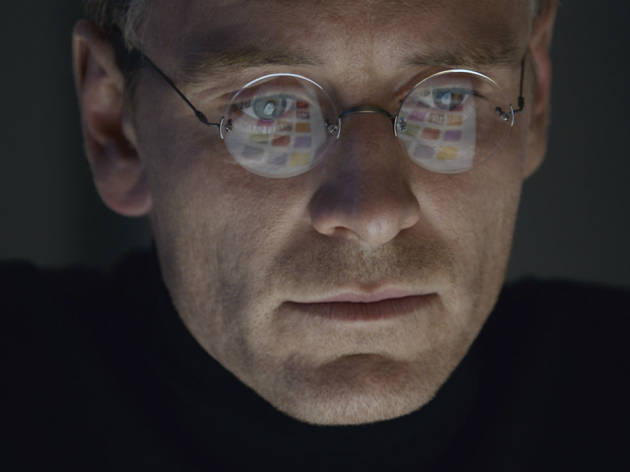 Steve Jobs the movie is a lot like Steve Jobs the person: astonishingly brilliant whenever it's not breaking your heart. Screenwriter Aaron Sorkin, who's written about America's Great Flawed Men with such fire and hyperarticulate pathos that he's threatened to become one himself, outdoes his work on The Social Network with an even sharper and more savage script about a tech visionary whose genius threatens to corrupt his ethics. Meanwhile, Slumdog Millionaire director Danny Boyle—at turns an agreeably rambunctious and disastrously literal choice for this material—does his best to stay out of sight, but whenever he shows his hand, you want to smack it away.
Combining the entrepreneurial narcissism of Slumdog Millionaire with the backstage mania of Birdman, Steve Jobs squeezes the Apple founder's outsized persona into three discrete story sections, each one corresponding to a product launch vibrating with the same make-or-break electricity of a Broadway show on opening night. Michael Fassbender, whose lightning-in-a-bottle performance has distilled the CEO into a nasal whine and a merciless attention to detail, sinks deeper into the role as Jobs develops into the icon he would ultimately become.
The first and most flawlessly scripted slice is set in January of 1984 during the half hour before the unveiling of the initial Macintosh. Fassbender, like a coiled snake whose tail never stops rattling, is too ripped to feel fully persuasive as a burgeoning geek tyrant during this early stretch, but his single-mindedness grows more convincing with every furious line of dialogue. During the 30 minutes he spends obsessively trying to get his prototype to say "Hello" during the keynote speech, Jobs disavows being the father of his daughter, humiliates her mother (Katherine Waterston) and lights the verbal matches that will eventually burn down the bridges connecting him to his boss (Jeff Daniels), his colleague (Michael Stuhlbarg) and his brainiac best friend, Steve Wozniak (Seth Rogen). Perhaps his most rewarding confrontations are those with Joanna Hoffman (Kate Winslet, steady and brilliant), the marketing manager who effectively doubles as his conscience.
The second section jumps to 1988, as an Apple-ousted Jobs launches his doomed NeXT computer, while the third and final act leaps a decade down the road for the debut of the iMac, the first smash of Apple's subsequent series of unprecedented corporate achievements. At one point, Jobs likens himself to a composer by declaring that he "conducts the orchestra," and the metaphor feels increasingly apt as the film's thirds begin to echo each other like rounds of a canon. All of the people closest to Jobs show up for a status report every time he's preparing to take the stage, each of them presenting their own unique challenge to his pathological desire for "end-to-end control" over his operating systems. (If only personal and professional relationships functioned the same way.)
By the time the film gets to 1998, Fassbender has not only become the spitting image of the person he's playing (the short hair and frameless glasses go a long way), he's also made him distinct from his legacy, sprinting along the pencil-thin line between the genius the world got to know and the sociopath we would hear about in whispers. Alas, even Fassbender's miraculous performance can't save director Boyle from himself: After nearly two hours of keeping his worst impulses at bay (prepare to roll your eyes as the image stutters like a computer screen about to freeze), Boyle's shoot-for-the-moon instincts seize on the one maudlin note of Sorkin's script and drive home the final minutes with a wallop of well-meaning schmaltz that reeks of candied bullshit. Boyle's decent nature is diametrically opposed to that of his subject. What's left in the rubble may not be perfect, but it's human, and that's okay.
Follow David Ehrlich on Twitter: @davidehrlich
Release details
Release date:
Friday October 9 2015
Duration:
112 mins
Cast and crew
Director:
Danny Boyle
Screenwriter:
Aaron Sorkin
Cast:
Michael Fassbender
Kate Winslet
Seth Rogen
Jeff Daniels

Rating Breakdown
5 star:

0

4 star:

1

3 star:

0

2 star:

0

1 star:

0
I enjoyed the movie thoroughly and thought Michael Fassbinder was outstanding and brilliant in his interpretation of Steve Jobs. If Jobs was alive today, I think he would be quite enthralled with Fassbinder's nuanced and articulate performance. I also thought that Kate Winslet and Seth Rogan did brilliant work with their characters, although Rogan always seems to be himself with a slight derivation in character with every performance. Jeff Daniels was also good and basically believable in his role. I think that screenwriter Aaron Sorkin did an admirable job at developing the storyline and representing the quirky characters, particularly Steve Jobs. The real Jobs was part genius, part psychopath, part insensitive and selfish, part egomaniacal, and part human.
This movie showed the viewer all these different parts, yet instilled in us all that Steve Jobs may have had some serious flaws in his behavioral eccentricities, but was still a very special and well loved, respected, and iconic master innovator for this century.