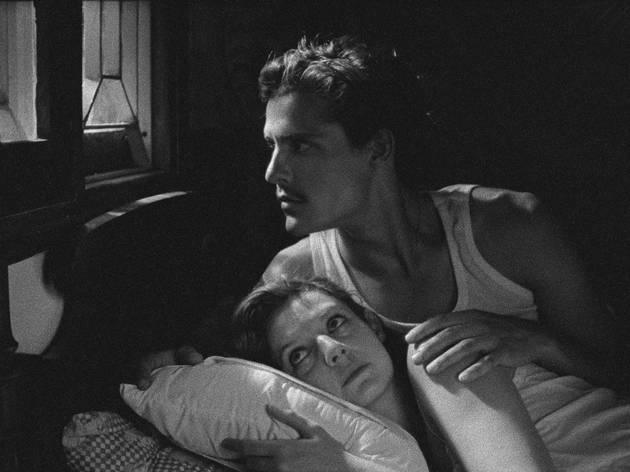 Churlish though it sounds, you'll want to arrive for this b&w Portuguese drama about 45 minutes late. Unconventional, yes, but in so doing, you will spare yourself the film's banal, wholly uninvolving setup, one that even Tabu's admirers—of whom there are a great many—seem to be selectively forgetting. A dully shot Lisbon is the site of an unlikely friendship between apartment neighbors: one a social do-gooder (Teresa Madruga); the other, Aurora (Laura Soveral), elderly, distracted and prone to trips to the local casino. You squirm through these underheated exchanges and the emotional slate-grayness of it all, perhaps intentional but a bad decision nonetheless.
And then, suddenly, we hear of Aurora's past life, on a farm in Africa, where her younger adult self basked. To say Tabu wakes up at this point is to understate both what it means to be drowsy, and how alive certain blessed movies can feel. Miguel Gomes, the director, now makes clear his love of Hawksian romance, smiling crocodiles and the hot breezes that spin around a murderous love triangle. There's virtually no dialogue, only narration, along with an overflow of sexy imagery and an occasional musical number. The whole second half suggests a new way of storytelling—like one of those Wes Anderson montages done by an obsessive fan of Hatari! To judge from Tabu's first hour, pacing is not Gomes's strong suit, yet the filmmaker who emerges might win you over.
Follow Joshua Rothkopf on Twitter: @joshrothkopf
Average User Rating
1.5 / 5
Rating Breakdown
5 star:

0

4 star:

0

3 star:

0

2 star:

1

1 star:

1
Oops - am not perfect 5 star in PC skills. In my honest opinion addendum : rating is regrettably 1 star. And "haqmmy" is not a new strange word but "hammy" in proper english.
I was honestly looking forward to seeing this after many positive reviews but I was sorely disappointed it's turgid long winded pedestrian pace (when I nearly lost the will to live); wooden or haqmmy acting by some parties and, to me, a less than shattering ending. It had the odd enlivening moment but I'm really sorry but a waste of most of 2 hours of my life. I suppose I should have just walked out but you think "well maybe it's going to pick up" .A friend who also went, however, really liked it so maybe what do I know..