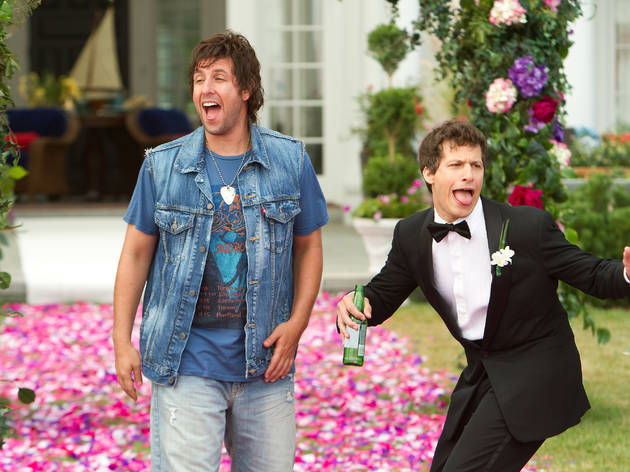 In That's My Boy, Adam Sandler brings it all together: The hot-for-teacher romance of Billy Madison, the '80s nostalgia of The Wedding Singer, the class jabs of Happy Gilmore, the competing product placements, the horny grandmas, the random celebrity cameos and the attempts at ethnic humor that fall somewhere between offensive and a parody of offense. Perhaps it's the near-competent direction, the density of hypothetical jokes (David Caspe, of TV's Chicago-set Happy Endings, signed the script) or a supporting turn from Vanilla Ice ("Uncle Vanny"!) that may well go down as legendary, but the result feels like a career summation. Depending on your POV, it's either the ne plus ultra of Hollywood calculation or a comedy simply intent on pushing its crassness to the point of surrealism.
The movie begins at full regression, with the younger version of Sandler's character, Donny Berger, seduced by his Mary Kay Letourneau–like math teacher (Eva Amurri Martino, looking like Amy Fisher). After their tryst is exposed at an assembly with the message "some have greatness thrust upon them," Donny montage-morphs into a celebutard with his own book (Head in the Class) and TV movie. Decades later, to pay off the IRS, he's enjoined to engineer a TV reunion featuring the estranged, Xanax-popping, spare-underwear-carrying product of this outrageously inappropriate union, a hedge-fund manager (Andy Samberg) who's changed his name to Todd Peterson (birth name: Han Solo Berger) and is about to marry a possible gold digger (Leighton Meester) on a tony New England estate.
Unkempt, dick-fixated and forever hitting people in the head with Rolling Rocks, Donny acts as this metrosexualized financier's raging, Reagan-era id. The movie never quite cashes the check on that satirical angle, but the basic joke—that Todd's fellow Gekkos regard Sandler's Bad Dad as fundamentally no less responsible than they are—keeps on giving. (Nor, it seems, is he less resistible to women.) While Samberg isn't given much to do, the non sequiturs ("nugget pocket"?) and sweetness of the parent-child bonding scenes play well together. And if Anders changed his name to Nicole Holofcener, you'd be reading kinder reviews.
Follow Ben Kenigsberg on Twitter: @benkenigsberg
Release details
| | |
| --- | --- |
| Rated: | R |
| Release date: | Friday June 15 2012 |
| Duration: | 116 mins |
Cast and crew
Director:
Sean Anders
Screenwriter:
David Rayfiel
Cast:
Andy Samberg
Leighton Meester
Adam Sandler