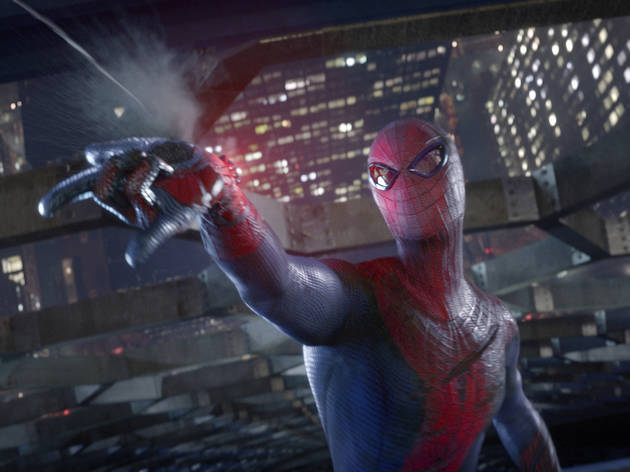 Time Out says
Reach back, scary though it is, to an ancient time—long before the Julie Taymor Broadway musical (2010), before the third and second sequels in the original Spidey trilogy (2007, 2004). That's right, go all the way back to 2002. Viewers who lined up for Sam Raimi's first installment must have been an odd bunch. Waiting patiently, they probably annoyed each other with their dumb phones and Avril Lavigne ring tones. Easing into the viewing experience, these primitive ancestors settled for faintly unrealistic special effects and the wiles of a young Tobey Maguire. How innocent it all must have seemed.
Of course, you do remember: It's way too soon for a reboot, but if you enjoy making Sony wealthy, things could be worse. The Social Network's Andrew Garfield isn't a chirping geek like Maguire so effortlessly was, but his moody, skate-rat conception of Peter Parker—complete with abandonment issues and a teary sulk—works fine. Actually, it makes more sense for a budding vigilante, motivated this time by the memory of missing parents (whose backstory is left coyly unexplored, a rip-off). Emma Stone's science babe has marginally more to do than Kirsten Dunst did, but she's still not a fully fleshed-out character. Meanwhile, scheming Rhys Ifans should be devolving into a lizard any minute now.
On the whole, it's passable stuff, a surprise, given how mechanical the masked character seemed. (Garfield takes his off a lot.) Even though you'll miss that iconic upside-down kiss and the presence of barking boss J. Jonah Jameson (the editor character has been nixed), there's enough exhilaration in Parker's wall-clinging sense of discovery to make the story feel eternal. Marvel's hero—like many others—channels the sticky substance of adolescence into a purpose. Maybe that's a tale worth retelling, even prematurely.
Follow Joshua Rothkopf on Twitter: @joshrothkopf
Details
Release details
Rated:
PG-13
Release date:
Tuesday July 3 2012
Duration:
136 mins
Cast and crew
Director:
Marc Webb
Cast:
Andrew Garfield
Irrfan Khan
Emma Stone
Sally Field
C Thomas Howell
Martin Sheen
Rhys Ifans
Denis Leary