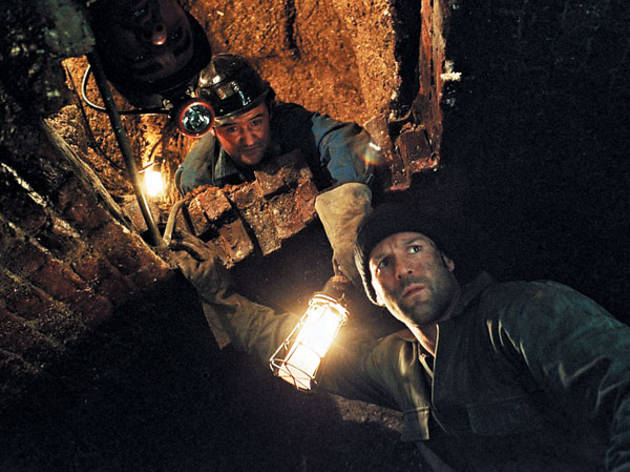 As its prosaic title suggests, this true-life caper flick from Aussie stalwart Roger Donaldson is as
stock as they come, despite a conjectural quasipolitical twist and halfhearted stabs at sociohistorical gravity. That said, The Bank Job gets by fine on its snappy pace, easygoing ensemble performances and fuzzy-wuzzy populism.
Based more or less on a 1971 London bank heist dubbed "the walkie-talkie robbery" (high-tech!), the film assembles a likable gang of working-class crooks to knock over a vault at the behest of an ex-model (Burrows). Unbeknownst to team leader Terry (Statham, playing both to and against type), the femme fatale has an ulterior motive—and a slick government partner (Lintern) who has reasons of his own for arranging the break-in. A sometime porn star (Mays) and an uncomfortably cartoonish black-power leader (De Jersey) figure in.
The robbery itself offers little that Rififi didn't cook up 50-odd years ago, but originality isn't the point here. More screen time is devoted to the protracted aftermath anyway, which throws the movie somewhat off balance and allows it to indulge in knee-jerk antigovernment cynicism. Still, Donaldson builds enough tension and draws enough humor from the situation to cover such lapses.
Release details
Rated:
R
Release date:
Friday March 7 2008
Duration:
110 mins
Cast and crew
Director:
Roger Donaldson
Screenwriter:
Dick Clement, Ian La Frenais
Cast:
Jason Statham
Saffron Burrows
Stephen Campbell Moore
Daniel Mays
James Faulkner
Peter De Jersey
David Suchet