The Best Years of Our Lives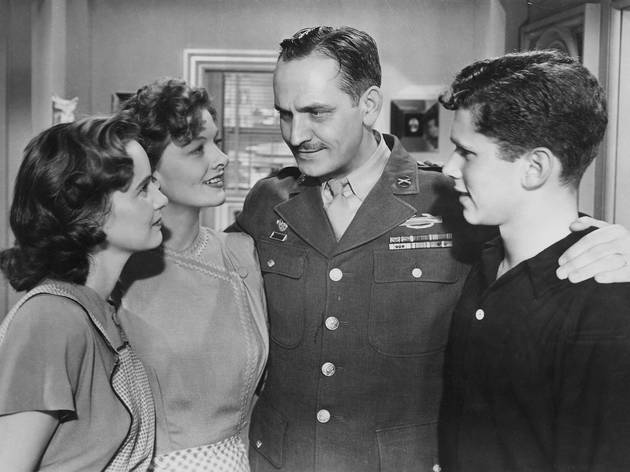 World War II is over, and it's back to the homefront for Sergeant Al Stephenson (Fredric March), Captain Fred Derry (Dana Andrews) and Petty Officer Homer Parrish (Harold Russell). The brilliant opening hour of William Wyler's powerful, if cumbersome prestige picture observes the trio's emotionally charged family reunions, as sentiment segues into anxiety and a drunken night for the ages. Once the morning hangover starts pounding, the real question arises: Where do these soldiers (and the greatest generation they represent) go from here?
Regardless of social status, life off the battlefield is no cakewalk: Parrish has a supportive family and fiancée who still visibly blanch at the hooks that have replaced his bomb-severed hands. (Russell was an actual amputee who had never acted before, and his rawness is a virtue.) Stephenson, a successful bank manager, is torn between his institution's fiscal stinginess and a philanthropic sense of responsibility to his brothers in arms. And Derry—a wrong-side-of-the-tracks type trapped in a loveless marriage—is in the unenviable position of taking his old customer-service job for less pay, all while falling for Stephenson's whip-smart daughter Peggy (Teresa Wright).
It all comes off slightly soapy, and because of the director's perfectionism (he and virtuoso cinematographer Gregg Toland would often do 20 takes or more of any given scene), the film feels fussed-over in a way that other Wyler productions such as the devastating drama The Heiress do not. That isn't to say Best Years lacks for powerful moments, like Derry's purgative tour of a plane-scrap graveyard or the smitten Peggy's steely declaration that she'll "break that marriage up." But the movie does have an air of cautiousness about it, trying so hard to be a respectful, definitive statement on WWII (and often succeeding) that it sometimes feels cadaverous.
Follow Keith Uhlich on Twitter: @keithuhlich
Release details
Rated:
N/R
Release date:
Friday June 6 2014
Duration:
172 mins
Cast and crew
Director:
William Wyler
Screenwriter:
Robert E Sherwood
Cast:
Fredric March
Myrna Loy
Dana Andrews
Teresa Wright
Virginia Mayo
Harold Russell
Hoagy Carmichael