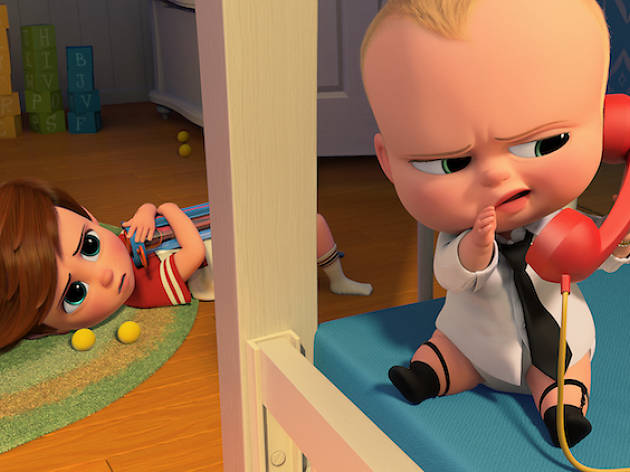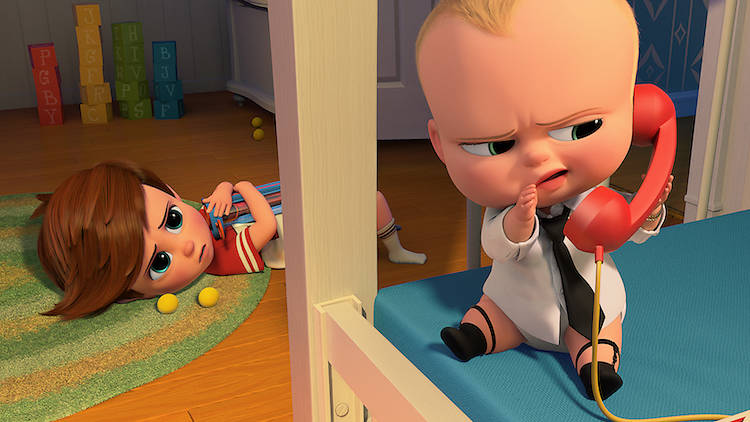 This cartoon about a baby with a head for business is cutesy but boring.
Do you have a six-year-old? Are they conversant in office politics? Do they love intricate, mind-scrambling existentialist narratives that lead nowhere? Then hurry them along to this deeply strange but somehow also very dull family cartoon comedy.
The setup is just plain odd: Before birth, the film reveals, all babies are sorted into two categories. The majority travel to Earth, where they become part of a family. The rest are trained as managers in Babycorp, the company responsible for the manufacture of babies (don't overthink it, because that way madness lies). When promising recruit the Boss Baby (gravel-voiced by Alec Baldwin like he's reading rejected 30 Rock scripts) is sent on a secret mission that's way too silly to go into, he goes undercover with the Templeton family. But their seven-year-old Tim (Miles Bakshi) isn't impressed with his new baby brother.
The Boss Baby is one of those snarky, post-Shrek cartoons that desperately wants to appeal to parents as well as kids, but its relentless pop-culture winks seem workshopped to death (there's a running joke about Gandalf that's bafflingly unfunny). Undemanding kids might get a kick out of its jazzy, restless visual style and poo jokes, but grown-ups will find themselves taking some impromptu nap time.
Release details
| | |
| --- | --- |
| Rated: | PG |
| Release date: | Friday March 31 2017 |
| Duration: | 97 mins |
Cast and crew
Director:
Tom McGrath
Screenwriter:
Michael McCullers, Marla Frazee
Cast:
Alec Baldwin
Steve Buscemi
Lisa Kudrow