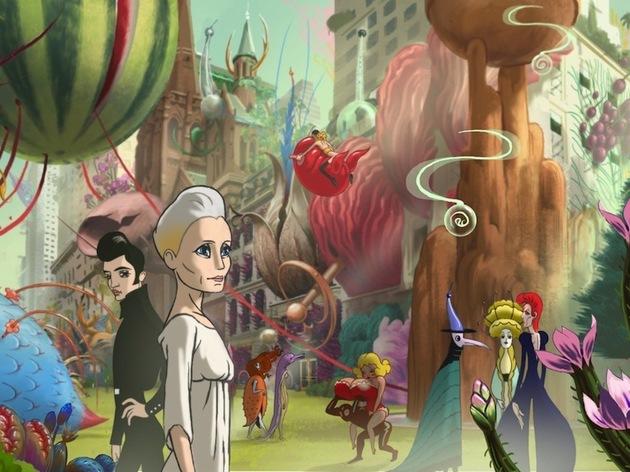 A movie just begging to be termed ambitious, Ari Folman's follow-up to his much-praised Lebanon War documentary, Waltz with Bashir (2008), is consistently fantastic if occasionally frustrating. Unlike the entirely animated Bashir, The Congress (freely adapted from Stanislaw Lem's 1971 novel, The Futurological Congress) begins with a lengthy live-action segment detailing the struggles of actor Robin Wright, playing a fictionalized version of herself. She's long past the point when she charmed audiences as Buttercup in The Princess Bride or as Jenny in Forrest Gump. Mostly she's a stay-at-home mom (her surreal abode is a remodeled hangar located next to a bustling airport) who's devoted to looking after her sickly son, Aaron (Kodi Smit-McPhee). Her movie offers have dried up, and as her frustrated agent (Harvey Keitel) gloomily attests, the very face of cinema is changing, becoming more virtual and immersive, with an emphasis on airbrushed, ageless fantasy.
There's no place for a maturing performer here, so Wright is given a choice: fade into obscurity or sell her likeness (in all media, known and unknown) to diabolical "Miramount" studio head Jeff Green (Danny Huston, doing father John and grandpa Walter devilishly proud). The film's best scene comes soon after she makes her decision: Stepping into a spherical full-body scanner, Wright is directed through a series of simple, affecting gestures that will be digitized and exploited as the studio requires. (As Faust and its many variations have taught us, it's thrilling to watch someone sell their soul—and Wright is especially adept at baring hers as she loses it.) Then we jump forward a few decades, into the film's most mesmeric section, as our heroine becomes one of many fully animated avatars in a world in which people use hallucinogenic drugs to live their pop-cultural fantasies, 24/7.
The sights are consistently splendid (the cartoon Wright's dialogue with a nurse drawn to resemble Grace Jones is a gleeful highlight), even if the themes get increasingly fuzzy. It's like Folman took several different genres—Hollywood satire, speculative dystopian fiction, family melodrama—and fused them into something amorphous and nebulous. Nevertheless, The Congress is meant to be as slippery as its (literally) sketchy main character, who can change her surface identity in a synaptic flash but can never fully escape the sentimental ache that tethers her to flesh-and-blood humanity. This potent emotional undercurrent goes a long way toward counteracting the movie's clumsier moments, carrying us aloft to a finale that, in its strange mix of trepidation and tenderness, is truly sublime.
Follow Keith Uhlich on Twitter: @keithuhlich
Release details
Rated:
N/R
Release date:
Friday September 5 2014
Duration:
122 mins
Cast and crew
Director:
Ari Folman
Screenwriter:
Ari Folman
Cast:
Robin Wright
Paul Giamatti
Harvey Keitel
Danny Huston
Kodi Smit-McPhee