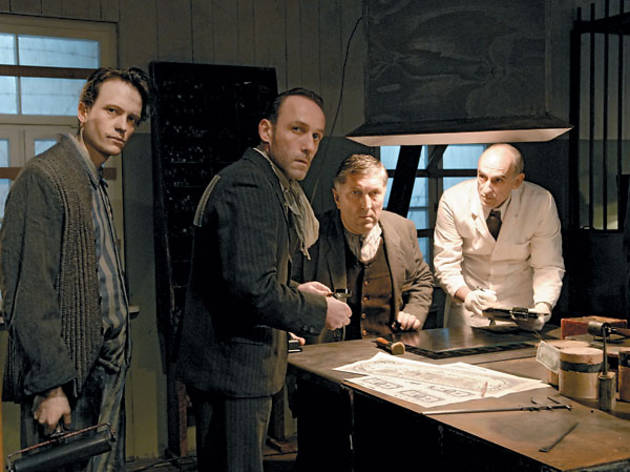 There's something about the pug's mug of Karl Markovics that immediately signifies a history of hard times. The Austrian actor's flattened nose, squinty eyes and charismatic, offbeat handsomeness scream both working-class tough guy and a feral Euro elegance gone slightly to seed; imagine Humphrey Bogart, Jean Gabin and James Woods genetically fused into one compact frame. If great screen performances can be attributed to great casting, then whoever suggested Markovics as the lead in Stefan Ruzowitzky's Holocaust drama with a hook deserves a bonus.
He's the main reason to sit through this tale about a counterfeiter—and Russian Jew—who's busted in Berlin just as Hitler starts his reign of terror. Salvation, ironically, appears in the form of the cop who nabbed him. Now a Nazi overseeing a concentration camp, the officer (Striesow) enlists the printer-prisoner to run "Operation Bernhard," a scheme designed to financially ruin the Allies.
Markovics invests each of his character's phases—smooth-talking slickster, scared but shrewd POW, guilt-ridden survivor—with a palpable sense of bruised humanity. The film, however, exemplifies how unspeakable horrors get turned into screen clichés. Sadistic guards and gaunt inmates are treated like narrative furniture, while Ruzowitzky's faux-doc shaky-cam zooms are less about the banality of evil than the inappropriateness of style.

Release details
Rated:
R
Release date:
Thursday March 22 2007
Duration:
98 mins
Cast and crew
Director:
Stefan Ruzowitzky
Screenwriter:
Stefan Ruzowitzky
Cast:
Karl Markovics
August Diehl
Devid Striesow
Marie Bäumer
Dolores Chaplin
August Zirner