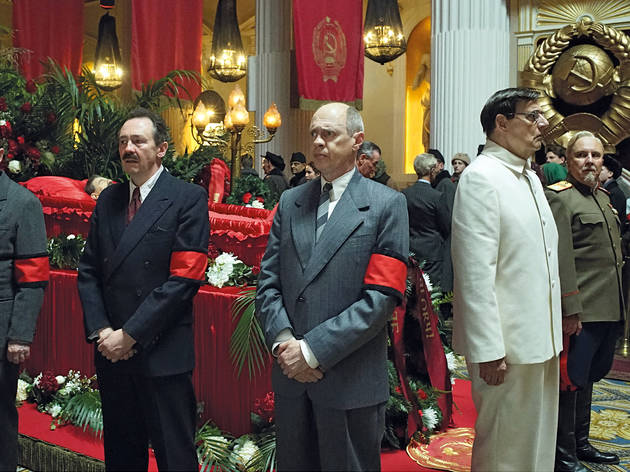 Time Out says
Spreading out a feast of verbal backbiting, writer-director Armando Iannucci trades Veep's Beltway barbs for Soviet power grabs.
Even if you accept the old adage about comedy being tragedy plus time, it feels about a half century too soon to be mining the savage tyranny of Stalinism for gags. But Armando Iannucci (Veep, In the Loop) has managed it and then some, pulling off the funniest British comedy since 2010's Four Lions. Like George Orwell on helium, this reimagining of Joseph Stalin's demise and the subsequent ideological gymnastics of his scheming acolytes is daring, quick-fire and wildly funny.
When we find him in a 1953 Moscow that's alive with paranoia and purges, Joseph Stalin (Adrian McLoughlin) is introduced doing what he loves most: okaying executions and watching American Westerns. But before long, the much-feared dictator is lying comatose on the floor after a stroke sparked by a brave citizen's angry letter of protest (yes, they're that rare). As Uncle Joe wanes—his medical decline is karmically hastened by the fact he's sent all the doctors to the gulag—potential successors leap into the vacuum. Steve Buscemi's wily Nikita Khrushchev (like his Mr. Pink from Reservoir Dogs but even more neurotic), Jeffrey Tambor's dim-witted deputy chairman Georgy Malenkov and Simon Russell Beale's secret police chief Lavrenti Beria lead the charge, hoping to seize power in the fallout. Brit TV legends Michael Palin and Paul Whitehouse round out a politburo stuffed with great character actors.
What follows is a riotous farce of doublespeak and plotting laced with moments of horror. Iannucci's control of tone is such that we're carried from hilarity to revulsion and back again within a few sharply crafted lines of dialogue. It's much darker terrain than his comic dissections of U.S. and British politics, Veep and The Thick of It, respectively—uncomfortably so. Beria, the Soviet system's brutal id, scratches names off lists and rapes young girls he keeps in dungeons. Beale's the primary villain in a film that's overflowing with them, and he brings oily glee to the role.
Delivering even more posturing menace is Jason Isaacs's war hero Georgy Zhukov, who shows up with a chest full of WWII medals and a heap of juicy lines. ("I fucked Germany—I think I can take a flesh lump in a waistcoat," he snipes at Beale's wanna-be power monger.) But the real star here is the guy behind the camera, who proves that he can tickle the funny bone one minute and cut right through it the next. To terms like Pythonesque, it may be time to add Iannuccian: The man is a master and knows no bounds. Hopefully, it's not too soon for his Trump movie.
Details
Release details
Rated:
R
Release date:
Friday March 9 2018
Duration:
107 mins
Cast and crew
Director:
Armando Iannucci
Screenwriter:
David Schneider, Ian Martin, Armando Iannucci
Cast:
Jason Isaacs
Jeffrey Tambor
Steve Buscemi
Michael Palin