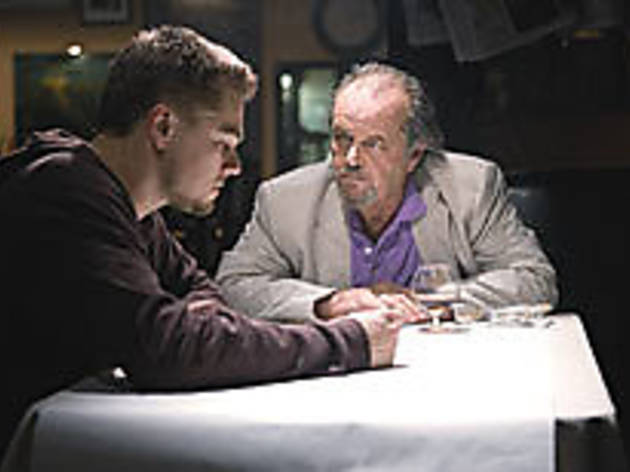 Time Out says
Finally, he's back—back from the nonsense of germophobic aviators, ancient turf wars and the notion that we ever came to him for epics about heroes. From Scorsese, we want epics about stupid jerks. The Departed shares the same lead actor from his last two pictures, but suddenly DiCaprio is perfect, tapping into his silver-tongued weaselliness as a Boston cop lying his way into the Irish underworld. You'll have to go back to GoodFellas to find a Marty movie this fun, this enamored of language, of ethnic slurs, of "Gimme Shelter," of explosive violence. Scorsese's return to form is the year's most dynamic film. Really, how could it not be?
Based on Infernal Affairs, a finely complex Asian policier from 2002 (this is ten times better), the plotting has much the same wit as Face/Off, with DiCaprio's precarious dive mirrored by the spectacular rise of a clean-cut detective (Damon, equally well cast), secretly compromising the force for the benefit of his decadent gangster patron (an unhinged Nicholson, which is saying a lot). You know the two pretenders will eventually clash—our first taste is a silent cell-phone showdown worthy of Michael Mann's Heat—but Scorsese ratchets up the tension in a two-and-a-half-hour feast of absorbing incident, the pair sharing a feisty therapist and bed partner (Down to the Bone's Farmiga) and getting off on their roles. Unexpectedly, the prevailing mood is one of bizarre, cutup comedy, exploited by a supporting cast that would shame most topliners: Alec Baldwin (in his unpredictable Miami Blues register), Martin Sheen, Ray Winstone and the superbly rude Mark Wahlberg. (Opens Fri; Click here for venues.) — Joshua Rothkopf
Details
Release details
Cast and crew
Rating Breakdown
5 star:

3

4 star:

0

3 star:

0

2 star:

0

1 star:

0
"You want them to chop me up and feed them to the poor?!" is one of my favorite lines in any movie, and perfectly sums up this awesome film. The pure anxiety and agony DiCaprio's character voluntarily puts himself through for the greater good just jumps off the screen and bleeds into your own heart until you are right there aching with him. The acting in this movie across the board is phenomenal, a higher level overall than any recent movie I can think of. DiCaprio, Damon, Nicholson, Wahlberg, Sheen, Baldwin ALL at the top of their game. The fact that Leo didn't even get nominated that year is ridiculous.