The Diving Bell and the Butterfly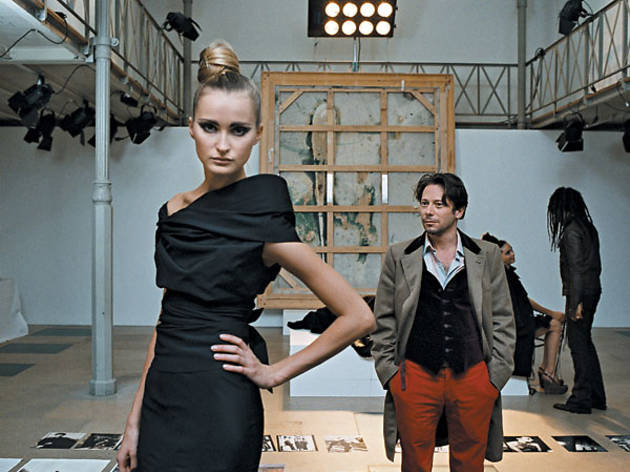 From his first Mary Boone solo show, art star Julian Schnabel has courted a provocateur's stance: the bold, bearded enfant terrible who's going to make you feel something, dammit. Succeed or fail, Schnabel would do it fully. So it's been something of a surprise that his three films to date have been mixed affairs, not exactly muted so much as stunted—with flashes of excellence.
As with Basquiat and Before Night Falls, Schnabel's latest boasts an inspired central turn, here by Mathieu Amalric as the real-life Jean-Dominique Bauby, editor of French Elle who, after being felled by a stroke in 1995 that paralyzed all but one eyelid, still managed to write a memoir. Amalric's performance is magnificent, retaining a rakish independence even while frozen in repose. (The actor has inspired his castmates to equally standout work, especially Emmanuelle Seigner, who's always seemed faintly ornamental, and Schindler's List cameraman Janusz Kaminski, adopting a bedridden POV.)
But despite such commitments, Schnabel can't seem to hit a consistent emotional tone. It's not that his film veers wildly into sentiment, though it does that once or twice. Rather, it alternates with a fickleness between somewhat-dated pop grandeur, courtesy of U2 and Tom Waits, and the reservation of a much darker art film. Bauby is trapped in himself. Optimistically, Schnabel would like to fill such an ordeal with color, music and hot nurses. Wedding himself to Bauby's real trauma, though, seems beyond him.
Release details
Rated:
PG-13
Release date:
Friday November 30 2007
Duration:
112 mins
Cast and crew
Director:
Julian Schnabel
Screenwriter:
Ronald Harwood
Cast:
Mathieu Amalric
Emmanuelle Seigner
Marina Hands
Marie-Josée Croze
Max von Sydow
Anne Consigny
Jean-Pierre Cassel
Issach de Bankolé
Olatz Lopez Garmendia