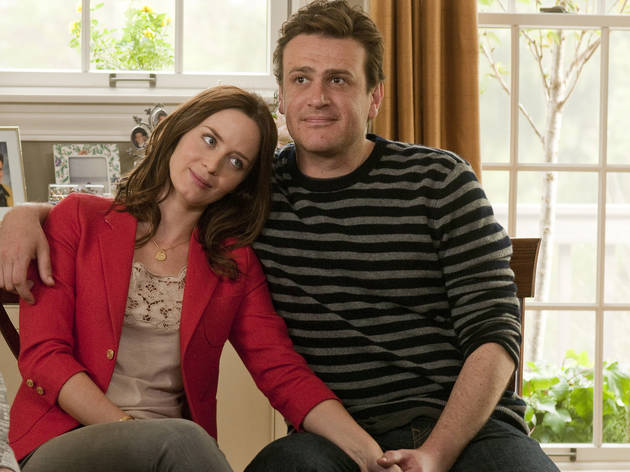 Time Out says
All engaged couples go through rough patches on their journey toward walking down the aisle; for Tom (Jason Segel) and Violet (Emily Blunt), the road gets especially rocky. No sooner have the two lovebirds announced their nuptials than a career opportunity for the would-be bride forces a relocation from the Bay Area to Minnesota. Wedding plans are put on indefinite hold; as the years go on, resentments build up, emotional funk gives way to god-awful facial hair, and arguments become increasingly nasty. Can these two overcome the obstacles put before them? And exactly how many misfiring jokes about pantsless males can a film make?
Like a mug of chamomile tea spiked with a dropper of cheap vodka, Nicholas Stoller's relationship-roller-coaster comedy has hints that something stronger and slightly edgier might lie beneath its smooth surface: Characters lace casual conversations with conspicuously creative cock references (did you know cold weather will give you "baby dick"?), drunken sex may involve being hard-slapped with deli meats, and just because you're in a rom-com doesn't mean you can't lose a toe to frostbite. But don't be fooled by the foulmouthery: This is the same old safe, sappy movie that shows up on TBS every weekend, the kind that would never let a few gratuitous dirty lines of dialogue or "frank" moments keep it from lulling viewers with platitudes about the power of love.
What this wilting, wobbly look at premarital pitfalls really signals, however, is that the Apatow raunch-com model may have run its course. The bearded producer's touch is all over this, from the mix of sweet and salty elements to giving the second bananas more moments to shine than the leads (congratulations, Parks and Recreation's Chris Pratt; you officially steal the movie). But whereas Stoller and Segel did wonders with the formula in 2008's Forgetting Sarah Marshall, a certain overfamiliarity creeps in long before the going gets rough. Combine that with outright laziness about using the filmmaking to complement the funny—would it kill people to construct a scene that doesn't just arbitrarily cut away after a punch line?—and the fact that relying on Segel and Blunt's ample charms alone simply isn't enough to carry an unnecessarily long, winding story line, and the sense of deflation soon becomes overwhelming. There are two love affairs that are in danger of falling to pieces here, and only one of them is on the screen.
Follow David Fear on Twitter: @davidlfear
Details
Release details
Rated:
R
Release date:
Friday April 27 2012
Duration:
124 mins
Cast and crew