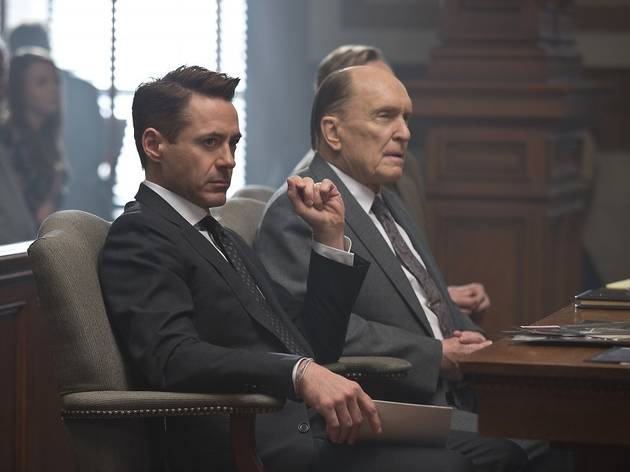 Time Out says
The sort of film that shouts where it could whisper and stomps where it could tiptoe—and not always disagreeably—The Judge pitches a slick prodigal son, lawyer Hank (Robert Downey Jr.), against his aging, cantankerous father, Joseph (Robert Duvall), a blinkered provincial judge still ruling over cases. It's a melodrama of big gestures and even bigger weather, and there's pleasure to be gained from its old-fashioned charms, even if its various working parts—Janusz Kaminski's far-from-intimate cinematography, Wedding Crashers director David Dobkin's comic leanings, Downey's inescapable vanity—rarely seem to be working in complete harmony.
"This family's a fucking Picasso painting," spits Hank when he returns to his family's Indiana small town for the first time in years. Hank's mother is dead, and he's back for the funeral, reuniting briefly with his two brothers, one (Vincent D'Onofrio) who bears a grudge and another (Jeremy Strong) whose childlike mental state means he still lives at home, the innocent ingredient in a dysfunctional domestic stew. Elsewhere, one of Hank's old flames (Vera Farmiga) now runs the local diner, but it's her grownup barmaid daughter (Leighton Meester) to whom Hank unwittingly takes a shine.
Hank's brief homecoming then morphs into something that could give John Grisham a run for his money when his dad suddenly finds himself in need of legal counsel. Out of the blue, Joseph is accused of deliberately killing a no-good local in a hit-and-run car accident. It's lucky, then, that his son's a lawyer and that the local courthouse looks like a set ready-made for the movie's third act. It's lucky for Billy Bob Thornton too: He gets to chew the courtroom wood-panelling as a smarmy prosecution lawyer.
A charismatic performance from Downey and the growling presence of Duvall make up for a multitude of sins in this big, brash family drama that puts the heavy emphasis on drama over family—so much so that a central showdown between Hank and Joseph seems to catch the filmmakers unaware. Yet there's a stream of provincial resentment and nastiness running through The Judge that stops it from being entirely hollow. It's a simple story about a lost boy coming home that's overcooked, overdecorated and sentimental. At the same time, though, its bear-hug energy and distracting cast just about count as fair compensation.
Details
Release details
Rated:
R
Release date:
Friday October 10 2014
Duration:
141 mins
Cast and crew
Director:
David Dobkin
Screenwriter:
Bill Dubuque, Nick Schenk
Cast:
Robert Downey Jr.
Vera Farmiga
Robert Duvall
Billy Bob Thornton

Users say