The Kid Who Would Be King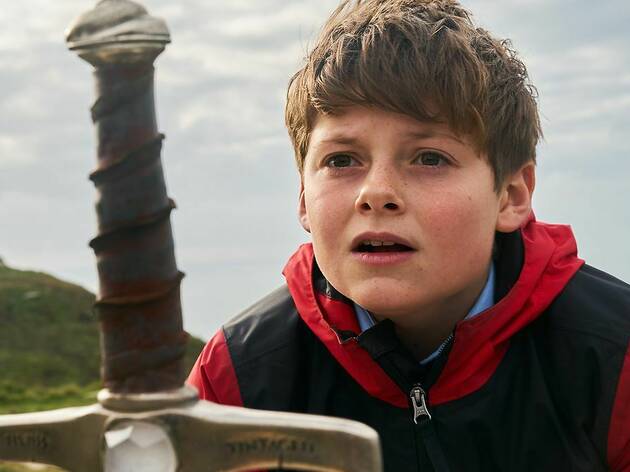 Time Out says
The legend of King Arthur gets a kid-centric Spielbergian freshening-up courtesy fantasy director Joe Cornish.
There's something so nostalgic about writer-director Joe Cornish's second film, lovers of '80s movies will forgive it just about anything. This fantasy adventure—a Spielbergian spin on Arthurian legend that sticks London high-school life, ancient wizards and some CG-enhanced battles into a big old blender—doesn't quite match his sci-fi debut Attack the Block for surefootedness, but it's another neat showcase for Cornish's zinger-filled screenwriting, his intuitive ear for young kids' patter and anxieties, and the diversity of his home town.
It does more than just gesture at empowering those kids, too. Like the Amblin movies that clearly inspired it—E.T. the Extra-Terrestrial and The Goonies—its young heroes know something the adults in their lives don't. Here, 12-year-old Alex (Louis Ashbourne Serkis, as natural as you'd expect from the son of Andy) and his best mate Bedders (Dean Chaumoo) face the onerous responsibility of saving humanity from an army of the undead. It's a lot to deal with, especially with the school bully on their case and Alex's dad missing in action in equally Spielberg-like fashion. His mum (Denise Gough) does her best to encourage him, but it's not until he stumbles upon the sword Excalibur at a building site that he finds real purpose.
This mythical McGuffin is tossed in unexplained, but before you can stop to wonder how no one else had noticed it—The Construction Worker Who Would Be King doesn't have the same ring to it—we're off on a quest. In this, Alex and Bedders, a Frodo-and-Samwise pairing of resourcefulness and courage, are aided by that other Arthurian staple, Merlin. The wizard's powers of transformation see him first incarnated as a young man (Angus Imrie), posing as the pair's new classmate but utterly failing to master contemporary vernacular, then as his ageless self (Patrick Stewart, thesping it up royally), and occasionally for travel purposes, as a bird.
This ancient-meets-modern set-up provides plenty of opportunities for fish-out-water gags and one of the greatest fried-chicken jokes committed to the screen. If Cornish is most at home with these comic beats and in essaying his young heroes' dawning realization of what they're up against—Rebecca Ferguson's lank-haired she-demon Morgana—The Kid Who Would Be King struggles to lift its bigger action sequences and VFX-enhanced baddies above the generic. It falls short of enchanting but it's never less than fun and likable. Watch it through the eyes of your inner teenager and you'll have a blast.
Details
Release details
Rated:
PG
Release date:
Friday January 25 2019
Duration:
120 mins
Cast and crew
Director:
Joe Cornish
Screenwriter:
Joe Cornish
Cast:
Rebecca Ferguson
Patrick Stewart
Tom Taylor
Louis Ashbourne Serkis
Dean Chaumoo

Users say