The Killing of John Lennon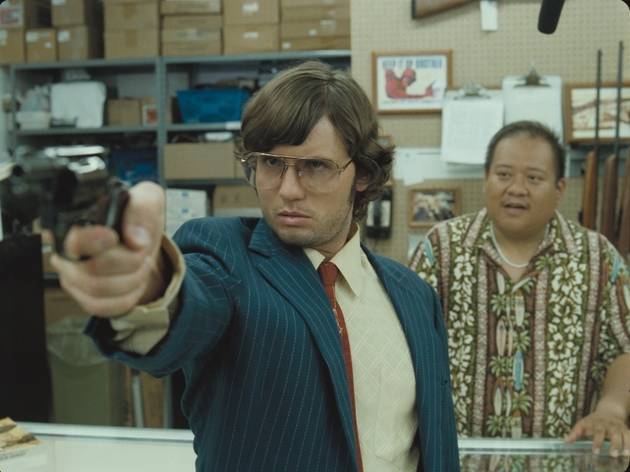 You can think of a million reasons to sit through a movie about John Lennon (though whether anyone needs to endure another musician biopic is a different conversation altogether). But there's only one justification for stomaching the saga of Mark David Chapman, the man who ended Lennon's life in 1980, and that's to get a bead on why this murder happened. If Andrew Piddington's admirable docudrama proves anything, it's that the ability to truly understand Chapman still remains beyond our reach. An inquiring mind can pore over testimonials or watch an actor as talented as Jonas Ball—whose performance is genuinely unnerving—dutifully carry the story to the inevitable conclusion. Not even walking a mile in a sociopath's shoes, however, can get you inside his head.
That doesn't stop Piddington from meticulously retracing Chapman's steps, starting with the killer's burgeoning death wishes in Hawaii, creeping through the days leading up to the encounter outside the Dakota and ending with his conviction. The film dares to hint at psychological possibilities past Catcher in the Rye finger-pointing, notably that the deluded assassin wanted to end the '60s represented by his embarrassingly libertine mother. Since true insight remains an impossibility, the director relies on classic representations of a fractured psyche: nonsynched sound, jagged editing, rear-projected home movies. The fact that we're never sure whether quotes from Taxi Driver and Apocalypse Now are products of the subject's or the filmmaker's media-saturated mind isn't just distracting; it's a major meta-misstep.
Release details
Rated:
NR
Release date:
Wednesday January 2 2008
Duration:
114 mins
Cast and crew
Director:
Andrew Piddington
Cast:
Jonas Ball
Krisha Fairchild
Gunter Stern
Gail Kay Bell
Mie Omori
Robert Kirk
Richard Sherman