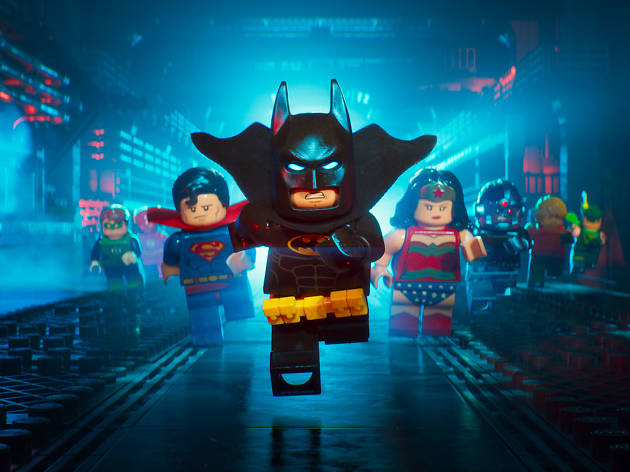 Time Out says
A little plastic bat (with a huge ego) fights the forces of evil in this hilarious comic-book pastiche that often works better than the Christopher Nolan films.
The breakout star of 2014's The LEGO Movie now gets his own action-packed, completely batshit superhero spinoff, The LEGO Batman Movie. The first LEGO film was a real surprise: What could have been a lazy cash-in turned out to be sweet, funny and fiendishly original in the way it acknowledged and celebrated its own artificiality. And one of the film's highlights was its take on Batman: a self-involved millionaire playboy who dresses in black body armor to fight crime and chase chicks. The inept egomaniac is a time-honored comedy archetype—think Jack Sparrow, Daffy Duck or Donald Trump—but thanks to razor-sharp writing and Will Arnett's snarling, impossible-to-hate vocal performance, this Batman felt fresh and fun.
Happily, the same goes for his solo debut, a ferociously paced, wildly silly pastiche of those comic-book blockbusters we're all getting a bit sick of. The plot may draw on another creaky comic cliché—Batman inadvertently adopts adorable orphan Robin (Michael Cera) and has no idea what to do with him—but The LEGO Batman Movie is so jam-packed with ideas, asides and out-of-left-field cameos (Lord Voldemort! Marlon Brando! Gremlins!) that there's barely time to notice. Some of it might go over kids' heads—there's a running gag about Jerry Maguire that will bemuse anyone under 35—but they will lap up the frenetic action and slapstick.
Like its predecessor, The LEGO Batman Movie also manages to find an emotional center amid the mayhem. Batman may be outwardly invincible and abrasive, but deep down he's a lonely soul, refusing to admit to the Joker (Zach Galifianakis) that their adversarial relationship is anything special ("I like to fight around," the Dark Knight says). His quest to discover the meaning of friendship and family proves borderline cheesy but ultimately affecting, and it makes the film feel like more than just another hectic pop-culture parody.
Details
Release details
Rated:
PG
Release date:
Friday February 10 2017
Duration:
104 mins
Cast and crew
Director:
Chris McKay
Screenwriter:
Seth Grahame-Smith, Chris McKenna, Erik Sommers, Jared Stern, John Whittington
Users say