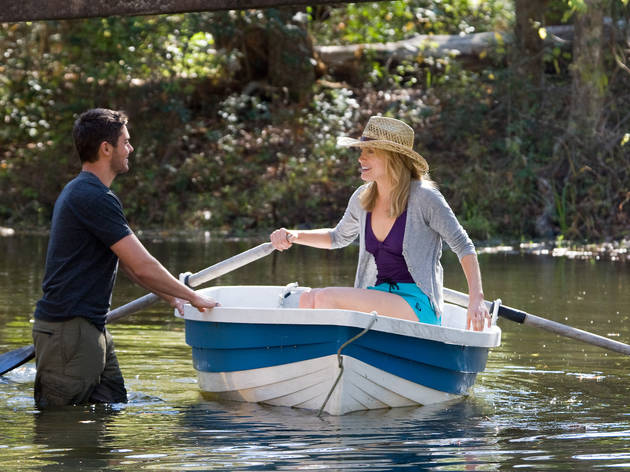 Question: What's the only thing worse than doing an unfaithful film adaptation of a Nicholas Sparks novel? Answer: Doing a completely faithful one. A one-man cottage industry for insipid romantic sap, Sparks specializes in stories of chance encounters that lead to pitter-pattering hearts, moist eyes and, for readers, damaged pancreata. Naturally, Hollywood fell in love at first sight, yet for every memorable moment the movies have squeezed out of the author's work (think of the iconic wet clinch between Ryan Gosling and Rachel McAdams in The Notebook), le cinéma de Sparks has delivered a dozen melodramas barely suitable for airplane viewing.
This take on his 2008 book about an Iraq War veteran won't do much to change that view, even if fans swoon over how the sensitive soldier Logan Thibault (Zac Efron) bats his baby blues at Beth (Taylor Schilling), the young woman whose picture he found on the battlefield. Her photo saves him—twice—from enemy attacks, so once Logan returns stateside, he walks from Colorado to Louisiana to meet her. (Not that regional specificity really matters here; other than a jambalaya mention and shots of mossy trees, these two could be any place in Heartland, USA, where every other hour is the golden hour.) Once the two future lovers lock eyes, it's all masculine handiwork montages, sassy Blythe Danner comments, and overcoming obstacles set forth by Beth's Cro-Mag, d-bag ex-husband (Mad Men's Jay R. Ferguson).
Director Scott Hicks may have been able to turn a typical biopic story into something spiky and unique with his 1996 breakthrough movie, Shine, but he's unable to do much with this material besides keeping the audience's wish-fulfillment quotient high. Despite his newly beefed-up appearance, Efron still projects a one-dimensional handsomeness and a screen presence that doesn't scream leading man, while Schilling, blessed with the well-scrubbed prettiness of a country-pop star, lets her looks do the heavy lifting; Gosling and McAdams these two ain't. Which, in a way, makes them the perfect stars for this movie: Like its performers, The Lucky One isn't bad, so much as achingly banal, the sort of instantly consumable and forgettable factory-produced love story that leaves you with no impression whatsoever.
Follow David Fear on Twitter: @davidlfear
Release details
| | |
| --- | --- |
| Rated: | PG-13 |
| Release date: | Friday April 20 2012 |
| Duration: | 101 mins |
Cast and crew
Director:
Scott Hicks
Screenwriter:
Will Fetters
Cast:
Blythe Danner
Taylor Schilling
Jay R Ferguson
Zac Efron