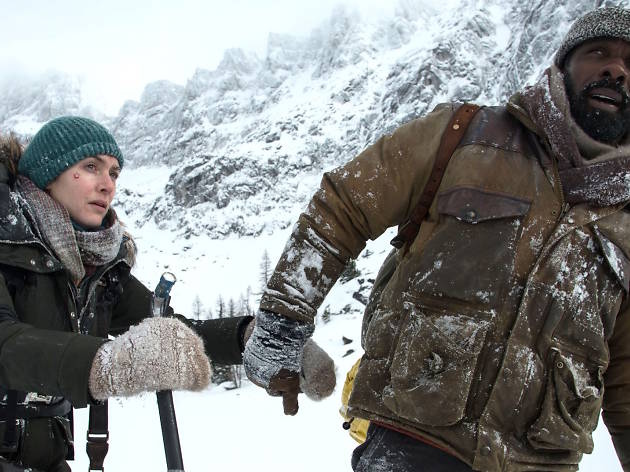 Kate Winslet and Idris Elba rough it in a survival movie tinged with romance and a few broadly telegraphed twists.
Alex (Kate Winslet) and Ben (Idris Elba) are strangers who survive a plane crash—but will they survive the snowy wilderness? The Mountain Between Us is a heady combination of disaster movie and romance, anchored by strong performances from its charismatic stars. Based on the novel by Charles Martin, it sees the pair meeting at a Salt Lake City airport where their flight is cancelled. She's a photojournalist desperate to get home for her wedding the next day (cutting it fine!); he's a surgeon who needs to perform a life-saving operation on a 10-year-old boy. Why not hire a small plane together, along with an iffy-looking pilot and a storm on the horizon?
It's a pulp-romantic setup, but Winslet in particular adds authenticity and the script takes its time to build up to the inevitable. Fans of survival movies will be well served by the pair's attempts to make a nest out of the broken plane, and their dilemmas are nail-biting (should they stay and wait for a rescue mission or go hiking in the freezing snow?). It's slightly frustrating that Winslet's character is nearly always the one who needs protecting, but the actor is strong-willed enough to compensate. That said, for an investigative journalist, Alex sure misses some heavy-handed hints about Ben's past that audiences will pick up on immediately.
Still, the chemistry between the leads is good, the suspense sufficient and the ending a gentle tug on the heartstrings. It's the kind of film that knows its audience and delivers without breaking into a sweat. Oh, and there's also a cute dog, who seems far better at this survival thing than anyone else.
Release details
| | |
| --- | --- |
| Rated: | PG-13 |
| Release date: | Friday October 6 2017 |
| Duration: | 103 mins |
Cast and crew
Director:
Hany Abu-Assad
Screenwriter:
Chris Weitz
Cast:
Kate Winslet
Idris Elba
Beau Bridges
Dermot Mulroney