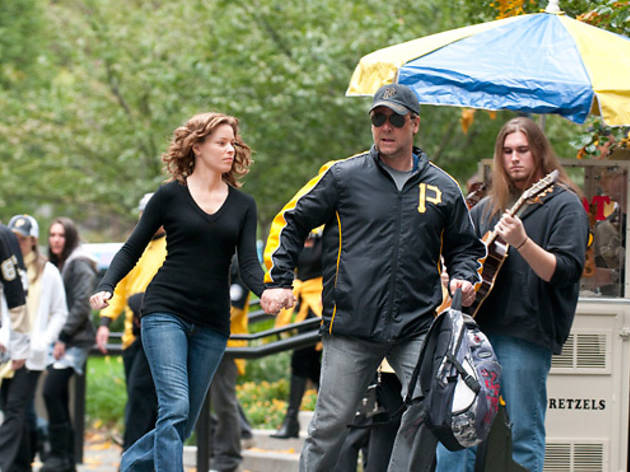 A decade is an eternity in an actor's life, even among the privileged few who would try to stop the clock. Consider the case of Russell Crowe, who in a pre-Maximus flourish, played an outraged intellectual in Michael Mann's The Insider (1999). That role required the anxiety of a weak person thrust into heroism. For the ridiculously contrived thriller The Next Three Days, Crowe attempts to return to similar humble garb, this time as a community-college professor---and you never buy it. The problem isn't his paunchy intensity. You can even believably allow him a gorgeous wife, played by the charming Elizabeth Banks. (Teachers can dream, right?)
But in the space of a few minutes and a convoluted flash-forward structure, we learn that this union has been plagued by misfortune: She's in prison, convicted on strong evidence for murder, and he's a steadfast believer in her innocence. Bring on the jailbreak! Bring on the effortless operator of firearms, the expert highway driver. You keep waiting for the movie to grow a brain, for that random attractive neighbor (Wilde) to turn out to be a decoy, for Banks herself to become suspect. Nope. The Next Three Days morphs into The Fugitive on steroids.
The story started off as France's Anything for Her (2008), itself an absurd effort. But it's been given a special patina of self-seriousness by Crash's Paul Haggis, who adapted the script and directs. Loosely translated, this means that after a semi nearly smashes the duo to pulp, you get a quiet moment by the car, in which the craziness of modern life is sadly contemplated. Or maybe it's just the craziness of modern scripts.
Watch the trailer