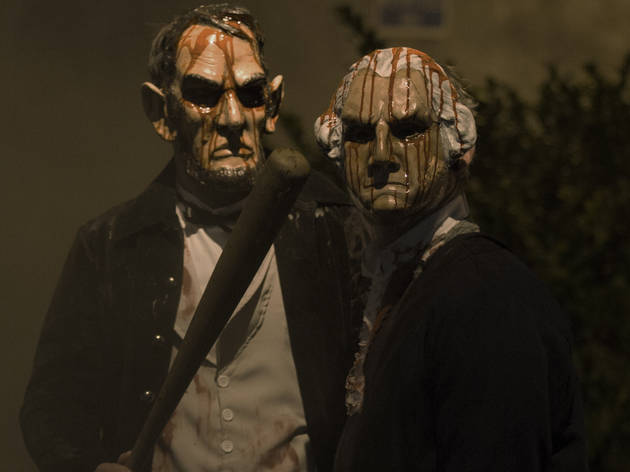 Once again, all crime is legal for a night, in a sequel that's more political—and more timely.
James DeMonaco, creator of The Purge (2013), must be the happiest man in America right about now, given the confrontational mess our Presidential campaign season has become. In The Purge: Election Year (the third in his dystopian film series), the writer-director both channels and takes advantage of the ideological rage and frustration that has fueled the current political scene, granting this sequel an extra bit of blunt force.
The focus this time is on a female senator and Presidential candidate (ahem) whose platform is built on ending the Purge, the annual 12-hour period when all crime (especially murder) is legal. Election Year makes explicit what the previous films only hinted at: The Purge has been designed by the all-white ruling cabal—the New Founding Fathers of America—to whittle down the poor nonwhite masses. Thus, Sen. Charlie Roan (Lost's Elizabeth Mitchell), after surviving an NFFA assassination attempt, goes on the run through the violent streets of Washington, D.C., with her head of security (Frank Grillo, returning from 2014's The Purge: Anarchy). They're helped out by a group of working-class African- and Mexican-American citizens led by deli owner Joe (Mykelti Williamson).
The action is largely routine and the dialogue rarely more than functional, but DeMonaco, marshalling the franchise's best production values yet, shrewdly taps into the angry zeitgeist; his vision of an America where the citizens are encouraged to express their basest emotions is more relevant than ever. While there's no explicit Donald Trump analog, the climactic sequence, where the filmmaker really hits his stride, offers a scary glimpse of radical conservatism taken to its logical extreme. The NFFA doesn't want to build a wall to keep out undesirables, but rather to exterminate those already here, and Election Year's extrapolations of contemporary anxiety lend an urgency to its run-and-gun scenario.
Release details
Rated:
R
Release date:
Friday July 1 2016
Duration:
105 mins
Cast and crew
Director:
James DeMonaco
Screenwriter:
James DeMonaco
Cast:
Frank Grillo
Elizabeth Mitchell
Mykelti Williamson