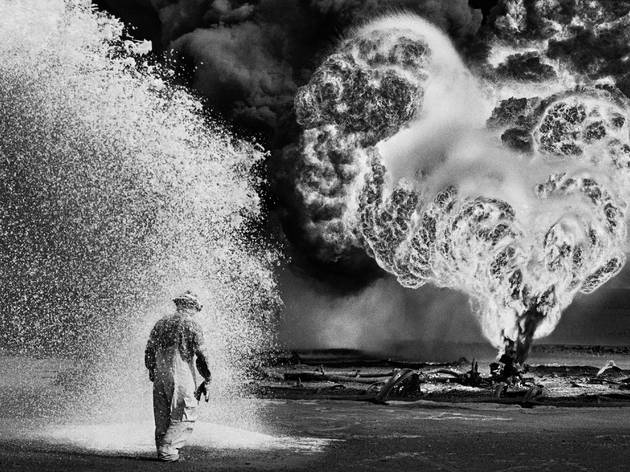 Yet another Wim Wenders documentary about a fellow artist (Pina), The Salt of the Earth is but the latest example of the director using his camera as a tool with which he might more clearly see one of his favorite creators. But who wouldn't be interested in making a movie about 71-year-old Sebastião Salgado, the Brazilian shutterbug whose keen vision and dauntless compassion turned his camera into an indispensable witness of inhumanity as it appeared in the 20th century. But Wenders needs him, as his capacity to tell original stories seems to have atrophied. It's people like Salgado who have helped the German filmmaker remain such a vital voice.
Early on, Wenders offers a strange admission: Juliano Ribeiro Salgado, the subject's son (and a credited codirector), was already in the process of making a documentary about his dad when Wenders was invited to tag along for an outside perspective. Though Wenders's transparency is to be admired, it immediately identifies why the film lacks the conceptual dynamism of Pina or the urgency of Lightning Over Water; here, Wenders is trying to eke purpose out of opportunity, whereas usually it's purpose that drives him to create opportunity.
Wenders's reverent enthusiasm for his subject is evident throughout the film, and he details every chapter of Salgado's life with an acolyte's inability to separate the wheat from the chaff. Tracing Salgado's evolution from an economist to a poet of light, Wenders layers the Brazilian's wistful reflections over an exhaustive and consistently breathtaking selection of his monochrome work. Salgado's most formative images are projected onto a semitransparent mirror as he shares his talking-head testimony, the photographer's silhouette clouding the photographs (and vice versa) in a succinct expression of how inextricable the artist is from his art.
Although The Salt of the Earth is peppered with new and archival footage of Salgado at work (it's a delight to see the old man barrels along a stony beach in order to sneak up on a seal for the perfect shot), the film often plays like an annotated slideshow. One frame at a time, we follow along as he isolates moments from the Ethiopian cholera epidemic to the Rwandan genocide, his faith in humanity wavering with every new atrocity he sees. As the film unfolds, a thick tension develops between what Salgado saw and how he remembers it, the cumulative heft of his photographs weighing on his shoulders, until you start to wonder how he has the strength to get out of bed. "Everyone should see these images," he concludes, "to see how terrible our species is." But while Wenders makes the case that Salgado found peace, The Salt of the Earth is powerless to share that sense of self-actualization, this otherwise lovely documentary ultimately letting its subject slide out of focus.
Follow David Ehrlich on Twitter: @davidehrlich
Release details
| | |
| --- | --- |
| Rated: | PG-13 |
| Duration: | 110 mins |
Cast and crew
| | |
| --- | --- |
| Director: | Juliano Ribeiro Salgado, Wim Wenders |
| Screenwriter: | Juliano Ribeiro Salgado, Wim Wenders |