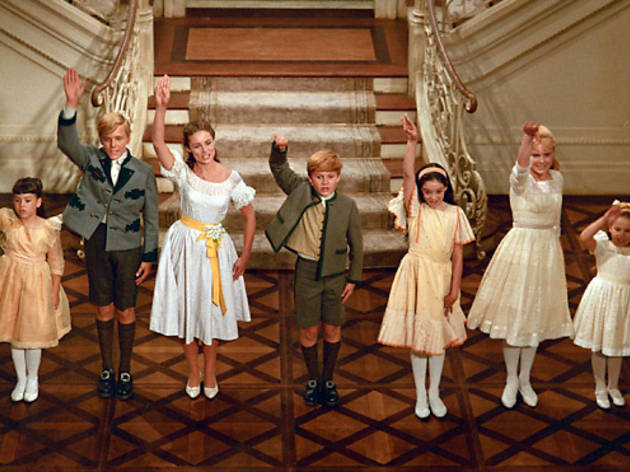 Go ahead and adjust that star rating accordingly. There are some of us who know every word to "So Long, Farewell," who leap happily over the scales of "Do-Re-Mi," who lunge into "Climb Ev'ry Mountain" and take a contented snooze during "Edelweiss." Then again, it might be nice to stand in solidarity with the late critic Pauline Kael, who called the musical "the sugarcoated lie people seem to want to eat." (It's rumored that Kael's slam got her dismissed from McCall's.)
To these eyes and ears, the truth exists somewhere in the middle. Robert Wise's megaproduction, much of it shot on location in Austria, looks glorious---while also feeling remote. The songs, by Rodgers and Hammerstein, are infectiously catchy---like earwigs that burrow into your brain for days. Julie Andrews and Christopher Plummer are handsomely attractive (robots?). And who wouldn't want to be a governess to these cute Von Trapp kids, lest they turn into Nazi youth?
Ultimately, The Sound of Music is no heartbreaker like The Umbrellas of Cherbourg, no physical stunner like Yankee Doodle Dandy or Singin' in the Rain. But it is a Hollywood landmark and comfort food. That's got to count for something, especially when so much money is spent on less satisfying ends. This 45th-anniversary edition is really more for the Blu-ray (which comes in the same combo package as the DVD). Both formats look incredible, and there are sing-along options on the audio tracks. If you just squealed, this will be one of your favorite things.