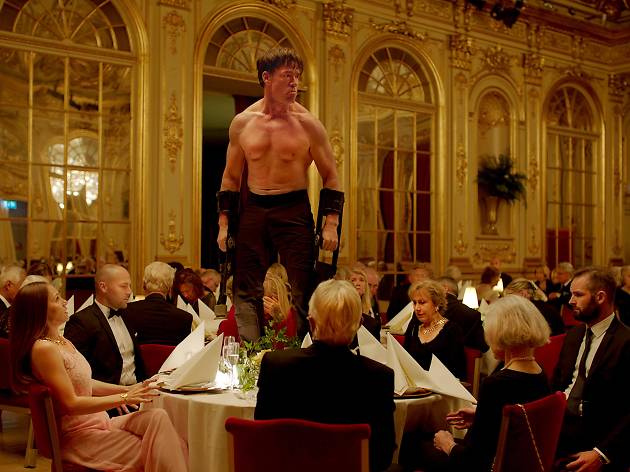 Time Out says
This clever comedy from the Swedish director of Force Majeure offers art-world satire alongside bigger questions about how we behave toward others.
The title of this supremely fresh, witty and thought-provoking new film by Swedish writer-director Ruben Östlund (Force Majeure) refers mainly to a new exhibit on display at a museum of contemporary art: a neon-bordered bit of brick flooring described by its creator as a "sanctuary of trust and caring" where we all "share equal rights and obligations." But the square might also refer to the central plaza that Christian (Claes Bang), the museum's head curator, is crossing when he becomes the victim of a scam that relieves him of his wallet and phone. To recover them, he's reluctantly persuaded by an assistant to adopt an aggressive strategy which has unexpected consequences not only for himself but for colleagues and even complete strangers.
Then there's possibly a third meaning to the title, since the film is about different sorts of metaphorical space. As we follow our intelligent, pleasant, perfectly well-intentioned hero in his increasingly difficult dealings with the press—notably an American journalist played by Elisabeth Moss—and others, the film explores the limits of responsibility, culpability, connectivity, even humanity. (There's some fascinating stuff to do with primates as well, although it's best not to ruin that surprise.)
It's one thing for a well-off liberal to wax lyrical about equality, community, a fair society and so on, but how far do our responsibilities extend toward others, especially those less fortunate? Where does our own particular "square" end and the surrounding infinity that is the lives of others begin?
Östlund's film deals with questions similar to those found in Austrian filmmaker Michael Haneke's Code Unknown (and, to a lesser degree, Cache). Stylistically, however, it could not be more different. With a story built out of substantial but discrete blocks, many of them notable for their bone-dry humor, it sometimes calls to mind the dark comedies of Östlund's fellow Swede Roy Andersson, albeit with a less surreally heightened visual style. (That said, Östlund's sophisticated play with squares and other shapes throughout the movie—as when Christian is shown trapped in a web of diagonal staircases—subtly enhances its themes.) If the film has any flaw, it could be that it juggles too many good ideas. If only more films could have such problems.
Details
Release details
Rated:
R
Release date:
Friday October 27 2017
Duration:
142 mins
Cast and crew
Director:
Ruben Östlund
Screenwriter:
Ruben Östlund
Cast:
Claes Bang
Elisabeth Moss
Dominic West
Terry Notary

Users say