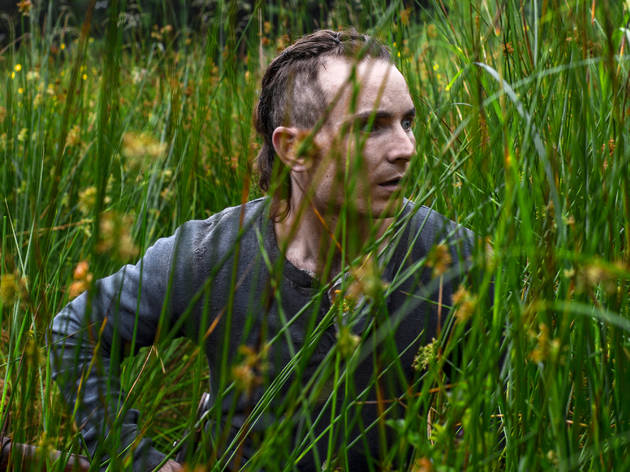 Time Out says
Post-apocalyptic cinema done with a minimum of action heroics, Stephen Fingleton's concentrated feature debut is an emotional powerhouse.
Let's hope we never learn what a post-apocalyptic world is like, but here's an educated guess (one that most filmmakers never seem to make): We're not going to be all that chatty. Set during a brooding future when language seems to have betrayed us, Stephen Fingleton's masterful, uncompromising feature debut has no heroes—no rakish quips or leather outfits. It's a tense chamber piece taking place in a European forest 10 years after the fall of civilization.
What happened? We learn from an elegantly simple bar chart that demand overtook supply. The minutes pass by, and you squirm in the silence, watching a grungy unnamed loner (Martin McCann) raiding a corpse for valuables. He lives in a dank hut, farming mushrooms and waiting for unlucky strangers to wander into his orbit. Soon, a sullen teenage girl (Nymphomaniac's Mia Goth) and her nervous mother (Olwen Fouéré) take a chance on him. Wisdom, apparently, is in short supply too.
What plays out is brutal, arresting and, yet, essentially about the undying nature of hope and human contact. It remains to be seen—hopefully via many more films—whether the 33-year-old Fingleton has a gift for onscreen gab, but he already possesses something rarer: a Bressonian confidence in stripped-down images and the suggestive tension of literary sci-fi. His drama exists in a lushly green universe of ruined people trapped in the psychology of survival. You'll leave completely rapt.
Follow Joshua Rothkopf on Twitter: @joshrothkopf
Details
Release details
Rated:
N/R
Release date:
Friday May 19 2017
Duration:
104 mins
Cast and crew
Director:
Stephen Fingleton
Screenwriter:
Stephen Fingleton
Cast:
Mia Goth
Martin McCann
Olwen Fouere