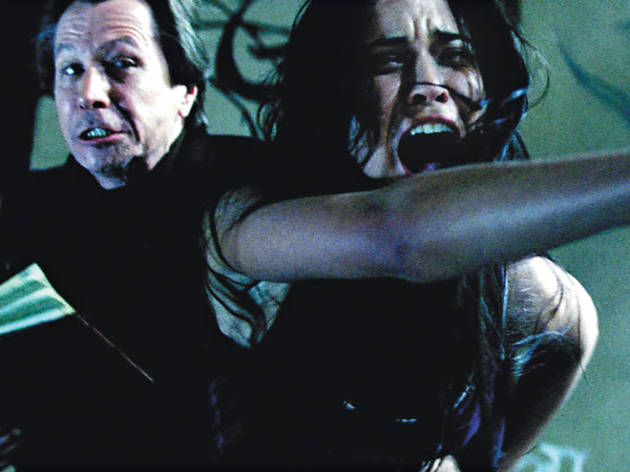 Who screams for the horror movies of January? (Or for any movies of January, really?) The month is a traditional one for belt-tightening; the studios know this, and quietly off-load their least-impressive product. And yet, something arresting happens with The Unborn, attired in its generic, hand-me-down title. It actually scares you. Not with random shocks, like the fearmakers of October, but in the surreal, atmospheric manner of Jonathan Glazer's Birth, with which it shares a similar wintry intro. Running along the park path is young, iPoded Casey (Yustman). Veering into the woods, she stops and pushes away some leaves. There it is, beneath the ice:
a living fetus. The wind murmurs.
Casey is dreaming. The odd charm of The Unborn is the way it tries to linger in these moments, before it becomes what might charitably be called a Jewish Exorcist. Information topples Casey in a vertiginous rush. She was a twin in the womb, but her brother died. A gothic suburban rest home shelters what turns out to be her grandmother, Sofi (Alexander), a mystical Holocaust survivor. Eventually, we begin to hear from strangers that "Jumby wants to be born," and the prenatal horror attracts Rabbi Gary Oldman and his Kabbalistic rites. It's refreshingly weird to see Michael Bay producing a thriller with a Star of David around its neck, and that alone might make The Unborn a cult movie one day. Ultimately, though it settles for easier anxieties than Jewish ones, for a moment, it teases us with a return of the repressed as pungent as that in Agnieszka Holland's Europa Europa—also a horror film, come to think of it.
Release details
| | |
| --- | --- |
| Rated: | PG-13 |
| Release date: | Friday January 9 2009 |
| Duration: | 95 mins |
Cast and crew
Director:
David S Goyer
Screenwriter:
David S Goyer
Cast:
Odette Yustman
Jane Alexander
Gary Oldman
Meagan Good
Cam Gigandet
Idris Elba
Atticus Shaffer
James Remar
Carla Gugino