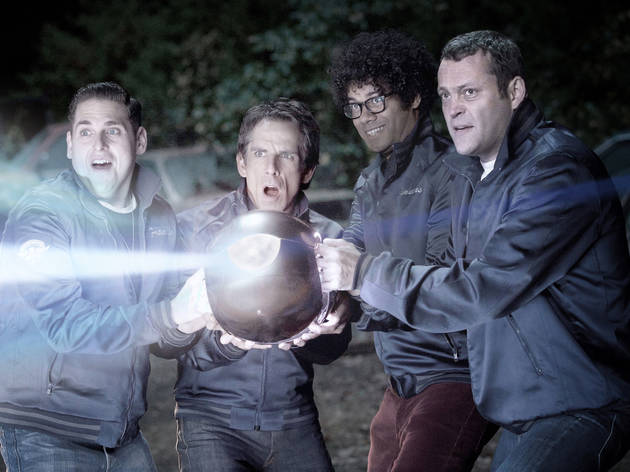 Time Out says
Stars, especially comic ones, operate on the promise of delivering the goods via a well-honed persona, e.g., you go to a Ben Stiller comedy to witness him acting like an uptight, neurotic everyschlub. This is how it's been since the Keysone Cops era; this is how it will be when we're wathcing movies projected on to the back of our eyelids from the microchip implanted in our skull.

So when you buy a ticket for a movie about a square, suburban neighborhood-watch team defending their small town from aliens, you know what you're getting from a glance at the poster: Stiller will be in furrowed-brow funnyman mode; Vince Vaughn is on board to provide warp-speed patter and full-frontal dudity; and Jonah Hill will do some variation of his peeved, passive-aggressive nerd thing. From a branding perspective, Akiva Schaffer's sci-fi-inflected goof thus succeeds by default. As to whether the movie plays said respective shticks off each other well, that's another matter—as is the Lonely Island–alum filmmaker's inability to meld his weirdo absurdism with a corporate blockbuster's framework, and the lazy overreliance on creative obscenities in lieu of actual jokes.
There's a secret weapon embedded within The Watch, however, and his name is Richard Ayoade. A London filmmaker (Submarine) and comedian best known on these shores as the Aspergers-y tech geek from the Britcom The IT Crowd, the bespectacled Ayoade is the odd man out in the group, and his offbeat, eerily cheery reading of every line lends the movie its single aspect of unpredictability. It's a hilarious, dry and totally inspired turn; when he's onscreen, the film works like gangbusters, if not like its obvious ancestor, Ghostbusters. He's one truly worth keeping an eye on.
Follow David Fear on Twitter: @davidlfear
Details
Release details
Rated:
R
Release date:
Friday July 27 2012
Duration:
0 mins
Cast and crew
Director:
Akiva Schaffer
Screenwriter:
Seth Rogen, Evan Goldberg
Cast:
Vince Vaughn
Jonah Hill
Ben Stiller

Users say