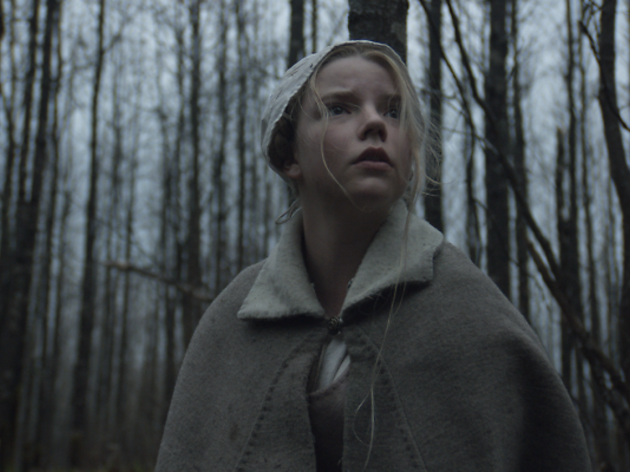 Time Out says
There are confident first features, and there's The Witch, the exhilaratingly scary debut in which writer-director Robert Eggers tramples over the cowardice of the genre he's just grabbed by the throat. Reverentially adapted from a ghoulish piece of Puritan folklore (much of the dialogue is lifted verbatim from 17th-century documents), The Witch is one of the most genuinely unnerving horror films in recent memory because Eggers has the guts to earn your fear.
A family of fundamentalist pilgrims is banished from their walled New England settlement as punishment for an undefined conflict. They're forced to resettle in a gray stretch of field that lies on the lip of some truly sinister woods. Fresh off the boat from England and already outcasts in their adopted country, William the woodcutter (Ralph Ineson) leads his wife (Kate Dickey) and five children to the rotten clearing where they will begin again, isolated in their struggle against the elements, a fallow harvest and—most urgent of all—the paralyzing grip of their supposed sins. Before William's brood can get comfortable and re-establish a link with the lord, their newborn is snatched into the forest with supernatural speed.
In most films, this would be the beginning of a coy flirtation with the audience, the monster remaining masked by shadows and cacophonous jolts until a grand finale arrives. Yes, there are a few jump-scares—and they're calculated with the precision of a Swiss watch—but The Witch understands that there's a big difference between getting under your skin and wearing you. Not only does Eggers show the creature that has stolen the baby, you watch as she pestles it into mortar, the scene typifying the film's painterly morbidness as the light transforms the nude witch's wrinkled flesh into an early American riff on Goya's "Saturn Devouring His Son." A former production designer who can clearly work miracles on a low budget, Eggers puts just enough cards on the table that you know what he's capable of, even though his best tricks remain firmly tucked inside his sleeve.
The film soon coheres into a homespun crucible, forming an unholy union between the rigid austerity of Stanley Kubrick and the psychosexual conviction of Nicolas Roeg. Ineson and Dickey are wrenching as flawed (and even useless) parents whose love for their children is diluted by their fear of everything else. Harvey Scrimshaw gives a possessed performance as the eldest son, and Anya Taylor-Joy is revelatory as his pubescent older sister, whose body bubbles and leaks like the devil is wringing her mid-section (and I'd be remiss to forget the family's young twins, perhaps the cinema's most nightmare-inducing twosome since The Shining).
The film's isolated domesticity keeps things tight and intimate, and Eggers so fluently invites the all-consuming religious fervor to commune with his monster that new themes percolate with every composition and utterance. ("Did ye make some unholy bond with that goat!?") The Witch is careful to invite certain ambiguities and avoid others, but the judgment it passes on its characters does not come from on high. Eggers prefers instead to ruminate on how the compulsion to live without sin might grease the wheels for it. (The film's new-world setting naturally implicates America in the process.) A jaw-droppingly bold gift from God, The Witch is a major horror event on par with recent festival sensations like Kill List and The Babadook. Haunting doesn't even begin to describe it.
Follow David Ehrlich on Twitter: @davidehrlich
Details
Release details
Rated:
R
Duration:
0 mins
Cast and crew
Director:
Robert Eggers
Screenwriter:
Robert Eggers
Cast:
Kate Dickie
Anya Taylor-Joy
Ralph Ineson

Average User Rating
2.3 / 5
Rating Breakdown
5 star:

0

4 star:

1

3 star:

0

2 star:

1

1 star:

1
I hate modern day audience when it comes to horror.
I saw "The VVitch'' back in early March and I thought it was decent, but I didn't understand what all the fuss was all about. Yeah, it looked nice and it had a chilling atmosphere but that's the only thing I got from it. Well, to be fair, I think I was the only one that I liked this movie compared to my friends and family, as they thought the movie was terrible. I liked the movie but I thought it was kind of slow, I was a bit confused at times and the movie didn't stick with me after it was done. If I was reviewing this back in March, I would probably give this movie a 3/5.
But after re-watching the film, I actually liked it even more and there was a lot of things that I can't believe I missed on my first viewing. I don't know how to explain it, but I had this uncomfortable feeling from watching this that I never experience the first time. This is a horror movie that exceeds in film making, it's freaky score and it's gloomy atmosphere that really made this film a true horror.
This is a great psychological horror film that can really get under the your skin. I started to notice little details that really made this movie freaking scary when you understand the meaning of it. This doesn't have any stupid jump scars that deflates tension or just any horror movie tropes that we've seen million times already, but that's nowhere to be seen in the ''The VVitch''.
THANK GOODNESS!
Oh and the cinematography is this movie is just flawless. I'm starting to notice a trend in indie horror movies today - With the shots being perfectly set up and the very little use of light that really adds to the atmosphere to this film.
Thank you Robert Eggers for your brilliant direction and this movie.
You sir, have great vocabulary. This is the biggest piece of shit film with absolutely no horror whatsoever. Eggers can kiss my ass in hell--that'd be more sufficient. If you mean to tell me that you watched this same film that I just watched and wrote all this colorful bullshit about it without laughing on the way to the bank then wow you're a real piece of work. You had me at Babadook -- another mindless film you praise. You're about as credible as the goat in the fkn movie.
As a horror fan I was ready to love this movie, but it's never a good sign when everyone in the theater is laughing at the end of the film. The cinematography and acting were great, but take out the eerie music and 2 creepy(ish) parts and it was like watching a really long history channel documentary (which I also normally love.) Skip it and go to a midnight B-movie or a classic horror film if you want some cheap thrills.