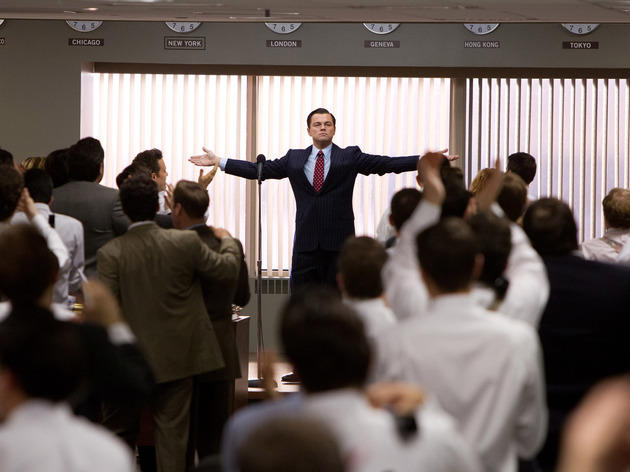 It's tempting, when describing Martin Scorsese's latest, exhilarating orgy of excess, to paraphrase the first line of the director's great Goodfellas: "As far back as he can remember, Jordan Belfort always wanted to be a broker." Played with pitch-perfect man-boy entitlement by Leonardo DiCaprio, this baby-faced swindler-in-the-making steps off the bus onto Wall Street like a wide-eyed ingenue arriving in Old Hollywood. But no sooner has he procured a job at a tony firm than the October 1987 Black Monday crash sends him scuttling back to the suburban poorhouse. Out of middle-class hardship comes master-of-the-universe inspiration: While slumming at a strip-mall brokerage, Belfort realizes he can sell penny stocks to gullible customers for a huge profit. Thus is born Stratton Oakmont, a boiler-room operation of massive fiscal lucre and titanic drug-addled debauchery.
Scorsese and screenwriter Terence Winter (who adapted the real-life Belfort's 2007 mea culpa bestseller) take everything this flimflammer says at face value. It's all true, apparently: the dwarf-tossing competitions, the sex sprees on transatlantic flights, even the reckless sinking of a multimillion-dollar yacht, all re-created with no-holds-barred exorbitance. An early sequence in which Belfort lunches with an oily mentor (McConaughey) sets the exhausting, jet-black tone, building from cynically verbal jabs to chest-beatingly physical displays. The rest of the movie is multiple variations on the same theme—a full immersion into a world of fratboy immorality and unapologetic corruption.
So which is it, Marty: Are you sanctioning this bad behavior or pointedly lampooning it? Much like its cocky protagonist, The Wolf of Wall Street is a slippery beast, both beguiling and repellent on the surface, more difficult to pin down the deeper you look, and shifty in ways that I found intoxicating. The movie contains some of the best scenes Scorsese has ever directed, notably an extended quaaludes-laced sequence in which a motor-function-deprived Belfort has to figure out how to stop his partner-in-crime (Hill) from choking to death. (Let's just say it involves a lot of Jerry Lewis–like flopping and an energizing hit of cocaine.) Wolf is also an extremely draining experience that's sure to leave plenty of viewers shouting "We get it!" by the third gluttonous hour. But that's the point: Scorsese, that sly spiritualist, is out to make us sick on commerce and greed run rampant. He moves us beyond the allure of avarice so that we might take better stock of ourselves. What starts as a piggish paean becomes, by the end, an invigorating purge.
Follow Keith Uhlich on Twitter: @keithuhlich
Release details
Rated:
R
Release date:
Wednesday December 25 2013
Duration:
180 mins
Cast and crew
Director:
Martin Scorsese
Screenwriter:
Terence Winter
Cast:
Leonardo DiCaprio
Jonah Hill
Matthew McConaughey