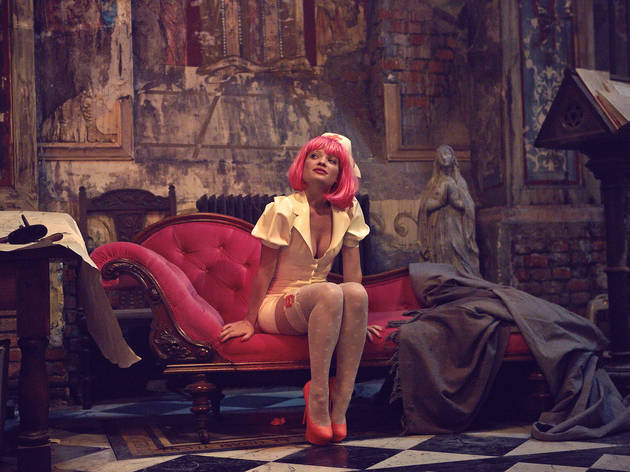 Time Out says
Terry Gilliam's The Zero Theorem is a lo-fi, future-tech farce with an air of high-end cyber intrigue. The stars still come out for the director of Brazil, and a totally bald Christoph Waltz (Django Unchained) features in every scene as Qohen Leth, an IT drone who's lost his soul—and maybe his mind. He's working for a corporation called Mancom in a place and time that's undefined but looks and feels like a neon European everytown in the near tomorrow.
When Leth is drafted to work on a notorious project to prove the zero theorem (basically, that everything equals nothing), he enters an even deeper isolation, working from a disused, burned-out church that he calls home and further loosening his grip on reality. Leth is in contact only with an online therapist (Tilda Swinton, buck-toothed, bewigged and Scottish), a zany French woman (Mélanie Thierry) who works in the virtual sex industry and his boss's son (Lucas Hedges), who acts as his assistant. Elsewhere, Matt Damon pops up a few times as the big boss of Mancom, his hair dyed bright white and wearing a suit patterned like a zebra.
It's anarchic, sometimes amusing and intermittently tedious, with ideas about digital alienation and the corruption of technology that too often feel blunt and tired. If you lack patience for Gilliam's shoddy rummage-sale aesthetic, The Zero Theorem could be a trial. It shares genes with Brazil and Twelve Monkeys, but comparisons to those films do it no favors; the new movie lacks the wit and continuous charm of the first and the scale and knotty ideas of the second. What it's most lacking is humor (there's a shopping center called Occupy Mall Street—we need more of that) and a sense that it knows something we don't. But it's hard to knock Gilliam's scattershot imagination, and Waltz anchors the madness in a solid, disturbed but not too frenzied performance.
Details
Release details
Rated:
R
Release date:
Friday September 19 2014
Duration:
107 mins
Cast and crew
Director:
Terry Gilliam
Screenwriter:
Pat Rushin
Cast:
Christoph Waltz
David Thewlis
Mélanie Thierry

Users say