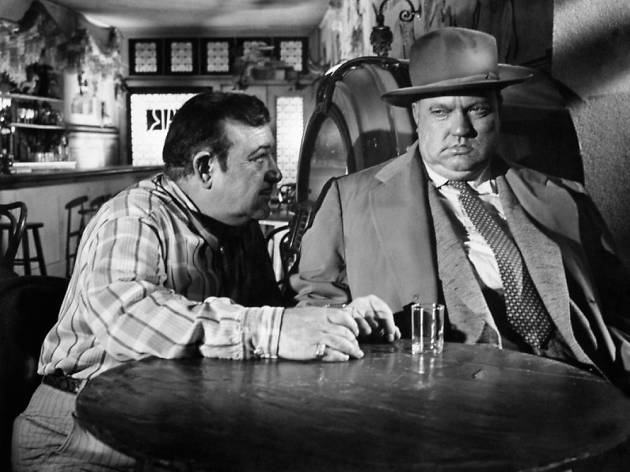 Time Out says
Why does Orson Welles's Touch of Evil continue to bloom while his supreme Citizen Kane seems ever more assailable? That's a question that can consume a career.
For today, let's just say Touch of Evil is loads more fun. It exists in that baroque, decadent space that Kane only hints at in the Xanadu bookends. It's a trashy B movie (with, yes, Charlton Heston as a Mexican) but one made with consummate craft. A clue to Touch of Evil's main theme comes in one of its early proposed titles, Borderline. The film's garbage-strewn noirscape straddles Mexico and the U.S.; its antagonists, Heston's crusading do-gooder Vargas and Welles's corrupt cop Hank Quinlan, are moralists from opposite ends. In the deep shadows are ghosts of the past, such as Marlene Dietrich's Tana.
As obsessives know, the film begins with a legendary three-minute tracking shot, which launched the war over the multiple cuts of Evil. Like almost every Welles project, it was yanked from the director and reedited; the 1958 release version pushes Henry Mancini's groovy, salsified main theme up front, while Welles wanted a more realistic sound mix, ultimately achieved in Walter Murch's 1998 restoration.
Universal's beautiful two-disc set includes both versions, along with a third "preview" cut from 1976 that satisfied no one. Also in the geek-friendly package is a reproduction of Welles's 58-page memo (from which Murch worked) describing his vision for the film in detail. The movie has a Talmudic richness; don't be surprised if it lives in your DVD player for weeks.
Details
Release details
Release date:
Wednesday April 23 1958
Duration:
112 mins
Cast and crew
Director:
Orson Welles
Screenwriter:
Orson Welles
Cast:
Zsa Zsa Gabor
Dennis Weaver
Marlene Dietrich
Ray Collins
Charlton Heston
Janet Leigh
Joseph Calleia
Akim Tamiroff
Lalo Rios
Orson Welles
Mercedes McCambridge
Joseph Cotten