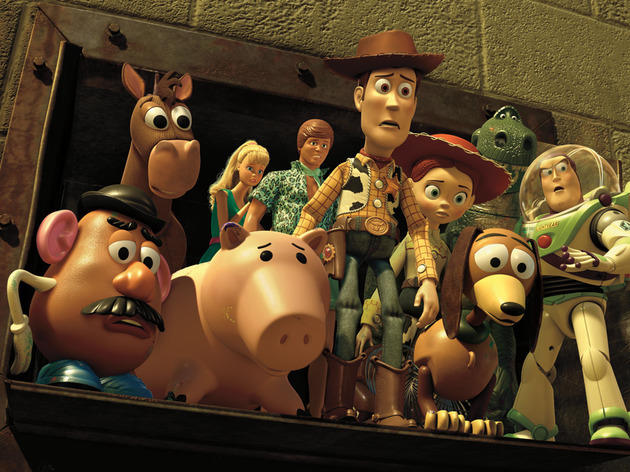 Time Out says
Sunnyside, the day-care center where the delightful new Toy Story occurs, might be a paradise – especially for Woody (Hanks), Buzz (Allen) and a gang facing obsolescence. (Andy is off to college and his mom has broken out the Hefty bags.) But in the sternly orotund warning of one Mr. Pricklepants (ex-Bond Timothy Dalton), it's "a place of ruin and despair," peopled with violent, drooling tykes and ruled with a plush fist by Lots-o'-Huggin' Bear (the extraordinary Beatty), whose strawberry scent and harmonica-swaddled folksiness hide a sadist.
Clearly, Pixar's genius for adventurous storytelling continues unabated; a prison film would seem to be the furthest idea from safe, but the tale (by director Lee Unkrich, John Lasseter and Wall-E's Andrew Stanton) poses a serious challenge to the old saw of terrible second sequels. As always, the fun with this franchise comes from elaborate sequences of escape, stressing the plastic, resourceful nature of our heroes. This third chapter has some doozies, especially the jaw-dropper where spy Mr. Potato Head slips out of his skin, reassembling in the body of a floppy tortilla. (Watch out for that pesky pigeon, though.)
Why, then, are we not quite at the highest rank? There's no avoiding the dark twinge of rejection that such a story inevitably courts; there are moments---the toys wandering through a dump's wasteland of fire and swirling trash---when you might be reminded of Steven Spielberg's depressing robot fantasia Artificial Intelligence. Still, humanity shines through the brighter comic lines. "Authority derives from the consent of the governed, not by force!" shouts a small, firm voice; her name is Barbie, and even Ken is stunned.
Watch the trailer
Details
Release details
Rated:
G
Release date:
Friday June 18 2010
Duration:
102 mins
Cast and crew
Director:
Lee Unkrich
Screenwriter:
John Lasseter
Users say