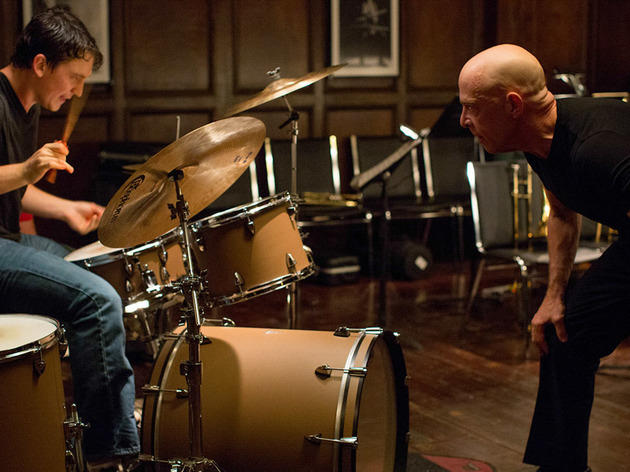 Time Out says
You already know J.K. Simmons's ferocious jazz teacher in the electrifying Whiplash if you've seen Full Metal Jacket, Battle Royale or Grizzly Man (he'd be the grizzly). Clad fully in black, biceps bulging, Simmons's Fletcher exudes downtown attitude. He rules the top department of an elite NYC music program with a clenched fist, instantly squeezing off the wayward bleat of a saxophone. Part of the joy of watching dramas like this must be a masochistic thrill in seeing young punks suffer: Drumming hopeful Andrew (The Spectacular Now's Miles Teller, fully convincing behind the kit) is nearly destroyed by this monster, a barking man who's impossible to please. Yet even though our wunderkind's knuckles bleed and his snare gets spattered, you think: That's some truly glorious noise he's making. The discipline and beauty of bebop has never been better served by a film.
Whiplash might have followed this trajectory to a feel-good destination, one involving a recital, some proud parents and a teary hug. But that's not where writer-director Damien Chazelle wants to go—bless him for it. Fletcher's put-downs become more vicious (and riotously un-PC); the drive to perfection turns Andrew into a bitter, uncaring boyfriend; and the plot's tone nears that of a thriller, sometimes awkwardly. Credibility is burned upping the stakes: Will a violent car crash prevent Andrew from staggering to the gig in a concussed delirium? Don't wonder. Disappointing Fletcher is too terrifying a prospect. But there's also unusual, spiky attention paid to the pursuit of excellence, as Andrew begins to resent the mediocre aspirations of his family. By film's end, he's an arrogant, cymbal-smashing machine.
How breathtaking it is to see a story go there. The identity this teen chases is a lonely one, but it's impeccably on beat. Real art, the movie suggests, isn't for those who merely hope to do a "good job" and please themselves. Whiplash scrapes the far edge of crazy passion. It never apologizes. And the flurry of drumming it concludes with—Teller's solo is staggering—is both a magical cacophony and, obliquely, a door slamming shut. I don't know if I'd show this film to a curious young person, not if I ever wanted to see them again. They'd be in their room practicing, forever.
Follow Joshua Rothkopf on Twitter: @joshrothkopf
Details
Release details
Rated:
R
Release date:
Friday October 10 2014
Duration:
106 mins
Cast and crew
Director:
Damien Chazelle
Screenwriter:
Damien Chazelle
Cast:
Miles Teller
J.K. Simmons
Paul Reiser