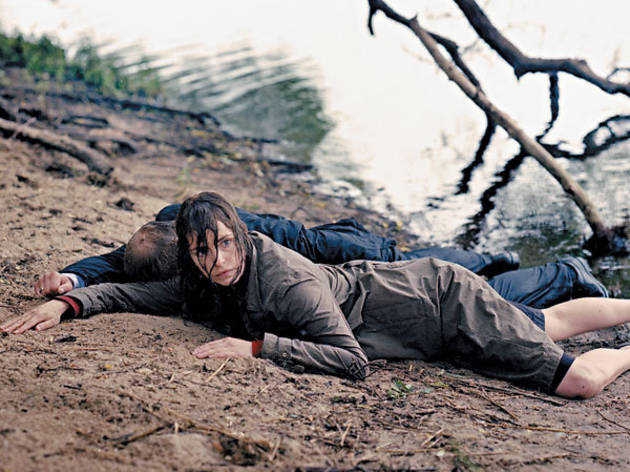 You can't count on many constants in cinema, but here are two safe bets: Putting a woman in peril will never go out of style, and the corporate world is an endlessly fertile environment for a thriller. The moment that German director Christian Petzold cuts from his pretty titular heroine (Hoss) to a POV shot of someone observing her through a windshield (universal translation: "dangerous stalker"), you immediately know that trouble is heading her way. His name is Ben (Schönemann), they seem to have a past connection, and he's clearly got anger issues. When this suitor later talks Yella into his car and a bridge suddenly appears during their drive, guess what happens next? 
These nail-biting sequences exemplify the first axiom; once the enterprising heroine gets involved with a salesman (Striesow) and displays a knack for seeing through his clients' bad bookkeeping, Petzold amply reinforces the second. Yella's subzero rendering of Euro capitalism's cutthroat culture simultaneously critiques its antihuman modernism and keeps the paranoia simmering at Polanski-esque levels (one scene involving a broken wineglass is worthy of Repulsion). Tension is brilliantly sustained, especially when Ben reappears, and yet…
You know that horrific feeling of suddenly realizing that a narrative is pulling one of the oldest tricks in the book? Once our worst fears are confirmed, Yella throws away most of what it's worked so diligently to manufacture. Though the film attests that the director can masterfully dredge up metaphysical dread, it also proves that he needs to learn to avoid easy ways out.
Release details
Rated:
NR
Release date:
Thursday December 13 2007
Duration:
89 mins
Cast and crew
Director:
Christian Petzold
Screenwriter:
Christian Petzold
Cast:
Nina Hoss
Devid Striesow
Hinnerk Schoenemann
Burghart Klaussner
Barbara Auer
Christian Redl
Selin Barbara Petzold
Sprenger Wanja Mues
Michael Wittenborn
Martin Brambach
Joachim Nimtz
Peter Benedict
Ian Norval