The 17 best Chinese restaurants in America
The best Chinese restaurants in America, from local joints for top noodles and dumplings to a dim sum legend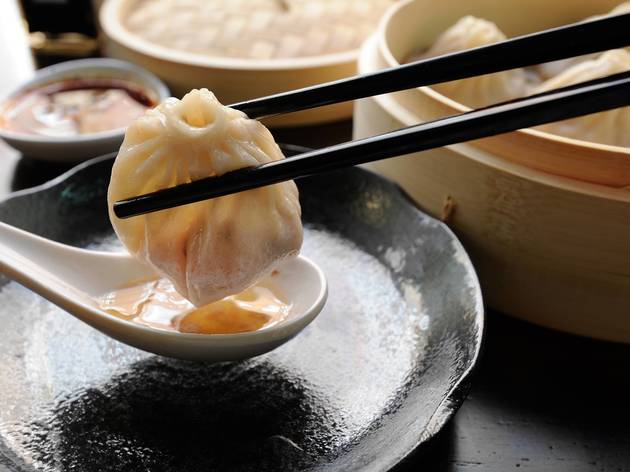 Beyond our biggest cities, seeking out the best Chinese restaurants in America can be like looking for needles (or better yet, noodles) in a haystack, only to find yourself grasping at straws. No doubt the entire history of the Chinese immigrant experience in America can be glimpsed in the fact that the best restaurants for Chinese food are likely to be mom-and-pop affairs that don't cater to Westerners—they're a little like our best Mexican restaurants in that way. Whether this dim sum parlor makes unreal char siu bao or that hole-in-the-wall serves dandan noodles to make you cry, their discovery by English speakers typically happens through word of mouth, actual or virtual. That said, these 17 restaurants—some new sensations, others decades-old icons—stand out for helping to define (or redefine, as the case may be) Chinese cuisine in their communities. From dim sum restaurants in New York to high-end restaurants in downtown L.A. to a local legend in Falls Church, these are the best Chinese restaurants in America—start planning your pilgrimages now. Follow Time Out USA on Facebook; sign up for the Time Out USA newsletter
Best Chinese restaurants in America
11
Gene Wu calls the food of Shaanxi province "very simple, not fancy at all. It's all based on freshness." Of course, nothing requires consummate skill and an unwavering work ethic quite like simple dishes dependent on fresh ingredients. And Wu's actions speak louder than his words as he shuttles between the pair of modest shops he, his wife, and his cousin run in Boston's Downtown Crossing and the northern suburbs to make the buns for textbook, sloppy joe-like rou jia mo; the dough for the wide, springy, clingy noodles they'll pull to order the way the third-generation restaurateur's family did back home; and, well, not much else. Unlike the vast majority of its peers, Gene's Chinese Flatbread Café serves just a few dishes. Perhaps the best-loved are the noodles with lamb (in soup or not), redolent of garlic, cumin and herbs, but the spicy chilled versions with wheat gluten or tea eggs enjoy near-equal acclaim. (Granted, there will always be a place in our hearts for Cantonese seafood institution Peach Farm, just a few blocks away.)
Read more
12
House of Eggroll, Chandler, AZ
Perfectly reflecting Arizona's Asian-population boom, a former mediocre takeout joint in the Phoenix suburbs has morphed into the ultimate hidden gem without so much as a name change. Count Le Cordon Bleu-trained chef Helen Yung, owner of one of the country's best ice-cream shops, among House of Eggroll's avid fans. "It reminds me of Xi'an Famous Foods before it expanded all over [New York City]," she explains, citing the menu's "diversity, authenticity, and quality of execution" well beyond biang biang and liang pi noodles. Take pao mo, a staple soup filled with "fall-apart-tender pieces of marbled lamb" and cubes of flatbread that soak up the broth to "burst with flavor"; the "addictive" hot-and-sour soup with pork dumplings; and unusually spicy Shaanxi-style barbecue.
13
For Houston's hotheads, spicy Sichuan cuisine all comes down to two restaurants: Mala Sichuan Bistro and this sizzling upstart. Yunan Yang and her sister Lily Luo derive their equally thoughtful and heartfelt brand of cooking from their mother—who "came from a very big family" in Chongqing, where she learned "a lot of secret recipes from the family cook"—as well as from Yang's own background in cancer research, which reveals itself in her emphasis on wholesome ingredients, from organic meats and veggies to digestive aids like the dried plum powder she sprinkles on fried sweet potatoes and, of course, imported numbing peppercorns. The effects run from pure exhilaration, as with the fried beef cubes and hot-sauce boiled fish brimming with chilies, to soothing relief in the form of meltingly tender, sweet-salty "soft bacon" or scrambled, fried tomatoes and eggs, accompanied by a fresh green-bean smoothie.
Read more
14
Yiquan Gu has always kept his eye on the prize. Whether wordlessly washing dishes for six months to convince a master chef in his native Chengdu that he was serious about his culinary education or closing his wildly popular namesake bistro in favor of a counter stall in Inman Park's Krog Street Market, where he could focus on a streamlined repertoire rather than overhead distractions, his dedication to the art of Sichuan cuisine has been singular. And the proof is in the pudding—or rather the pork-stuffed, boiled jewels that give Gu's Dumplings its name, tossed with tangy sauce from an ancient, and secret, recipe. It's also in the mouth-tingling dry-fried eggplant and the savory-sweet, sesame-tinged cold noodles. Heck, it's even in the po' boy he makes with the chicken nuggets he stir-fries with broccoli and cilantro just for kicks.
Read more
15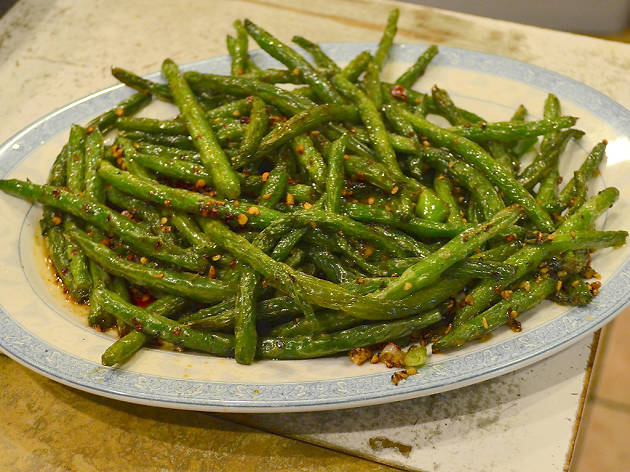 Sichuanese Cuisine Restaurant, Plano, TX and Seattle, WA
What launched in Seattle as a pioneering mom-and-pop hot-pot hut over 20 years ago is now a four-branch fleet across two states, managed by Hsiao Sung Kao and Yuen Ping Cheng's cadre of relatives. Though they vary slightly, the menus are huge, so it's up to you to focus on the regional specialties that give Sichuanese Cuisine Restaurant its blunt name: aside from the ma la huo guo, you're here for water-boiled beef or fish, Chongqing-style chicken, dry-fried string beans and stir-fried pork kidney (or, to use the transliterated name, "fire-exploded kidney flowers"), all of which may leave you a bit beaten and bruised—but blissfully so.
16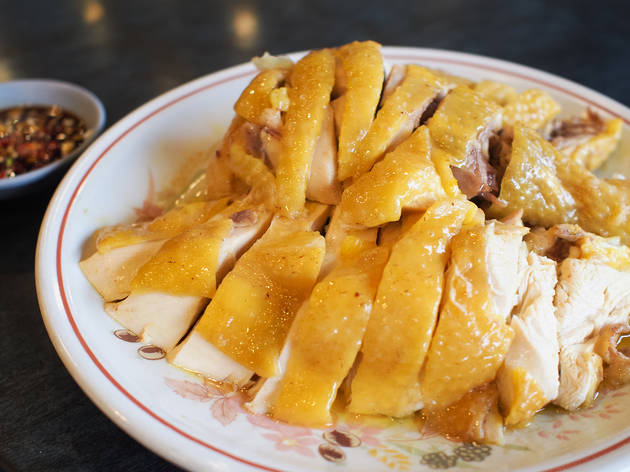 Chef Ma's Chinese Gourmet Restaurant, St. Louis, MO
As dining destinations ago, Chef Ma's Chinese Gourmet Restaurant (2336 Woodson Dr) is likely to confound the mainstream eater—which is to say it's the epitome of a chowhound magnet. For one thing, it's located in a former Taco Bell; for another, the Hong Kong-born namesake's specialties are nowhere to be found on the English-language menu. But if you're willing to put yourself in his friendly hands, you'll be treated to a feast defying all expectations. First and foremost is the exemplary Hainanese chicken—boiled, bone-in, skin-on, accompanied by broth-cooked rice and a contrastingly pungent sauce—along with seafood dishes like the uncommon golden-yolk pumpkin shrimp.
17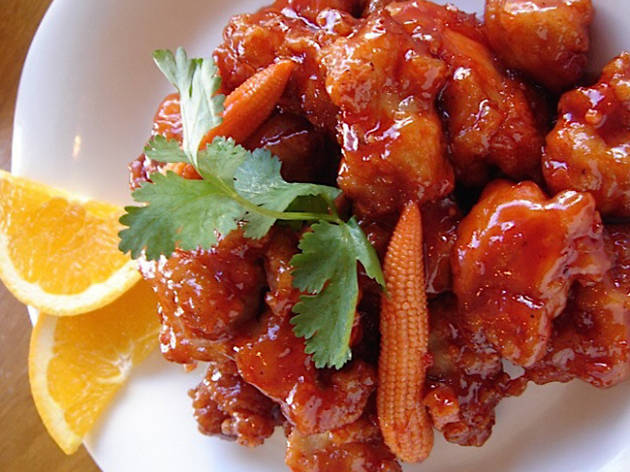 Little Village Noodle House, Honolulu, HI
The history of the world's cuisines, like the history of the world itself, is one of cross-cultural transformation—which is to say that, made with integrity, Chinese-American cuisine is a legitimate tradition in its own right. That might be especially true in Hawaii, where Chinese immigrants began integrating into the Polynesian culture a couple of centuries before the heyday of Trader Vic's. Case in point: Little Village Noodle House, the culmination of Kenneth and Jennifer Chan's decades-long impact on the Oahu dining scene after arriving from Guangdong province in the mid-1970s. The enormous menu spans regions, but if there's a (slightly kitschy) place to indulge your cravings for the stuff you grew up with—honey-walnut shrimp, orange chicken, fried rice and all—this is it. Plus: flaming pork chops.
See the best Chinese restaurants in American cities