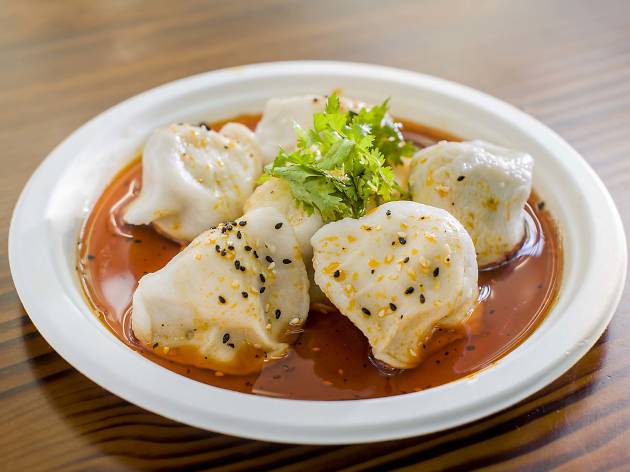 The fourth branch of this Flushing restaurant dedicated to the cuisine of Xi'an, an ancient city in North-Central China that was once a vital part of the Silk Road trade routes, opens in the East Village. Look for the same menu as the other locations, including "lamb burgers", liang pi cold noodles and lamb-face salad.
Venue name:
Xi'an Famous Foods
Contact:
Address:
81 St. Marks Pl
New York
10003

Cross street:
between First and Second Aves
Opening hours:
Mon–Thu noon–9:30pm; Fri, Sat noon–10:30pm; Sun noon–9:30pm
Transport:
Subway: L to First Ave, 6 to Astor Pl
Price:
Average main course: $6. Cash only
Do you own this business?
Average User Rating
3.6 / 5
Rating Breakdown
5 star:

2

4 star:

4

3 star:

3

2 star:

0

1 star:

1
DO NOT EAT IN THIS GREEDY CORPORATE CHAIN!! I order a mild noodle soup dish . The cook made a mistake made made it extra spicy. I took one bite and immediately began to violently cough with my nose fluids and tears uncontrollably running down my face! I took the dish back to the Chinese "chief chef" , told him what happened, and asked him to remake the dish without any spice.HE REFUSED TO REMAKE THE DISHING SAYING THAT IT WAS COMPANY POLICY NOT TO DO ONCE THE CUSTOMER ATE ANY OF THE FOOD!!! He said he could SELL me a bottle of water! I told him that I did not order the dish spicy and that he should remake it. HE REFUSED. I asked for my money back.HE REFUSED. He was VERY abusive and hostile towards me. I emailed the company and asked for my $11.40 to be return. They ignored my email!. DO NOT EAT AT THIS ABUSIVE , MONEY HUNGRY, DISRESPECTFUL RESTAURANT. GO TO A CHINESE RESTAURANT WHERE THEY WILL TREAT THEIR CUSTOMERS WITH RESPECT AND REDO A DISH WHEN THEY HAVE SO OBVIOUSLY MADE A MISTAKE!!! They are ONLY polite to Chinese customers. The rest of us are treated with contempt! DO NOT EAT AT ANY XI'AN LOCATION. They are NOT a franchise and are owned by the same greedy owner!!
Three words: Get. The. Burger.
Xi'an was the perfect place on a freezing day to be a little adventurous and sample a bunch of quality "street food" style dishes. The cumin lamb "burger" was particularly awesome, and the lamb was insanely flavorful - i'm still craving one a week after my visit. I also enjoyed the oxtail noodles - chewy, hot, and delicious, my only complaint was that there wasn't enough of the tender oxtail to provide a real balance in the dish.
Lamb dumplings were solid, but not amazing - I expected to be more impressed by these.
Service was really quick, and for the amount of food we got, the price was truly right. Definitely looking forward to my next visit!
This place is cheap, fast and delicious, perfect for a work lunch. It plenty of fresh, chewy noodles and chili oil galore.
Honestly, I don't think Xi'an lives up to the hype. The concept of Xi'an street food is great, and I definitely think they helped revolutionize the "street food" fad across NYC. However, their food just doesn't appeal all that much to me.
First, their set up is terrible. Since their cashier is up front by the entrance, a long line almost certainly means you'll have to wait outside. Good luck during wintertime.
Second, their noodles and meat sauces are way too greasy. Everything feels extremely heavy (because it is), and you just don't feel healthy afterwards. I will, however, give a shout out to their liang pi cold skin rice noodles and their usage of hand-pulled noodles, which tends to be firmer and wider than normal.
Overall, it's a quick (depending on the line), cheap, no frills spot that's just a bit too heavy for my tastes.
I had the best and cheapest lunch of all the places here. The lamb with the hand cut noodles was so very good! I also love spicy food so the fact that you could add layers and layers of spiciness was amazing and I truly loved ever bite. I will definitely be back on my next visit to the city.
This place often pops up on 'Best of' lists for New York, and for good reason. Although it looks like nothing, the food is insanely delicious, and insanely cheap. It's satisfying for lunch, dinner, hungover, drunk or sober (ESPECIALLY good hungover). I always get the Lamb noodles and never leave anything behind. Go now!
This place is a bustling machine during lunch hour (and probably any other hour too). The line moves quickly, so don't be discouraged as these noodles are worth the wait. There is the option of takeaway and eat in, however the eat in space is very small and sometimes your food is ready before a table is. The cumin lamb noodles are a customer favourite, and while I thought they were very delicous, the flavor is strong and the amount of oil makes them quite heavy on the stomach. The stewed pork noodles in soup are equally tasty, but remember to let them know if you can't handle the heat as they have quite the kick!
I've been the East Village and Midtown branches of this no-frills Chinese restaurant and the food is simply excellent. It's unusual too in focusing heavily on lamb. The lamb chilli noodles are great but the whole menu is very enticing.
Once a modest eatery in Queens, Xi'an Famous Foods has become a local food empire in NYC since its discovery by Anthony Bourdain. It serves up inexpensive and authentic cuisine from the little-known Xi'an region of China. Come and order the hand pulled or hand ripped noodles. I also am obsessed with the cucumbers and veggie dumplings. People also go crazy for the spicy cumin lamb burgers.