Barcelona's best cheap eats
Time Out's top places to eat on a budget in the Catalan capital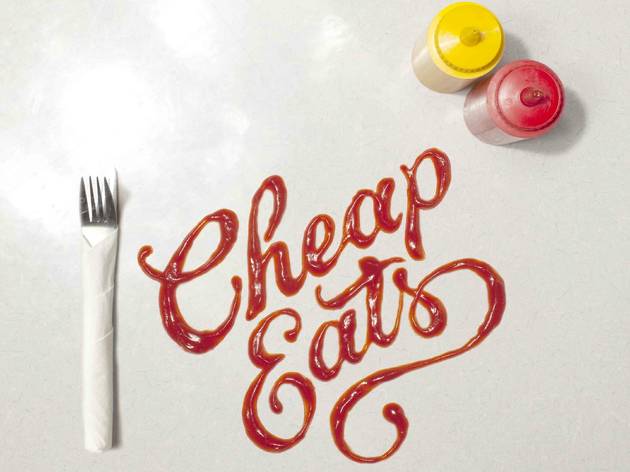 In Barcelona, more than most other European cities, eating out on a budget can mean dining in style - as long as you know where to go. Here are Time Out's recommended places to find great food with minimal outlay.
The mothership of this small gourmet hamburger chain, a pioneer in the field in Barcelona, moved to Ronda Universitat, and is now called Little Bacoa. The original bears the name 'Little' because the new Bacoa, while still carrying on with its trademark excellence and informality, is enormous. So what's new? Owner Brad Ainsworth is betting that thinking locally will pay off: with the change of seasons, Bacoa will offer a burger with products grown nearby, such as artichokes from El Prat, for example. And apart from the house classics, the exclusive Bacoa burgers will make your mouth water just thinking about them: the San Jacobo is Iberian loin and Serrano ham with manchego cheese in panko, Japanese bread crumbs.
Read more
The Mexican owners say they make 'Mexican street food'. And they do it well: their tacos are phenomenal and their quesadillas are made with care and without industrial cheddar. The repertoire is informal Mexican food, and weekends are reserved for more-traditional fare such as aguachiles and chicken with mole sauce. The ambience is also a cut above the norm, with modern Mexican and colourful décor.
Read more
A petite bar-restaurant with a vegan punk spirit, the walls look like Black Flag album covers starring cats. They're also big into their beers, with foam-licking-good Catalan craft beers, and the punky bottled Scottish Brew Dog. The lunchtime menu always features a veggie burger (that could easily make claim to being the best in the city in its class) and dishes that are simple but always scrumptious. Food and beer are served all day till closing time.
Read more
Down a little street right near Plaça Catalunya you can enjoy a lunch menu that offers so many dishes to choose from, it's not nearly as limiting as many lunch specials. Bear in mind the restaurant is open only for lunch and a drink is not included. Their timbal (pie) of potato and botifarra negra (black sausage) is already a classic.
Book now
Read more
Juanjo Martínez, former executive chef at the Hotel Arts and Renaissance man, has opened a space for creative tapas with a raison d'être – that is, they have to speak for themselves. So there's a lot of thought behind the tapas like a smoke burrata cheese with rosemary and tomato and muesli compote, but you'll also find classic tapas with original presentations, such as the Olot potatoes served with a metal mesh that evokes the mountains of the Garrotxa.
Read more
A real traditional eating-house, where you can find tasty, half-forgotten dishes such as brains in batter, noodle casserole just like granny used to make it, or pig's cheeks. No special menu, à la carte only.
Read more
A comic metaphor for modern-day Barcelona, Himali moved into what was a local boozer, but has retained the silhouettes of famous Catalans - Dalí and Montserrat Caballé among them - on the windows; inside, meanwhile, there are Nepalese prayer flags and tourist posters of the Himalayas. The alien and impenetrable menu looks a bit daunting, but the waiters are useful with recommendations. Alternatively, you could start with momo dumplings or Nepalese soup, followed by mugliaco kukhura (barbecued butter chicken in creamy tomato sauce) or khasi masala tarkari (baked spicy lamb). All dishes include rice and nan bread.
Read more
Ofis is the daytime version of the cocktail bar next door, Sifón, where Srta. Monium used to be. Choose your midday meal at your leisure: six dishes, of which you can pick two, with no restrictions on which comes first or second, with a lovely glass of wine and fantastic desserts. Enjoy the Italian-Argentinean ambience with a creative meal that comes at the incredibly low price of €10. The wilder ones may go for pizza and vacío (a mouth-wateringly tender meat), but you can also try the sautéed vegetables with soy sauce or the classic vitello tonnato, roast veal with tartar sauce.
Read more
At first glance it looks like a Rasta bar, perfect for enjoying a fresh fruit juice after a late-night rave. But in fact they serve good, varied meals at Juicy's: exotic salads and cold dishes, stews with Indian touches, as well as all kinds of shakes, juices and delicious sandwiches. They always use organic produce, and the menu is 100% vegan.
Read more