Heads up! We're working hard to be accurate – but these are unusual times, so please always check before heading out.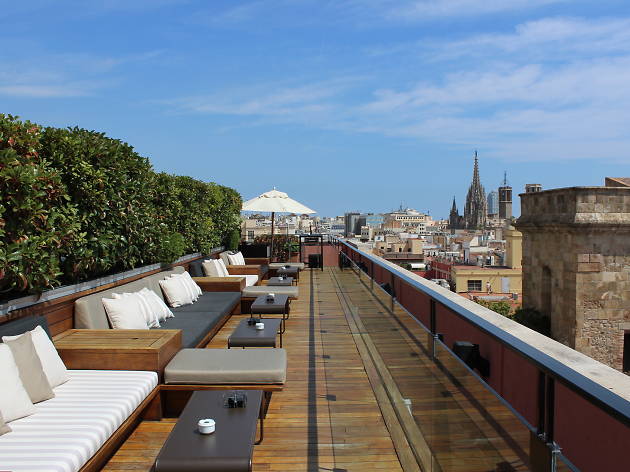 The 11 best rooftop bars in Barcelona
Fancy teaming your tipple with some photo-worthy views? These are the best rooftop bars in Barcelona right now
Friendly warning! We're working hard to be accurate. But these are unusual times, so please check that venues remain open.
Great weather calls for being outdoors, and what better way to enjoy being outside than relaxing, drink in hand, at one of the best rooftop bars in Barcelona? Though the city is laden with things to do, heaps of great restaurants and cocktail bars, a never-ending list of attractions and an unparalleled music scene, nothing quite beats its sunny terraces with breathtaking panoramic views in the warmer months. Feel on top of the world and explore Barcelona from an entirely new perspective, fear of heights be damned. (Note that some spots will close their terraces in less-than-optimal weather.)
RECOMMENDED: Full guide to the best bars in Barcelona
Best rooftop bars in Barcelona
Only a stone's throw away from Barcelona's busiest square, Plaça Catalunya, this urban garden is the perfect place to kick back and relax on a temperature-friendly night. Sip a sweet cocktail while enjoying the tropical paradise around you, and as if that wasn't enough, during The Pulitzer's famous concerts and DJ sets throughout the week, dance the evening away for no extra charge. Whereas the view from this terrace may not be outstanding, the kitchen's crunchy chicken definitely is, so make sure you don't miss out on the culinary delights of the Catalan and Spanish cuisine while delighting in this green oasis in the centre of Barcelona.
Public access: May-Oct, 6pm-11pm
Prices from: Beer €4, glass of wine €4.50, cocktail €12
Much like the name implies, this is exactly where you want to be to grab a drink and chill out under the sun with a stunning view of the city. Whether it's with a 'canya' (draught beer) next to the pool or a glass of wine at sunset, this terrace offers an escape from running around the city (despite being located in the dead centre) with its laid-back and relaxed vibes. Hungry? Ohla hotel also has a number of restaurants on-site, like the Michelin-starred Caelis, and La Plassohla, where traditional Catalan cooking meets luxury dining. This spot is a definite must during the warm, sunny days if you're looking for some down time and serenity atop a luxury hotel. The prices are a bit steep, but the experience is well worth it.
Hotel guest access: Daily 12pm-midnight
Public access: Daily 7pm-midnight
Prices from: Beer €6, glass of wine €7, cocktail €16
There is something absolutely majestic about Antoni Gaudí's final masterpiece that leave its visitors in awe, and this hidden gem has the best views of the city's most emblematic landmark. Situated directly in front of the Sagrada Família, the terrace offers visitors a spot front and centre to sit and relax while enjoying something off the drink or food menus. Their food options include bar snacks, sandwiches, tapas, and desserts. Prices are relatively reasonable, and you'll find plenty of places to take it easy, with deck chairs, loungers and sofas galore. So settle in and take in your surroundings in all their splendour.
Public access: Summer: 10am-midnight (rooftop bar open 6pm-10pm). Before 6pm, you can order a drink downstairs and take it up to the terrace.
Prices from: Beer €4, glass of wine €4, cocktail €12
As a master of the balancing act between elegance and cosiness, La Terraza del Claris is a safe bet for a great time. The view from the large rooftop is fairly good, but the true strength of this terrace is its unbeatable atmosphere of well-being and its stylish design. Unlike many other rooftop bars, La Terraza del Claris also boasts a top restaurant in the space. While there are certainly cheaper places to dine out, well-prepared Mediterranean specialities and the friendly wait staff make sure you get what you pay for.

Public access: Daily 11am-12.30am
Prices from: Beer €7, glass of wine €7, cocktail €15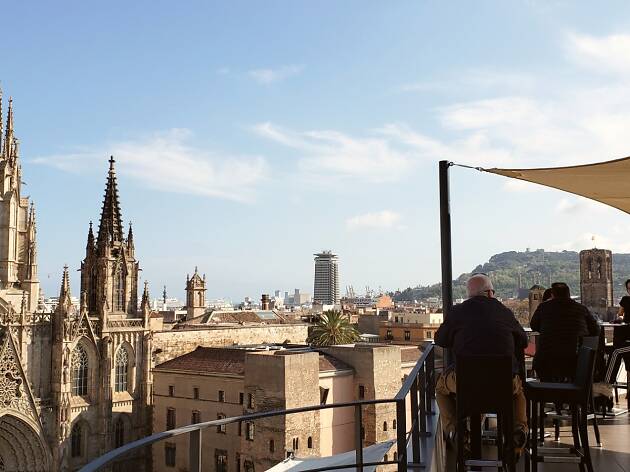 Photo: Yoli Arriaga
5. Terraza Colón at Colón Hotel
Located right in the heart of the city, a bird's eye view of the Barcelona Cathedral in the Gothic Quarter, this terrace has some of the most stunning views of the city. Thanks to it's amazing location, this spot has the best of both worlds with both Mountjuïc and the port in sight. Despite it being in the middle of all the hustle and bustle, the vibe here is quite calming even though just a block away is the ultra busy street Portal Del Angel. This spot can transport you from the almost-too-difficult-to-walk madness of the city centre seven floors up to a quick escape from the chaotic city between the mountains and the sea. A sweet reminder of how magical Barcelona is... though you probably didn't need much reminding.
Public access: Daily 11am-11pm
Prices from: Beer €5, glass of wine €7, cocktail €14
This spot is great in more ways than one. From its reasonable prices (by rooftop bar standards) to its panoramic views of the city, plus live music every Wednesday from 7pm to 9pm. But its vibe is what sets it apart. When the place fills up in the evenings or at the weekend, there's a certain zen to the city skyline in the backdrop, an Aperol Spritz in hand, arm at a constant 45-degree angle, and the melody of the DJ's track wafting overhead. If the sun starts to get at you, you can cool off by dipping your feet in the pool. Stay a bit longer and catch an unbeatable sunset view.
Public access: Daily 4pm-1am
Prices from: Beer €4, glass of wine €4.50, cocktail €10-€16
As the name suggests, the Majestic Hotel is a place of elegance, first-class service and exclusivity. Unsurprisingly, its rootfop terrace, La Dolce Vitae, follows the same line and lives up to the expectations that come along with the hotel's reputation: with amazing views of the Sagrada Família and Montjuïc and an extensive culinary offer supervised by Michelin-star chef Nandu Jubany, an evening out on this rooftop is a guaranteed success. At €11 for a glass of the least expensive wine on the list, it's not exactly a bargain, though, and if you have to watch your budget, you might want to consider La Dolce Vitae as an option for a special occasion rather than for a cloudy Tuesday afternoon.
Public access: Oct-Apr daily 10am-9pm; May daily 10am-11pm; Jun-Sep daily 10am-midnight
Prices from: Beer €8, glass of wine €11, cocktail €16
Many of Barcelona's rooftops offer a rather restricted view of the city's major sights. The terrace at the top of the Grand Hotel Central is a sure way to avoid disappointment: with its seemingly endless pool (for guests only) and impressive views of almost the whole city, it's no surprise that this terrace doesn't stay empty for long. The limited public access (from 8pm and with a cover charge) adds to the popularity of the venue. They do take reservations, and it's well worth booking ahead especially as prices here are relatively cheap... in rooftop terms. If you book in advance for dinner, you don't have to pay a cover charge.
Public access: Mar-Oct daily 8pm–1am (cover charge €20, incl. 1 drink)
Prices from: Beer €6, glass of wine €7, cocktail €6
Thanks to the breathtaking 360-degree view over Barcelona and its location directly on La Rambla, there can be no doubt that La Isabela, the stylish terrace on the roof of Hotel 1898, is one of the best choices for a relaxed evening out, be it for dinner or just a few drinks. You might find this urban gem to be a bit on the pricey side, but the comfy yet elegant chill-out area, the great tapas, an outdoor pool and the fantastic view of the sunset will make the ache in your wallet worth it. You don't have to book in advance, but because La Isabela is so popular among locals and tourists alike, we recommend you make a reservation, especially if you plan to visit at the weekend.

Public access: May daily 10am-midnight; Jun daily 1pm-midnight; Jul-Sep daily 1pm-2am; Oct daily 1pm-9pm
Prices from: Beer €6, glass of wine €7.50, cocktail €9.50-14

If what you're after is a hidden jewel, a place not yet over-explored by heaps of tourists, Villa Emilia's La Terraza could be the perfect place for you. Just a short walk from Plaça Espanya, this cosy and tastefully furnished rooftop terrace is a prime example of Barcelona's Mediterranean and laid-back side. The view from La Terraza is not as magnificient as from other rooftops, but the place itself makes up for it with its intimate atmosphere, and prides itself on its live music sessions on Thursdays and Saturdays (7.30pm-9.30pm), when they also put on their popular barbecue nights (8pm-11pm; pre-booking for these events is essential). On regular days, they offer a small but fine selection of tapas, along with refreshing cocktails.
Public access: Daily 11am-1am
Prices from: Beer €5, glass of wine €5, cocktail €11
The B-Pool Bar at the top of the B-Hotel is the place to see and be seen. Not only does the spacious rooftop terrace provide a good view of Plaça Espanya, but you've got to agree that dining next to the too-blue-to-be-true pool and under the envious gazes from the tourists on the Arenas shopping centre's viewing platform just opposite B-Pool Bar has its own draw. And we don't blame you. Compared to other rooftop bars, the prices for scrummy tapas and cool drinks are relatively affordable, so you can fully enjoy your evening on this elegant terrace without clear conscience... even if you can't resist ordering Ben & Jerry's for dessert.
Public access: Daily 8pm-1am
Prices from: Beer €4, glass of wine €4, cocktail €10.5
Fancy a small plate (or five)?
You'll see menus boasting about how brilliant their tapas is just about everywhere you turn. So we're here to help you find the very best restaurants, cafés, bodegas and tapas bars Barcelona has to offer.