London's best beer shops
Discover where to buy great bottled beer and ale in London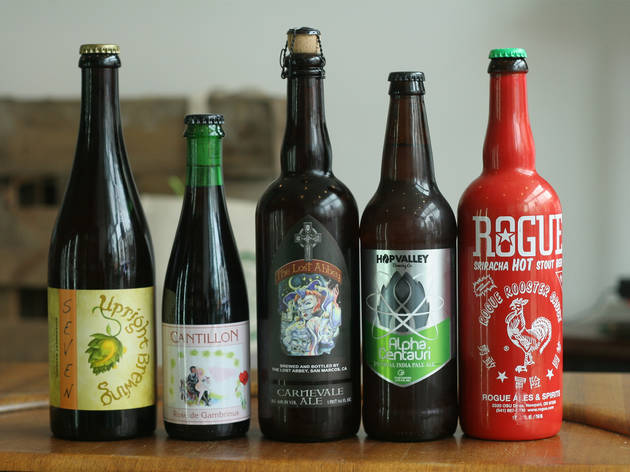 When a can of Carling isn't going to cut it, seek out one of these specialist shops and take your pick of some of the most exciting craft beers made in London or for beers from microbreweries in the UK, Europe, the US and beyond. Do you have a favourite shop that sells brilliant beer? Leave a comment below.
RECOMMENDED: Find the best craft beer from around the UK
The best beer shops in London
A dedicated Putney beer shop with a carefully selected range of Trappist, Belgian, fruit and pilsner brews. London ales are well represented – there's Kernel, and Windsor & Eton – and staff will give advice on the optimum glassware to use with different varieties of beer, as well as food matching.
Read more
Its website labels it a 'micro-pub', but its colourful, light-filled, open-plan front room is probably best described as a drop-in centre for beer-lovers. The tiny back counter dispenses three draught beers and a 60-strong list of bottled beers, ciders and porters – mostly (but not all) from London brewers, all with clear, succinct tasting notes. The Beer Shop also sells everything to take away – even draught beers.
Read more
The clue's in the name – this is of course primarily a chain of wine shops, but in recent years it has increasingly stocked a range of well-chosen beers, with a focus on London breweries. Various venues.
Read more
The Scottish brewery Brewdog is intent on taking over the world with its flavoursome craft beers and ever-increasing chain of bars; this was its first dedicated bottle shop, and as well as its own beers it stocks a mighty selection from around the world, as well as books and homebrew supplies. Look out for tutored tasting events.
Read more
Like Borough Wines, Bottle Apostle is a small but growing chain of wine shops. However, it too doesn't ignore beer, especially in its Stratford store, in the former Olympic Village – it has one of the best choices of London-brewed beers we've seen. Various venues.
Read more
Despite its simple name, The Bottle Shop is a sophisticated operation – it's an importer and distributor of incredible craft beer, much of it exclusive, and sells mostly through mail order. This London shop is only open Saturdays and Sundays, but makes up for that with an amazing selection of beer, plus a bar and regular brewer takeovers.
Read more
Caps & Taps, Kentish Town's first craft beer specialist, is a tiny place but it sells around 300 beers from London, the rest of the UK, the US and the rest of the world. Look out for relative rarities. And fans of esoteric US beers are particularly well served.
Read more
City Beverage Company
Handy for Shoreditch and Hoxton, this slightly unreconstructed off licence has a decent range of craft beer as well as wine and spirits.
The best bottle shop in London? It's a strong contender. As well as the original in Clapton, as of 2015 there's a handsome, brand-new branch in Kentish Town, which has ten taps of draught beer to take away in refillable 1 litre bottles and growlers as well as shelves of brilliant beer. Staff are genial and really know their stuff.
Read more
Drink of Fulham
A truly exceptional range of beers from around the world pack the shelves of this dedicated Fulham beer shop. There are more than 500 examples of British, Belgian, German, American, Antipodean and other world beers available, and stock changes regularly. Staff will happily point you in the direction of new and interesting bottles – Brewdog Bashah double black IPA, for example, or Goose Island Bourbon County Stout.
Show more
Find more food and drink shops in London
Find places to drink craft beer
Craft beer – interesting, progressive beers made by small-scale breweries, and distinct from real ale – is often explosively hoppy and quite unlike traditional British beer. An increasing number of London bars and pubs are specialising in them. Here's our pick.
Read more