Bars in Soho, London
Whether you fancy a quality cocktail, a pint of real ale or a place to party the night away, these bars in Soho are sure to please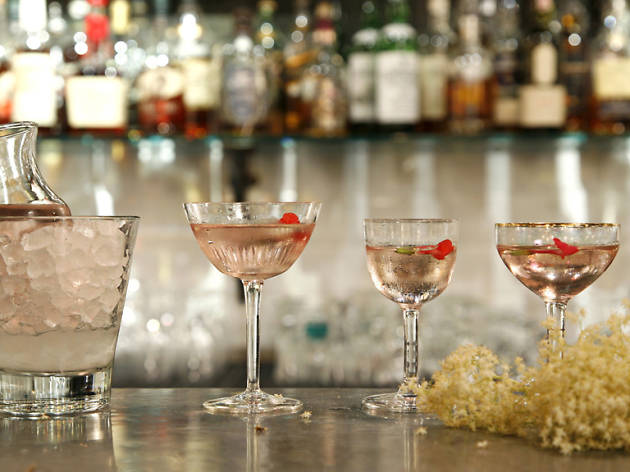 Soho's diverse and colourful bars and pubs make the area a popular destination for nights out. Bar-hopping scenesters, often creating severe foot traffic in the evenings, might enjoy boundary-pushing cocktail bars or the area's late-night hot spots. Time Out presents a guide to the best Soho bars to bend an elbow. Know a better bar in Soho? Then let us know in the comments box below or tweet your suggestions. And don't forget to check out our pick of the best Soho pubs and clubs.
Find more of London's best bars
Searching for the best bars and pubs in London? You're in the right place. The capital's drinking scene is one of the best in the world, with boundary-breaking cocktail bars taking mixed drinks to the next level, while traditional pubs bring you back down to earth in the best possible way. Should you be looking for the perfect pint or a cocktail beyond comprehension, our critics have rounded up their favourite bars and pubs across the capital on Time Out's list of the 100 best bars and pubs in London. Bottoms up!
Read more
Sponsored listing
100 Wardour St
With prices per square foot in Soho reaching ever more ludicrous heights, the D&D restaurant group (owners of 26 other prime spots in London) has turned its cavernous holding on Wardour Street into a high-end restaurant/bar/lounge/music club aimed squarely at well-heeled media types. No one's going to miss mock-Cuban venue Floridita that was here before, though this big-but-slightly-bland replacement feels like a slightly missed opportunity to do something really exciting. After all, the site was once home to London's rock 'n' roll mecca, the Marquee Club. The basement area, now 100 Wardour's 'Restaurant & Club', still has a stage for live music. It was loungey jazz on our visit, though the programme stretches to pop and electro (all unknown artists). The extensive menu has an intercontinental flavour, from decent robata-grilled skewers (baby octopus, grilled corn-on-the-cob) to a crisp-skinned salmon with sweet harissa potatoes that was downright delicious. The kitchen puts care into the little things: top marks for a side of pak choi garnished with subtle lemon and chilli. As the eye-popping champagne list suggests, this a place for belt-busting, diet-destroying client dinners. There was only one veggie option, but a gamut of calorie-stacked desserts. It's all proficient, polished and pleasant, if a bit old-fashioned. And though there are plenty of places in Soho that are more cutting-edge than this, not many of them serve dinner right through to 2am. 100 Wardour Street:
"Join us for Soho's popular bottomless brunch every Saturday! Two courses £23.95 or three £27.95. And upgrade to bottomless bubbles for £20!"