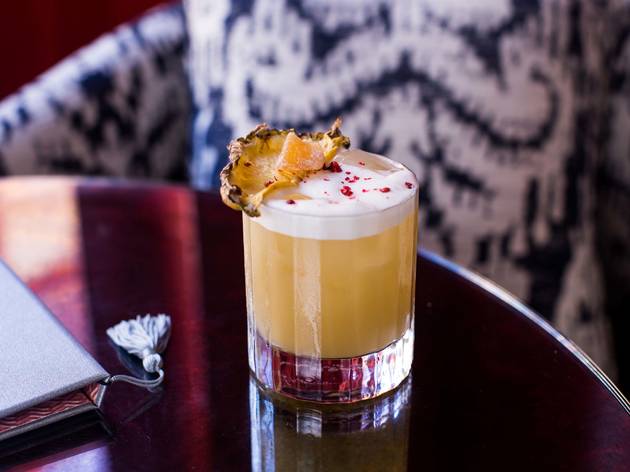 The best bars in London
Find the very best bars in Time Out's ultimate guide to drinking in London now bars are back open – from wine and cocktails to craft beer and beyond.
July 2020: Wow, things got weird for a bit there, didn't they? But now London's bars are back open, so we can at least pretend that life hasn't altered beyond recognition. Nothing says normal like a crisp pint shared with pals. Bars will be different for a while – expect staff in PPE, to pre-book a table or give your name and contact details on arrival, and to maybe even have your temperature checked on the door. But if you're ready to get back out there for a round, then these are the best bars in London that are fully prepared for socially distanced drinking. And we'll keep you updated as soon as more of our favourites open up again.
Welcome to the Time Out DRINK List, our handpicked 'best of' London's drinking scene. These are the most buzzing bars in this city right now: the most inventive and most memorable watering holes, all ranked by expert local editors. We scour the city every night of the week in search of amazing drinks, great value and insider info (from disco loos to an unmissable rum-punch happy hour), visiting incognito and footing the bill. That's how you know that if it's on this list, it's awesome.
Quality drinks are essential, that's a given – from wine to spirits to craft beer. But we're looking for the fun factor wherever we drink, whether that be a quirky theme, Instagrammable tipples or service that instantly puts a smile on your face. And we're all about value for money at every price point – from splash-out cocktail bars to down-and-dirty dives. Ultimately, these are the places we would recommend to a friend; the best in class for boozing. Time to order in a round you won't forget in a hurry.
Drank somewhere on this list and loved it? Share it with the hashtag #TimeOutDrinkList. You can also find out more about how Time Out makes recommendations and reviews bars here.
The best bars in London, ranked
Discover even more top bars in London
So many cocktails, so little time. So just stick to the best cocktail bars in London by using our ranked list below. You'll find everything from dark and dirty speakeasy joints and secret bars to bold and brash party spots meant for a night out on the tiles. What they all have in common is mixed drinks that will blow your mind – and hopefully not your budget.