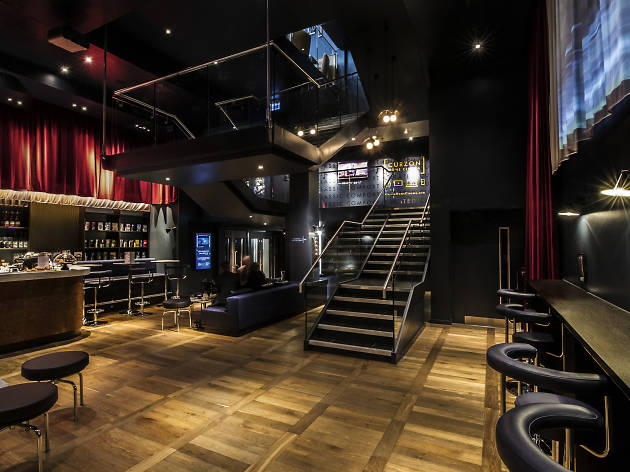 In May 2014 the Curzon opened this sleek five-screen £3 million cinema, an oasis of elegance on an unlovely stretch of main road in Victoria. Upstairs is a 'Mad Men'-chic bar, with leather armchairs, film stills on the walls, board games and two widescreen TVs with headphones where you can watch around 40 films from the Curzon's archive for free. Downstairs is a vaguely Lynchian bar with red velvet curtains, while inside the cinemas you'll find super-comfortable reclining seats. As with all the cinemas in the Curzon chain, this is luxurious without losing sight of the reason we're here – to watch brilliant films.
Venue name:
Curzon Victoria
Contact:
Address:
58
Victoria Street
London
SW1E 5JL

Transport:
Tube: St James Park's
Do you own this business?
The big fear about the punky, not-for-kids comic-book movie Suicide Squad was that it might be too try-hard: Hollywood awkwardly slumming it with the alt crowd. But this loony wise-cracking DC Comics story, directed with anti-glossy grit by David ...

Read more

How much difference is there really between Ricky Gervais and his best-known creation? They're both loudmouths, upstagers, look-at-me-ers. They're both convinced of their God given talent. And they do look an awful lot alike. In 'Life on the Road'...

Read more

After the campy in-flight antics of 'I'm So Excited' and the creepy shivers of 'The Skin I Live In', Spanish filmmaker Pedro Almodóvar is back on familiar ground with 'Julieta'. A sombre, ravishing study of grief, guilt and burden, you could in al...

Read more

This delightful film from French filmmaker Mia Hansen-Løve ('Eden', 'Goodbye First Love') is her first built around a genuine star. Isabelle Huppert gives a typically intelligent and low-key performance as Nathalie, a Parisian philosophy teacher a...

Read more

Matt Damon and Paul Greengrass prompted widespread surprise with their decision to return to the Bourne series, despite the neat closure of trilogy capper The Bourne Ultimatum. Surely, we assumed, they must have a great reason to come back: some i...

Read more

Filmmaker Todd Phillips graduates from 'The Hangover' trilogy with this part comic, part downer real-life story about an unlikely pair of twentysomething guys from Florida who blagged their way to multi-million-dollar arms contracts during the Ira...

Read more

With the period romance 'Café Society', Woody Allen gives us a young Jewish man, Bobby (Jesse Eisenberg, fairly endearing as a Woody stand-in), who's burnt by love and glamour when he escapes the family business in 1930s New York and heads to LA t...

Read more

Actor-turned-director Brady Corbet wears a whole bunch of literary, historical and cinematic references on his sleeve with this shadowy psychodrama set in France in 1919. Wrapped in an intense and nerve-plucking score by Scott Walker that adds to ...

Read more

Too much ambition can be a dangerous thing. The previous 'Star Trek' movie, 2013's 'Into Darkness', was packed with it: a sprawling epic full of new worlds, violent consequences and hefty emotional moments. It was later – just a little unfairly – ...

Read more
Rating Breakdown
5 star:

0

4 star:

1

3 star:

1

2 star:

0

1 star:

3
Very unhappy little grandson this morning,, wanted to see the good dinosaur at 10.30, we got there at 10.05 and joined a few other children waiting outside, doors usually open at 10.15 but not this morning. There was a member of staff behind the counter inside but we was just ignored until 10.32, when he decided to open the doors,, funny thing was there were adults and children already sitting inside by the window!
Well when we got the the counter with the other people who had been waiting outside in the freezing wind for 25 minutes we were told the seats for the film are fully booked! A lot of angry people and crying children!! They couldn't put a notice on the door? To say the early morning children's film was fully booked instead of leaving us waiting in the freezing cold.
Disgraceful, I come every week as I live local, never again! I will take my custom back to cineworld!
A very unhappy 5 year old and grandma!
Unfriendly staff. Overpriced tickets. No concessions on a Saturday. Bar area feels like a waiting room.
Tickets at the Curzon Victoria are hugely overpriced (£18 when we went!) and the quality of its cinemas (based on watching a film in the tiny Screen 1) is abysmal. The main public areas are well designed and the ambience is good. Unfortunately, all of the budget and space seems to have gone into creating them, rather than prioritising an optimum viewing experience in the cinema.
We went to see Leviathan and were told that our £18 tickets in the front row were 'great' by the guy at the box office desk. However, we were ridiculously close to the screen and sitting so far to the far left that the image was like some strange rhomboid. It was impossible to engage with the film while watching such a distorted image.
The quality of the cinema itself was well below that of other premium screens in London. Seats were just about OK, but the whole environment felt as if it was done on the cheap. This was, without doubt, the worst cinema experience I have had in 15 years of going to indi cinemas in London.
Very nice new cinema. But does London need an even more expensive cinema? Peak time tickets cost £18 plus £1 booking fee! Pullman seats are unnecessary and really not that comfortable. For this price Curzon would be advised to pay more attention to the 'experience' to justify the price - clean the drink table next to the seat (there's not that many seats, most seats were empty and seats are pre-booked), control the air conditioning (it was freezing) and get people to chomp on their nosy bag of popcorn, crisps etc before, not during the film.