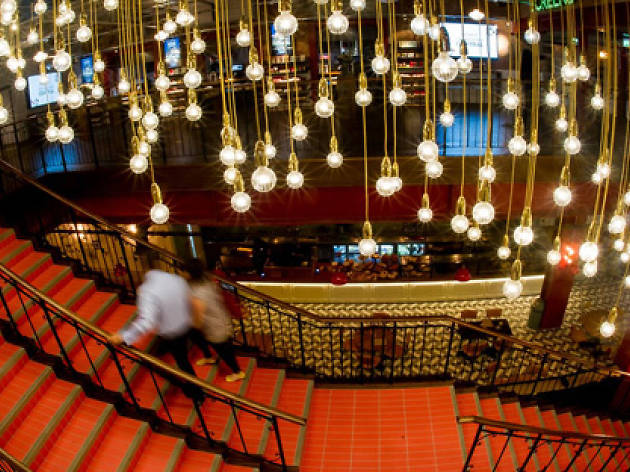 The Picturehouse's latest branch, opened in the summer of 2015, sits on the site of the old Cineworld in Piccadilly's Trocadero centre, which has had a stunning revamp. Distancing itself from the old maze that was former cinema entrance, Picturehouse have walled this up and made a clear entrance on the corner of Shaftesbury Avenue and Great Windmill Street.
Inside visitors are met with a grand staircase paired with a film themed mural by US artists Patrick Vale and Paul Davis. There's also a ground floor café. Up a level you'll find the box office and the bar, before heading to one of the seven screens. Still in the same theatres the original screens were, these rooms have been overhauled with larger screens and comfy seats with more leg room.
Another climb up a level will take you to the gallery space and a members-only bar with a roof terrace that looks out over the busy streets of central London.
More
Less
Picturehouse Central says
London's most stylish new cinema, inside the Trocadero. Seven screens playing a mix of quality mainstream, indie, foreign language and documentaries. Plus a ground floor cafe, first floor bar-restaurant and a newly opened members' bar across two floors with a roof terrace revealing stunning views.
More
Less
Venue name:
Picturehouse Central
Contact:
Address:
The Trocadero
Shaftesbury Avenue
Piccadilly
London
W1D 7DH

Cross street:
Great Windmill St
Transport:
Tube: Piccadilly Circus
Do you own this business?
Who wanted a Disney remake of 'The Jungle Book'? No one. Especially not one combining CGI with a real-life boy. But forget about your worries – this new version is the jungle VIP. Director Jon Favreau hasn't monkeyed around, dipping into the 1967 ...

Read more

Now one of French cinema's best known actors, Vincent Lindon exudes what is perhaps best described as 'down-to-earthness'. For the most part he tends to play a decent sort who can be relied on to do the right thing, and Lindon is the only professi...

Read more

What to watch this summer if you're too scared to make it past episode two of 'Stranger Things'? The answer is Disney's 'Pete's Dragon', about an orphaned boy who lives in the forest with his pet dragon (it's remake of a 1977 film). With 'Pete's D...

Read more

The big fear about the punky, not-for-kids comic-book movie Suicide Squad was that it might be too try-hard: Hollywood awkwardly slumming it with the alt crowd. But this loony wise-cracking DC Comics story, directed with anti-glossy grit by David ...

Read more

While 'Finding Dory' is crammed with the kind of visual pleasures we've come to expect from Pixar, the story doesn't always reach the heights of invention upon which the animation giant has built its reputation. The film lacks the psychological pr...

Read more

How much difference is there really between Ricky Gervais and his best-known creation? They're both loudmouths, upstagers, look-at-me-ers. They're both convinced of their God given talent. And they do look an awful lot alike. In 'Life on the Road'...

Read more

After the campy in-flight antics of 'I'm So Excited' and the creepy shivers of 'The Skin I Live In', Spanish filmmaker Pedro Almodóvar is back on familiar ground with 'Julieta'. A sombre, ravishing study of grief, guilt and burden, you could in al...

Read more

Who would make an entire movie about man's best friend? Not, it turns out, misanthropic writer-director Todd Solondz ('Happiness'). Boasting a cast of exquisitely neurotic Dachshunds, 'Wiener-Dog' follows the story of one dog falling into a series...

Read more

The Romeo and Juliet story never gets old, but the mix of youthful romance and rivalry has rarely been put across with such brute force as in this sinewy Belgian drama. The outline is familiar, as 15-year-old Mavela (Martha Canga Antonio, a real ...

Read more
Average User Rating
4.6 / 5
Rating Breakdown
5 star:

27

4 star:

6

3 star:

2

2 star:

0

1 star:

1
It might be a cinema, but this is one of my favourite hangouts in the area - great cafe!
I had to share this photo - and see others have done the same.
There are some places in London where just looking out gives you a sense of occasion.
The corner table on the Club Level here is just one such place.
Picturehouse Central is a great venue to see a film - its equally a good spot just to hang out.
Very civil and just metres from Piccadilly Circus.
The coolest cinema for miles around, and considering it's a stone's throw from the PCC, the ICA, the Curzon, and a couple of cinemas with the best screens in the city (OLS and Empire) that's saying something.
Christ.
Am actually quite shocked to read these reviews on here. Is it the same place? Do people only care about decor?
Second attempt to come here last night (first attempt they had whored it all out to a corporate at last minute with no notice. Fun if you've travelled an hour to visit).
After a 40 min queue for tickets an same again for snacks. Got upstairs to be told restaurant closed (corporate do, of course) so had to stand around (no seats) for a while- no real time to go anywhere else as too busy to get down escalator and leave
Film: pretty good but sound was too quiet and so could hear everyone talking and eating. Seats lean back: result... However, when doing so they jerk the whole row meaning other people are involuntarily moving you the whole way through. Also- it's freezing! Air con in late Oct? Why?
Dinner after: food cold and took ages. Also the worst of the Mayfair art set and upper class hipsters (Dalstons a bit common now) jostling for space, clattering into poor couples trying to get some respite and generally braying bollocks
Whole thing such a shame I could cry
Great fresh and innovative new venue in the West End
By far the BEST cinema in the West End!!!
Like the theme tune from Toys R Us but take out "Toys R Us" for Picturehouse and "Toys" for films.
The best place to see a movie north of the river. Hot dogs in the bar to die for.
Best cinema in Central London!