August bank holiday clubbing
Make the most of the long weekend and join in the fun at some of the capital's best parties
Take advantage of that extra day in bed this weekend and head to one of the capital's best bank holiday parties. From techno and underground house to bass nights, we've got it covered. Whether you're warming up for Notting Hill Carnival or simply looking for one epic night out, we've rounded up our top bank holiday clubbing picks. Check out our comprehensive list below, or browse the very best bank holiday clubs by music genre, from techno to funk to rock 'n' roll.
Top bank holiday clubs: the full list
---
As London's most laser-heavy warehouse party celebrates its birthday, we take a look back at four years of To The Lazer Cave.
Looking for more rhymes and riddims in your life? We've got the rap on the freshest parties in town
The guests have outstayed their welcome – this year is all about the residents. We celebrate the stamina of London's live-in DJs
See more top clubbing features
---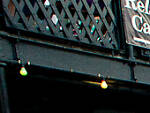 See bank holiday in London events