Cheap eats in Notting Hill
Going west doesn't have to mean going broke, and our list of budget restaurants and cafés in Notting Hill should prove it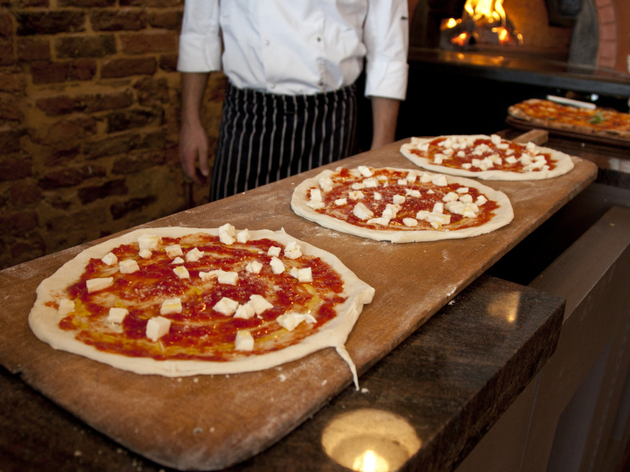 It's not renowned for its money-saving properties, but anyone can eat in Notting Hill once they know where to head for. This list of budget restaurants and cafés means you can easily explore both ends of west London's price range. Is there anywhere we haven't found yet? Let us know in the comments below or send us a
tweet
.
For an ever-expanding chain (there are now six branches in London, one in Birmingham and outposts worldwide from Spain to Saudi Arabia), this pizza and pasta joint bats well above average. The Notting Hill branch is a buzzy affair with exposed brickwork and bright wall canvases, populated by families and ladies who lunch (Italian signorinas on our last visit – a good sign). Antipasti are fresh and plump, be they satisfying polpettina (mini meatballs) or doughballs served with tomato sauce, basil and parmesan. Pasta is good, but pizza is most popular – authentically Neapolitan and generous in size. Opt for a basic margherita or quattro formaggi or go posh with one of six specials – an afragolese of buffalo bresaola, mozzarella, rocket and parmesan; or fru fru, an oval-shaped three-season pizza with ricotta, parma ham and salami. Homely mains are no afterthought (think beef braciole stuffed with pecorino, pine nuts and raisins in a thick tomato sauce), while cut-above bulky salads (fresh tuna, grilled beef or chicken caesar) come well dressed. Ingredients, from the san marzano tomatoes to the extra-virgin olive oil, are Italian-imported, as is the nicely chilled Moretti. The venue is genuinely kid-friendly too, without turning into a crèche; bambini get their own menu and there's colouring-in to distract and mini portions of gelati for afters.  
Read more
The simple menu at this Notting Hill restaurant (opened October 2012) takes you through classics including fish cakes, scampi and, of course, cod and chips (£11.90). Our cod and 'rock eel' were crisp-battered and succulent, served with golden-hued fat chips and tartare sauce; the mushy peas were a slightly lurid green, but tasted no worse for it. The small dining areas are clean and attractive, the service welcoming. The Fish House is not related to Fish House in Victoria Park, east London.
Read more
Note: We're open as a cafe Monday-Friday daytime, with a street food menu - and Thursday - Saturday evenings for restaurant service. We don't take reservations for daytimes - so just walk on in! We're the UK's first kitchen incubator, helping London's most promising and original food entrepreneurs to get started. In partnership with top British designer Tom Dixon, our restaurant takes over the intimate space downstairs from The Dock Kitchen - looking right over the dock waters. The focus is affordable, informal concepts from world over - a short street food menu, served up on small plates, alongside our natural wine list picked by Tutto. This month's residency: Kushi's Japanese Tacos: umami-filled crispy gyoza shells, with yuzu kosho grilled chicken, red miso ox cheek, and seasonal greens.
Read more
See our full Notting Hill area guide