The 100 best restaurants in London
Feast your eyes on the best restaurants in London, from seasoned stalwarts never falling out of fashion to tasty newcomers doing bold new things in the kitchen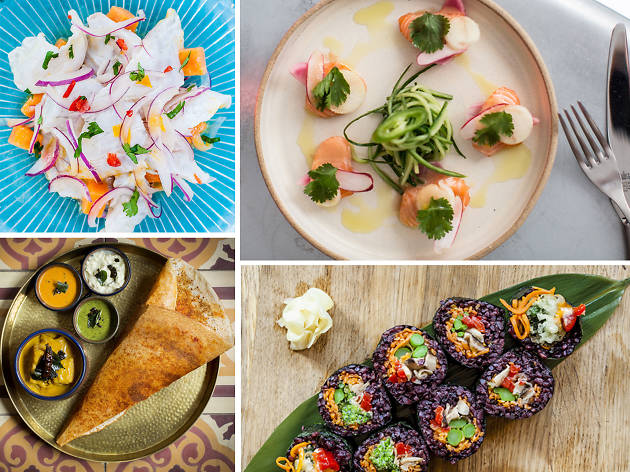 Setting the criteria for our annual list of the 100 best restaurants in London was the easy bit. Anywhere we felt compelled to revisit again and again was instantly in. The Time Out Food & Drink team spend the whole year independently visiting the newest joints in town and revisiting the greats, so our critics know which restaurants truly deserve their place in our annual top 100. Nevertheless, we fretted, we sweated, we chewed on toothpicks while dramatically shortening shortlists with a big red marker. Until, at last, we had London's best restaurants, ranked in order of greatness.
So in the list below – surely the ultimate guide to the best restaurants in London – you'll find it all: zeitgeist-defining celebrity haunts, the best new restaurants in London, Michelin star restaurants with starched linen napkins and restaurants serving down-to-earth cheap eats. What they all have in common is that they serve some of the best dishes in London at fair prices, with service befitting the setting. In short, if you're looking for a great meal, you've come to the right place.
100 best restaurants in London: 100-91
100 best restaurants in London: 90-81
100 best restaurants in London: 80-71
100 best restaurants in London: 70-61
100 best restaurants in London: 60-51
100 best restaurants in London: 50-41
100 best restaurants in London: 40-31
100 best restaurants in London: 30-21
100 best restaurants in London: 20-11
100 best restaurants in London: top ten
How many have you eaten at?
We can all be a bit competitive when it comes to dining out in London. That's why we've assembled a checklist for you to work out just how many of London's best restaurants you've been to. Take the test and share your score to see if you're the king or queen of London's dining scene.
Read more
Find great deals in our favourite restaurants
Members and their friends can enjoy half–price meals all year round at some of our favourite places to eat, approved by our Food & Drink editors.
Read more
Sponsored listing
Benihana Piccadilly
Food is theatre at this Sackville Street teppanyaki restaurant - one of two Benihanas in London (there's another in Chelsea). Meals are played with and prepared on a teppan hot plate at each table, where chefs showcase knife skills, tricks and flicks as they compile a selection of pan-Asian dishes.  The menu ranges from appetisers and sushi to miso black cod, tuna grilled in teriyaki sauce, wagyu beef steak and the 'seafood palace' - a combination of lobster, black cod, salmon and scallops. Desserts include green tea ice cream, mango sorbet, ice cream tempura and cheesecake dumplings. Keep an eye out for lunch offers, combination deals and bento boxes, too.  
"We are a heritage Japanese restaurant specialised in teppanyaki style dining. Indulge yourself with our wagyu beef set menu."