The 100 best restaurants in London
Feast your eyes on the best restaurants in London, from seasoned stalwarts never falling out of fashion to tasty newcomers doing bold new things in the kitchen.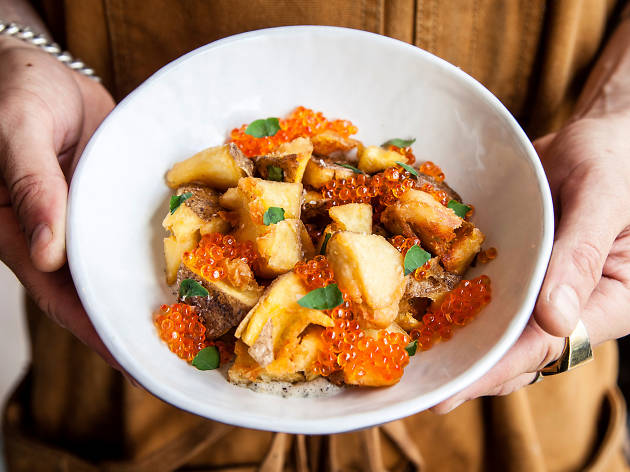 Here it is: The Big One. Setting the criteria for our annual list of the 100 best restaurants in London was the easy bit. Anywhere we felt compelled to revisit again and again was in. Plus all those joints you couldn't shake from your memory, because you'd had such a great time. The Time Out Food team spend the whole year tirelessly restaurant-hopping, so our critics know which restaurants truly deserve their place. Nevertheless, we fretted, we sweated and we chewed on toothpicks while dramatically shortening shortlists. Until, at last, we had London's best restaurants, ranked in order of greatness.
So in the list below – surely the ultimate guide to the finest eateries in London – you'll find it all. We've got celebrity haunts (ones that are, y'know, actually good). Kick-ass newbies. Neighbourhood superstars. Glitzy destinations in London's best hotels. Linen-heavy Michelin star restaurants. And places serving down-to-earth cheap eats. What they all have in common is that they serve some of the best dishes in London at fair prices, with service that suits the setting. If you're looking for an exciting meal, you've come to the right place.
100 best restaurants in London: 100-91
100 best restaurants in London: 90-81
100 best restaurants in London: 80-71
100 best restaurants in London: 70-61
100 best restaurants in London: 60-51
100 best restaurants in London: 50-41
100 best restaurants in London: 40-31
100 best restaurants in London: 30-21
100 best restaurants in London: 20-11
100 best restaurants in London: top ten
10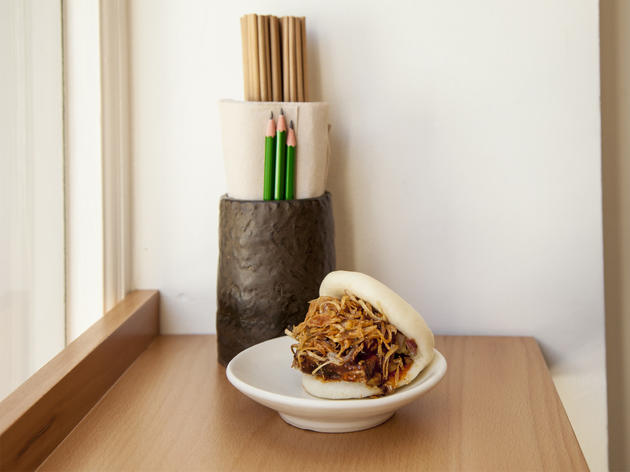 Price: Affordable
When to go: When you're in the mood for fiery food you can eat with your fingers – and have time to queue.
What to have: The fried chicken or confit pork bao, though the small plates (pigs' blood cake, trotter nuggets) are brilliant too.
If you like Bao, you may like...
Flesh & Buns, Smoking Goat
Forget Narnia. This is a wardrobe you really want to enter, but then stay in. Okay, Bao isn't actually a wardrobe, but the interior of the dinky Soho eatery feels so much like being inside a giant wood-veneered Ikea creation, you can almost hear the couples debating whether they really need 350 tea lights. But looks aside, Bao is a truly exceptional place. It serves award-winning Taiwanese street food with plenty of kick (it started life as a tiny Netil Market stall before grabbing the attention – and financial backing – of Trishna's deep-pocketed co-founder Karam Sethi; a second site in Fitzrovia has since opened to attempt to sate demand for those pillowy buns). It's the kind of stuff that's great if you're a little bit drunk. Just not paralytic – it's too good to be wasted on the wasted.
Read more
9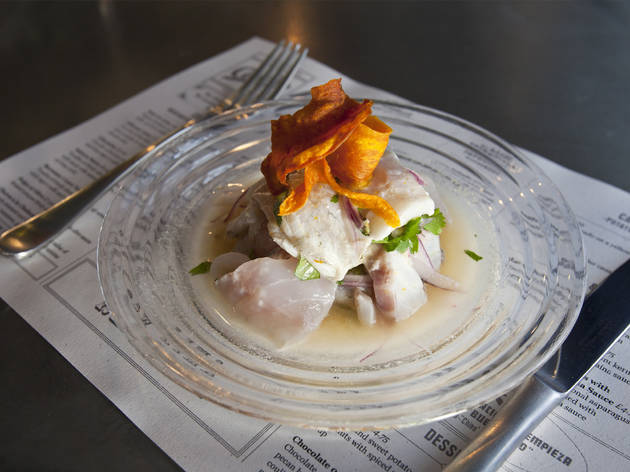 Price: Affordable
When to go: When you're after a Latin dance party on your palate.
What to have: The Don Ceviche (sea bass chunks in citrus with a scattering of red chilli and soft, diced sweet potato) is the winner in the world of raw fish.
If you like Ceviche, you may like…
Lima Floral, Andina
There was a flurry of Peruvian openings in London in 2012, but Ceviche – which has since spawned an Old Street offshoot – was the Machu Picchu, towering over several peaks. Showcasing the eponymous dish of citrus-cured fish spiked with chilli, the place serves half a dozen versions of ceviche. But the kitchen knows a lot more than just how to skin and slice a fish – there are also excellent chargrilled meat and fish skewers (anticuchos), crumbly corn cakes and other nibbles on offer. Be sure to sample a pisco sour or two at the bar while you're there.
Read more
8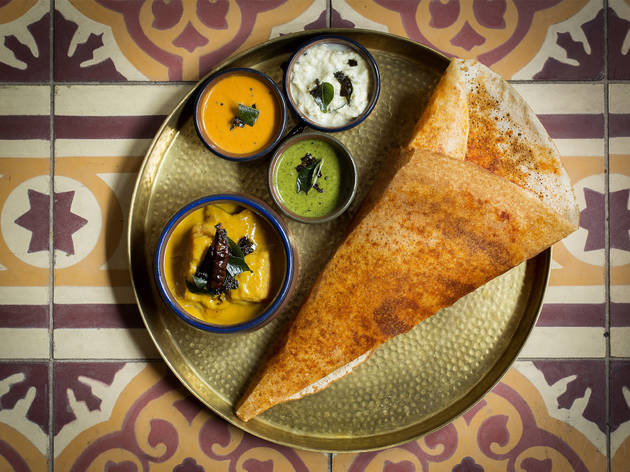 Price: Affordable
When to go: When you want to say to your mouth, 'you SHALL go to the ball!'
What to have: The bone marrow varuval (a sort of dry, bone marrow curry for spreading over a buttery roti), plain hoppers and any of the curries (tip: order an extra curry instead of several chutneys).
If you like Hoppers, you may like…
Bao, Gunpowder
There's nothing like Hoppers in London. Sure, there's good Sri Lankan food in certain pockets of the capital. But very few restaurants are exclusively Sri Lankan (most are South Indian and certainly don't do hoppers, the egg-topped pancakes after which this Soho restaurant is named); the few exceptions are okay, rather than amazing. So the fact that Hoppers is outrageously good is even more impressive. The small room, a sexy Soho take on all things Sri Lankan, is always full and always buzzing (and yes, you'll almost certainly have to queue), but it's more than worth the wait. If small plates, full flavours and unapologetic spicing are your bag, Hoppers will get your pulse – and your tastebuds – racing.
Read more
7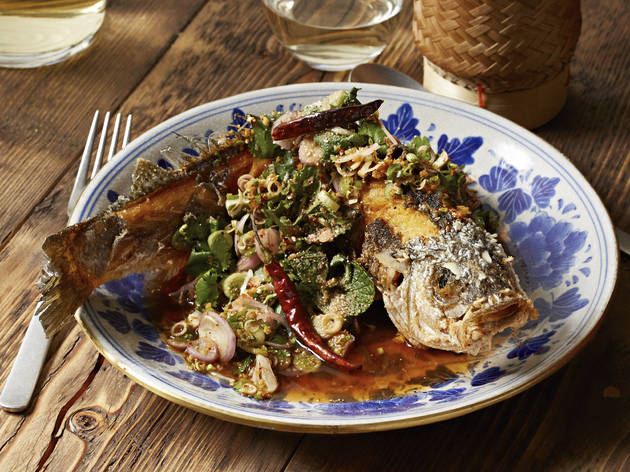 Price: Affordable
When to go: When you have three friends free on the same night as you – you'll not only be able to book, but also request one of the lovely cabina-style booths.
What to have: The whole deep-fried sea bass, a sensational combo of delicate flesh, crunchy roasted rice-battered skin and fragrant north-eastern Thai herbs. The palm sugar ice cream with unripe banana (really) is insanely good, too.
If you like Som Saa, you may like…
The Heron, Begging Bowl, Smoking Goat
Having raised funds to turn its residency in an east London coffee roastery into a permanent restaurant (it took just three days to raise £700,000, having only asked for £550,000), Som Saa finally opened its doors in April 2016. At last, everyone who'd ever wanted to sample the fiery Thai street food menu could do so in a stylish and exotic former garment factory walking distance from Liverpool Street (or Aldgate) tube. And sample it you should. Despite the cooking being from two non-Thais (ex-'MasterChef' winner Andy Oliver is a Brit, Mark Dobbie is an Aussie), the authenticity of spicing of some dishes is as straight-from-the-hills-of-northern-Thailand as they come. If your palate is naturally timid, go anyway, just ask the friendly staff to guide you.
Book now
Read more
6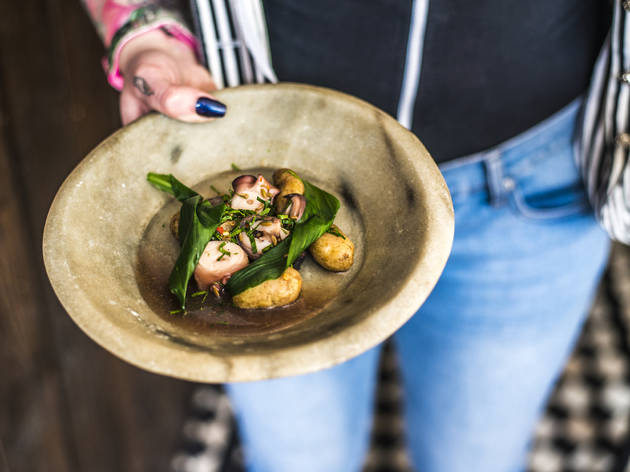 Price: Affordable
When to go: Whenever you like: you can actually BOOK. The best 'counter' is the main one, but on a sunny day, the alfresco tables ­– a stone's throw from Clapham Common – are a nice people-watching option.
What to have: The mind-bogglingly good 'nduja with cultured cream and sour potato flatbread: the best £4 you'll ever spend.
If you like Counter Culture, you may like…
The Dairy, The Manor, Paradise Garage
If you're the kind of person who likes your napkins starched and a flunkie to turn it back into a 'bishop's hat' while you nip to the loo, then Counter Culture is probably not for you. This tiny spin-off of Clapham's acclaimed Dairy isn't known as it's 'naughty little brother' for nothing. The music is grungy, the staff a charming mix of achingly hip and infectiously enthusiastic, but it's the cooking (contemporary European, but with ingredients borrowed from every corner of the globe) that really breaks the rules. Plates are small but deeply intricate, yet somehow without ever crossing the line into frou-frou or fussy. It's casual, creative and cool.
Book now
Read more
5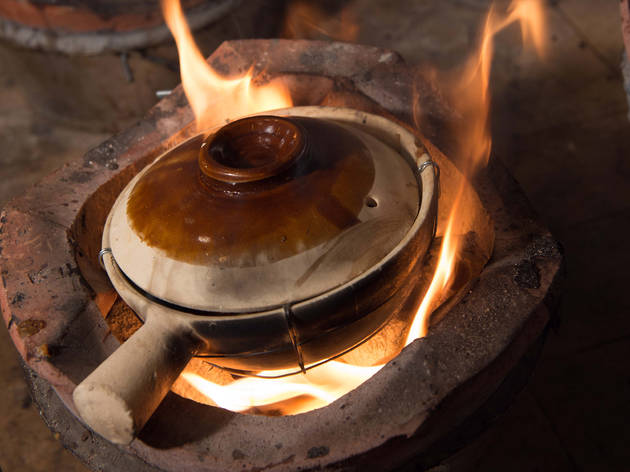 Price: Mid-range
When to go: When your funds are running low but you still want to eat exciting food – go with a group to taste as much as possible.
What to have: The superbly tender, Burmese-spiced short-rib curry is a true crowd-pleaser; or snap up any of the nightly specials.
If you like Kiln, you may like…
Smoking Goat, KaoSarn, The Begging Bowl
Self-taught chef Ben Chapman played a whopper of a hand with his first solo gaffe, Smoking Goat; this second venture is a continuation of the Thai barbecue theme. Kiln is a little less dive-y than its sibling. Instead, its simple, stripped-back looks work perfectly with the Soho setting and the style of cooking. Quality, Brit-sourced meat and fish are chargrilled over embers, Thai-style, and served with the fiery, flavour-packed sauces typical of rural Thailand – sit up at the counter to watch the chefs and furnaces in action.
Book now
Read more