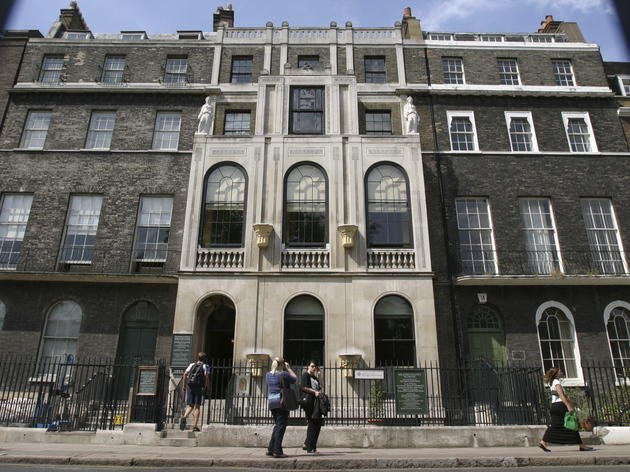 1/10
© Jonathan Perugia / Time Out
2/10
© Jonathan Perugia / Time Out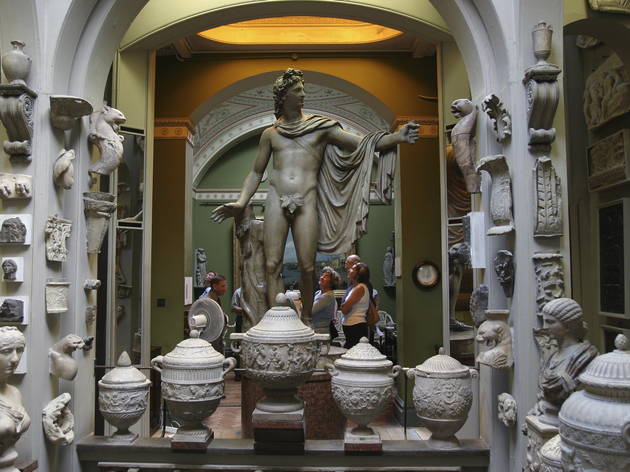 3/10
© Jonathan Perugia / Time Out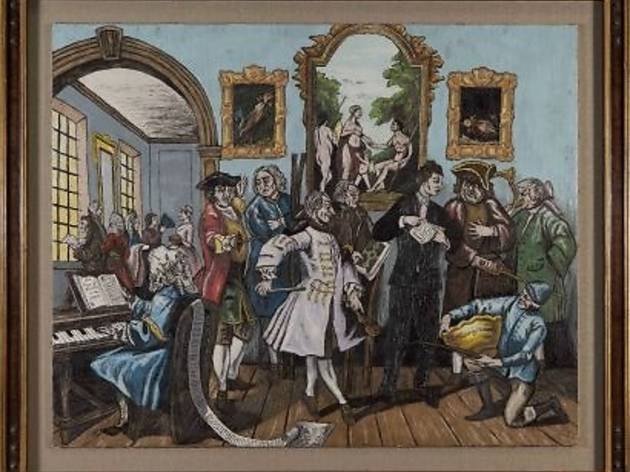 4/10
Hogarth's A Rake's Progress
Henry Hudson, A Rake's Progress: The Levée, plasticine on canvas, 2011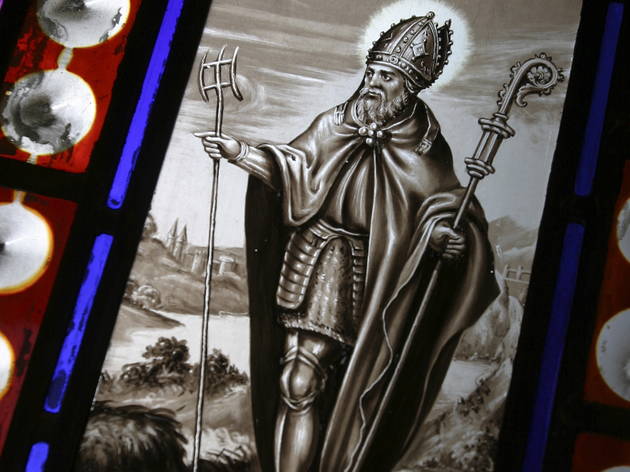 5/10
© Jonathan Perugia / Time Out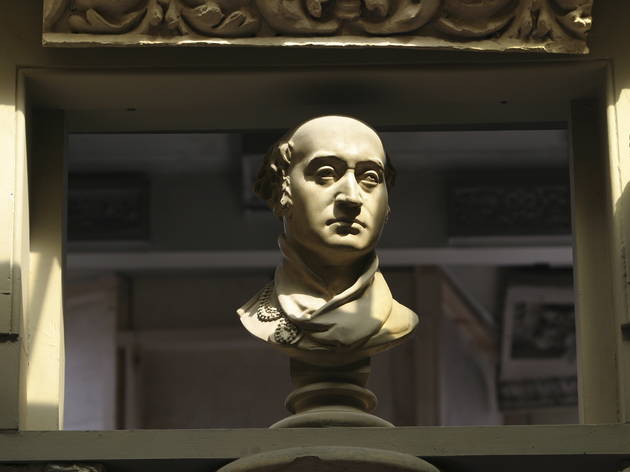 6/10
Sir John Soane bust © Jonathan Perugia / Time Out
7/10
The library © Martin Charles
8/10
© George Scharf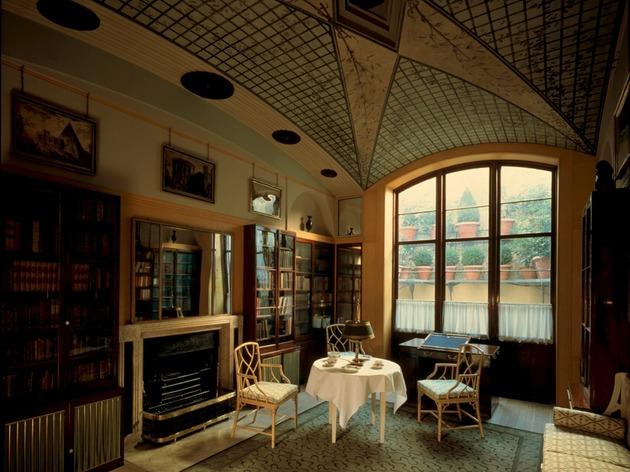 9/10
© Martin Charles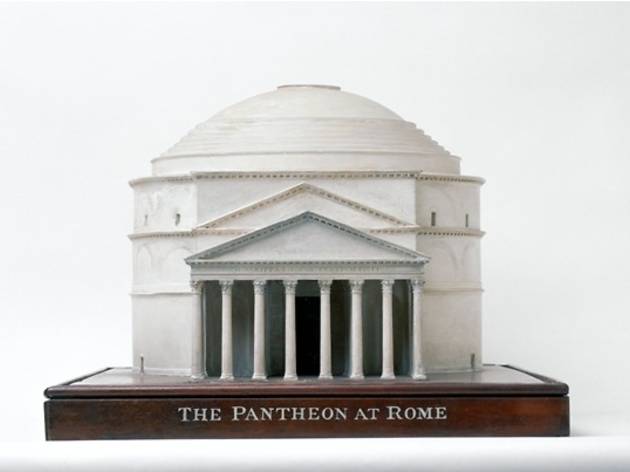 10/10
A model of The Pantheon
François Fouquet, Copy of the Pantheon at Rome
When he wasn't designing notable buildings (among them the original Bank of England), Sir John Soane (1753-1837) obsessively collected art, furniture and architectural ornamentation. In the nineteenth century, he turned his house into a museum to which, he said, 'amateurs and students' should have access. The result is this perfectly amazing place.
Much of the museum's appeal derives from the domestic setting. The modest rooms were modified by Soane with ingenious devices to channel and direct daylight, and to expand space, including walls that open out like cabinets to display some of his many paintings (Canaletto, Turner, Hogarth). The Breakfast Room has a beautiful domed ceiling, inset with convex mirrors. The extraordinary Monument Court contains a sarcophagus of alabaster, so fine that it's almost translucent, that was carved for the pharaoh Seti I (1291-78 BC) and discovered in his tomb in Egypt's Valley of the Kings. There are also numerous examples of Soane's eccentricity, not least the cell for his imaginary monk 'Padre Giovanni'.
In May 2015 the Museum opened Soane's private apartment and Model Room to the public. The apartments had not been open to visitors for over 160 years, so guests paying a visit to the fully restored model room, bedroom, bathroom, book passage, oratory and morning room will get a true glimpse of London's past.
Venue name:
Sir John Soane's Museum
Contact:
Address:
13
Lincoln's Inn Fields
London
WC2A 3BP

Opening hours:
Tue- Sat 10am-5pm (last admission 4.30pm) First Tue of each month 6pm-9pm
Transport:
Tube: Holborn
Price:
Free, £10 Sat tours, free students and concs
Do you own this business?
Average User Rating
4.4 / 5
Rating Breakdown
5 star:

15

4 star:

1

3 star:

1

2 star:

0

1 star:

2
An astounding, educational, eccentric and unique London experience.
I am a keen supporter and visitor to this place, every visitor should have this house museum on their list of "musts"
Even with much building and restoration work taking place it's fascinating.
Many people comment on entrance bring free, but PLEASE support this worthy cause by donation or purchase in the museum shop.
Now stop reading this and GO!
Lovely museum just off Kingsway and ideal for a short break away from the office. All sorts of quirks but admire the varied glazing and the quality of light which has provided inspiration for many a modern architect. A nearby cafe in the park by Lincoln's Inn means you can enjoy a coffee or snack before returning to the bustle of Holborn.
Truly a hidden gem, and..... be still the beating of my tight little Yorkshire heart... it's all free!! A curious house which belonged to eighteenth century architect: Sir John Soane, who designed famous buildings in the Neo-Classical style . This museum proves that artistic types with huge amounts of money and time do form the basis of the most fascinating of collections. Indeed what makes SJS so amazing is the never ending curious and surprising objects and artefacts. One minute you are in a room, comfortably admiring the Rake's Progress by Hogarth, the next minute they have opened the walls up to reveal more works of art... The proportions of the house will also shock you, it is truly like the tardis with the narrowest -seeming frontage but inside a real warren of rooms, leading down to a real, bona fide Egyptian scarcophagus. Do check opening hours before you go... The best museum in London...
Preserved since he lived there in the 19th century, The Sir John Soane's Museum is a gem of peculiar bits and pieces collected by the architect of the original Bank of England. While alive, he allowed his students to come and sketch things from his collection, which includes an Egyptian sarcophagus as well as things taken from other buildings. The highlight for me is the wood-panelled room with hidden panels concealing the original version of Hogarth's 'A Rake's Progress' which, if you're lucky, will be explained to you in a highly amusing way by one of the staff. Best of all, the whole thing is free.
Great museum. Quirky experience. Almost entirely unique opportunity to view a house museum - house museums predate the current purpose built museums we visit today. Also an opportunity to become a visitor of the 19th century, and an opportunity to see how the architect Sir John Soane transformed the house into what we see today - with windows everywhere, and ingenious lighting techniques. Don't miss the picture room - and ask the staff to open the panels for you - and the room turns into a balcony looking onto the basement! Tip: the staff can be very friendly and informative. Just be confident and not afraid of asking questions! Text panels and plaques to inform you about what you are looking at are few and far between, (to preserve the house as Sir John Soane intended it), so the staff are there to fill you in instead!
This venue is a treasure in the heart of London and their staff / volunteers are so knowledgeable and dedicated. I always enjoy returning here again and again.
This is a real hidden gem in London. A very quirky museum that makes you feel a bit like a child in a sweetshop - there are so many incredible things to discover! Go there on the first Tuesday of every month: from 6pm the lights are switched off and there is candlelight everywhere. It's magical and a beautiful experience.

Probably one of my favourite museums in London. Been there a couple of times and discovered something new every time. It's not only for architecture enthusiasts as it has a wide collection of statues, paintings, books. the house itself is a quirky gem.
Recommended for everyone who likes a bit of history, but can't be asked to walk around it for four hours.
Bonus- as many museums in London it's free, but you might experience a short queue at the entrance.
very tranquil & great architecture
A celebration of the Great British Eccentric, with intellect, beauty and curiosity. Hurrah for Sir John Soane, whose museum is a haven and sanctuary from economic, driven hurly-burly.
My favourite London museum, this place is packed with personality and is a truly unique destination in London.
You imbue the history of Georgian era London just walking through these amazing rooms, make sure to ask a member of staff to direct you to the picture room to see A Rake's Progress by Hogarth. A morality tale par excellence.
By appreciating Soane's possessions and interests you leave with a real sense of the man he was and his practice as an architect.

Make sure you donate to keep this gem open to the public.
If you can, try and visit on one of the evening openings when the house is lit by candlelight, it's simply magical.

One of the worst experience of my life! Long queues that do not move, and the rudest staff I ever encounter! Having working in customer services for more than a decade, I can not see how are their employees allowed to deal the public at all. Only go there if you wanted to stand in the cold for hours and get shout at by their members of staff!!
this museum is a dying breed... I had half an hour to kill and wanted to quickly pop round. The very officious and brusque doorwoman forced me to turn off my mobile "we're a museum!" and then tried to get me to decant the entire contents of my bag into a plastic one. No thank you. Treat your visitors with a bit more respect and they'll respect you. Here's hoping the management changes soon; I won't be back before then.