The Time Out guide to country music
Here's a layman's guide to the Nashville sound
By Jonny Ensall Tue Mar 12 2013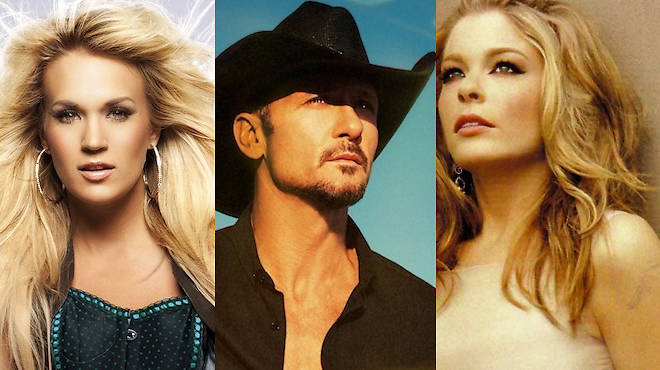 Carrie Underwood, Tim McGraw, Leann Rimes
Age
As old as the hills. Country came down from the US Appalachian mountains in the early twentieth century. The first records were cut in Atlanta in the '20s.
Sounds like
The freedom of the open road; the ache of a lonesome heart.
Origins
The Grand Ole Opry is a one-hour radio 'barn dance' that began in 1925 in Nashville, and continues to this day. It helped make the Tennessee city synonymous with country. Stars from Patsy Cline to current heavyweight Tim McGraw (above) have passed through Nashville, and drawn on its poppier sound, en route to superstardom. Nowadays, at the multi-platinum-selling end of the genre, the line between the lonely cowboy/girl's lament and the pure pop ballad is thinner than a hickory switch.
High point
Hank Williams, Emmylou Harris, Johnny Cash – country music's greats have a visceral edge when it comes to capturing the pain of loneliness.
Low point
Garth Brooks following up 130 million album sales by adopting a bizarre rock alter ego, Chris Gaines (complete with wig and soul patch), for an ill-fated side project in 1999.
Significance
This weekend some of America's top warbling stetson-wearers are heading to the O2 for a new two-day country music festival. Headlining the first night is McGraw – a dusky-eyed serial chart-topper, who's overtaken Billy Ray Cyrus and Garth Brooks as the man with the achiest, breakiest heart in country (key track: 'Live Like You Were Dying'). Closing things will be Carrie Underwood, 'American Idol' winner in 2005 and singer of sassy and occasionally Christian-themed ballads (key track: 'Jesus, Take the Wheel'), with late-'90s crossover star LeAnn Rimes in support.
Legacy
They may rule the plains, the airwaves and the sales charts across the Atlantic, but country icons have traditionally failed to make the same inroads in our quaint little rock 'n' rolling country. But, if they can conquer the O2 this weekend, perhaps they can conquer the European market – then they'll all be richer than possum gravy.
---