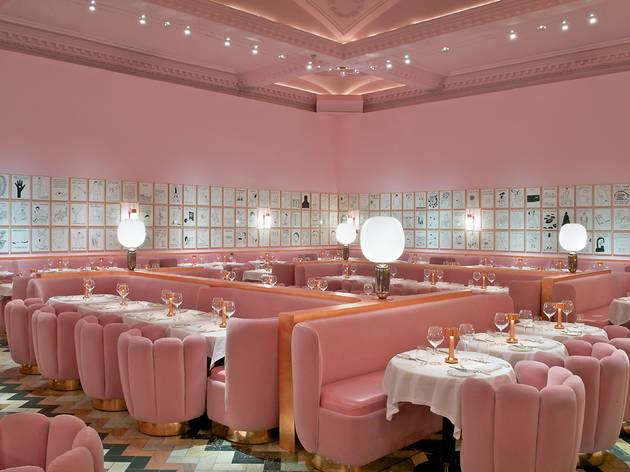 Close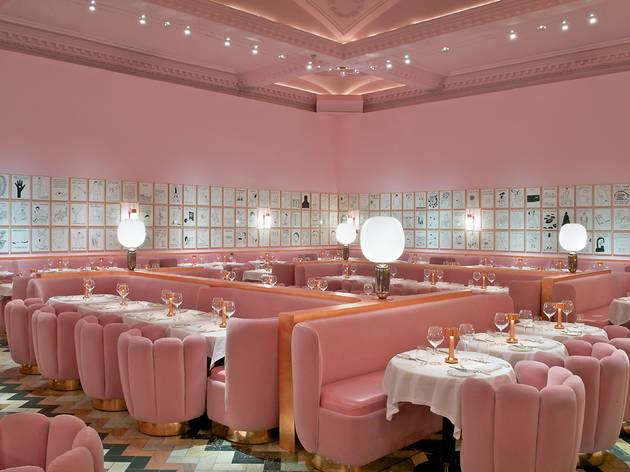 1/7
2/7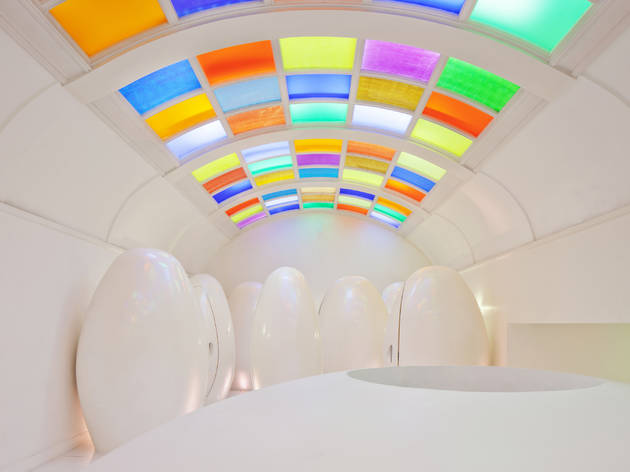 3/7
Ed Reeve
4/7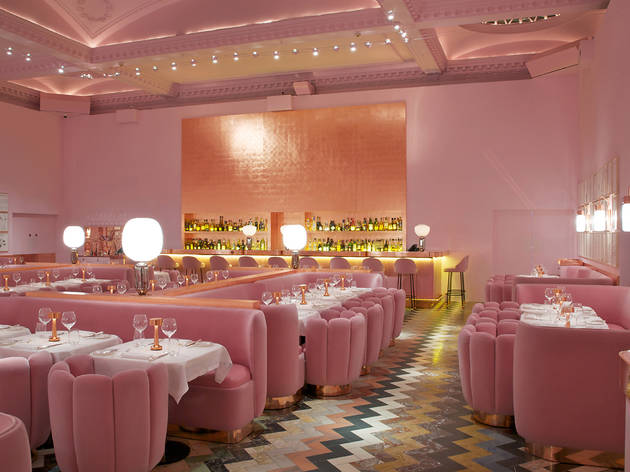 5/7
6/7
7/7
'Why have less when you can have more?' is the attitude at Sketch, Pierre Gagnaire's wonderfully OTT gastronomic playground for well-heeled scenesters. Now a decade old, the Gallery (the more casual of Sketch's two main dining offerings) had a revamp in early 2012, with input from Turner Prize-winning artist Martin Creed. Since then artist David Shrigley, another Turner Prize winner, has put his own stamp on the restaurant space. Shrigley's work is everywhere. The walls are adorned almost edge to edge with Shrigley's strange, funny and often satirical childlike drawings. You can season your food with Shrigley designed shakers including 'dirt' (pepper), 'dust' (salt) or 'nothing' (true to its label, it contains nothing).
Gagnaire has overhauled the menu, but has kept the trademark global vibe, drawing on influences from Japan, Italy, Spain and Britain – all underpinned by French cuisine. Modern classics, such as the 63ºC egg, conceived by French chemist Hervé This, are a strong suit, but Asian-inspired dishes don't always hit such culinary high notes. There's a proper sense of creativity to the menu, from a sea bass paillard with artichokes and seaweed to the playful 'big mac' dessert – a lemongrass macaroon on sweet wine jelly with grapefruit marmalade.
It isn't cheap, but if you scour the menu, you'll find items less taxing to the wallet. The wine list is imaginatively chosen, and service is sweet and switched-on. Ten years on, this is still a place with wow factor.
More
Less
sketch Gallery says
sketch Gallery, a vibrant gastro-brasserie, is sketch's artist-conceived restaurant.

Dinner: 6:30pm-2am (Mon-Sat), 6pm-midnight (Sun).
Afternoon tea: 12:30pm-4:30pm (Mon-Sun).

Celebrated British artist, David Shrigley, has transformed the Gallery at sketch as part of a long-term programme of artist-conceived restaurants. 239 new works line the restaurant's walls, forming the largest group of original drawings Shrigley has ever exhibited.

The Gallery is open seven days a week for afternoon tea and dinner.

India Mahdavi, who has created a backdrop for David Shrigley's artwork, conceived a soothing, monochromatic, strikingly comprehensive interior. The classic, almost bourgeois design invites a deliberately playful contrast with the witty, outré art works - all is most certainly not what it seems. While matching sketch's delight in the avant-garde, this harmonious disorder breaks with the Gallery's usual eclecticism.

The exhibition continues on the restaurant tables. Shrigley has understood the dining table as an auxiliary exhibition space, a platform for the presentation of new work by himself and our master chef, Pierre Gagnaire.

The work comprises new ceramic tableware featuring Shrigley's distinctive, mordant drawings and texts, in a holistic interaction with Gagnaire's food. The meal itself becomes a site-specific sculptural work that references sketch's location in the heart of London and invites diners to respond with their thoughts and reactions.
More
Less
Venue name:
sketch Gallery
Contact:
Address:
9 Conduit Street
London
W1S 2XG

Opening hours:
Dinner: 6:30pm-2am (Mon-Sat), 6pm-midnight (Sun). Afternoon tea: 12:30pm-4:30pm (Mon-Sun).
Transport:
Tube: Oxford Circus
Menu:
View Menu
Do you own this business?
Average User Rating
3.7 / 5
Rating Breakdown
5 star:

16

4 star:

6

3 star:

7

2 star:

2

1 star:

5
Sketch's dusty pink Gallery is as beautiful in real life as it is in the photographs. Being no stranger to an Afternoon Tea (it's the 'go to' present when stumped for a birthday gift!) I didn't expect to be as wowed as I was. But the food was delicious, the staff were delightful and the toilets were strange. All in all, a perfect way to spend a Sunday Afternoon.
inside a Wes Anderson movie... the location, the building and the design are amazing, in the restaurant everything is so pink and retró, every room is a new discovery! the food was good, but too too expensive. I didn't like at all that they need your credit card for the reservation, and if you have more then 20 mins delay they charge you 30 pounds per person!
I rang to book a week ago and I was told that I didn't have to book for the 'parlour' room therefore we didn't and I came today (we travelled 2 hours to come) and the woman at the front desk was so rude, she told me they were fully booked and I explained how I rang and they told me I didn't have to book I could come whenever and the woman said there's nothing they could do and acted in a very unpolite manor, I was very excited to be coming and had been looking forward to it for a while and had travelled just to go to sketch - I will not be coming back.
My wife and I went to the sketch Gallery for our 9th anniversary as a couple as we had heard it was the new fancy place to go to.
We arrived there just on time but unfortunately they didn't have a table ready for us (it was Wednesday and it was packed) so they kindly invited us to wait on the bar and have a drink. We were 10 minutes or so later take to our table by a very pleasant lady who apologized for taking so long. We ordered our food and they brought it quite quickly.
I went for the tuna sashimi which turned out to be something closer to tiradito than actual sashimi. The fish was actually pretty good and the cheese in camouflage between the threads of cabbage came through very nicely. The dish was surprisingly big and the flavour of the avocado fit really well with the rest of the ingredients. However, after having half the dish you already start to feel it's a bit too much for a starter.
For main dish (or maybe I should say seconds as the starter one could do as a main) I got the sirloin, medium-rare. Very tasty and well cooked. Nothing really special about the meat itself. The garniture was nice when eating it along the meat but not so nice if you dipped some bread on the remainders. Both my wife and I agreed that having some chuncks of rock salt on top of the sirloin would've made it a much better dish.
In regards to the venue itself, I must say that the staff were very nice and helpful. It took a while for the sommelier to show up but as we didn't intend on drinking wine it did not matter to much to us. I found the place itself a bit too dark even for dinner. The place was packed so it being noisy was something to take for granted. But maybe the fact that people were taking selfies to show off rather than enjoying their meals made me feel the venue was more a place to go to just for posing than enjoying. Once the buzz has cooled down we might drop by again and enjoy the diner with less presumptuous crowd.
My husband and I had dinner last week in this restaurant to celebrate our anniversary. Upon arrival the mâitre took care to call someone to take our coats and to ask the hostess to guide us to the bar as our table was't ready yet. We ordered some fancy mocktails (tasty but pricey considering they were basically a fruit juice mix) while we waited but less than 5 minutes later we sat down at our table.

We both ordered starters and main courses, and we found that the portion sizes were bigger than we expected, meaning that we had no room left for dessert :-(
In general, all the dishes were quite good, unfortunately all of them had a tiny 'but' (i.e. my main veal course had some red cabbage on top that added nothing to the dish, and was too hard to eat, and my foie gras started had some tasteless jelly cubes).
The room is gorgeous and very modern and because I personally love pink, I think that it's great, but for some people it might be a bit too much. The only problem with the decoration was the dim lighting, that prevent us from seeing the contents of our plates as clearly as we'd have liked.
Finally, all the staff were extremely polite and pleasant, and even though the restaurant was full, we didn't need to refill the water in our glasses even once, or even flag down a waiter to ask for anything as there seemed to alway be somebody attending the tables around us.
Overall was a great dining experience and we hope to go back someday, though we'll be more careful with the ammount of food that we order.
An experiance to remember. Stunning interior. Wonderful staff and great food/beverages.

Wow. Wow. Wow. I took three friends visiting London for Afternoon Tea at Sketch and we were all simply blown away by the food, decor and the entire experience, which included going to the toilet inside an egg whilst listening to farm animals. Upon entering he venue you are immediately impressed by the decor, grand, luxurious and attention to detail, as you walk from room to room into the Gallery each one has been well thought out and has something different to offer. When you enter the Gallery, you are immediately taken with how very pink and luxurious it is, like stepping into the 'Beauty School Dropout' video from Grease, everything from the velvety pink chairs to the staff uniforms are simply magical. The Afternoon Tea was 10/10 and remains the best one I have experienced in London. Every single food item from the quail egg and caviar finger sandwich to the Earl Grey macaroon is so incredibly delicious, well thought and with incredible attention to detail, that we all ooed and ahhed over every mouthful! The service is impeccable and you really feel spoiled. They top up your tea as much as you like, not to mention bring your more of your favorite finger sandwich or sweet delight. The toilets - they need a review of their own, so I'll leave that one as a pleasant surprise :)
Had an amazing time here. Staff are so friendly and the venue is incredible. The cocktails were perfect
The Gallery no longer looks the same as the picture above, but has had an overhaul by Turner Prize nominated artist David Shrigley - hundreds of artworks cover the pink walls, and it's the perfect setting for afternoon tea. Highly recommend - some afternoon teas in London are tacky; this is far from it.
I found Sketch by Googling "strange restaurants London" in a frantic last-minute search for my birthday dinner venue, and boy am I glad it was as magical a venue as I was looking for. The first mystery: Where IS it? In place of a sign is a dog statue crawling down the wall. The interior is funky hotel chic, but with hopscotch chalked onto the floor. My mind continues to remain boggled at how the Gallery manages to look classy artsy even though everything is mismatched. Everything. Sofas and chairs, tables, glasses, cutlery, all bedazzled by a pepetual light show. It's what my ideal dining room would look like, only I doubt I can ever achieve its elegant modern wonderland-esque quirk. As for the toilets, I can only reveal that Sketch continues to impress, but I'll leave that particular surprise up to you to experience. While Martin Creed's atomosphere makes me completely giddy, I have yet to sample amazing food there, but only, I imagine, because it's a meat-heavy menu and I am vegetarian/vegan. That said, I haven't fully explored my options. I can, however, fully endorse the Sketchup. [homemade ketchup, in case you didn't get that.]. I send all London-bound friends to Sketch. It's fine dining, a top notch London adventure to be had.
I couldn't disagree more with the comment from Antony. I have been here a few times and am a huge fan of the Afternoon Tea offering here. The quality of the food is impeccable, the atmosphere is always very good with people often in awe of the room decor and fabulous twist on the traditional English Afternoon Tea. The service is always very good and the staff are incredibly knowledgeable about the food they serve. They are also very accommodating for dietary requirements. I simply couldn't fault this place and is worth the extra few £s compared to mediocre restaurants. It's worth noting the decor is art and well inspired. I'm not sure they're going for 'ordinary' or cheap wine, which for many occasions is fine, but this is why chains exist. I would highly recommend this to anyone who enjoys great food.
Very poor dining experience... generally overpriced, the wine (which cost over forty pounds for the bottle) was barely drinkable and the decor like waking up in a mid-60s nightmare, with extra pretention. Not going back any time soon.
DISAPPOINTED! Service team and managers were terrible!
We came just for drinks, stayed at the bar area only where I wanted to celebrate into my 26th birthday with a small group of friends.
At some point, one of my friends led me outside because another friend was waiting there with a sweet air balloon saying 'happy birthday'. She was not allowed to enter with the balloon inside the 'oh so fancy sketch' because it does not reflect the environment (fair enough!). However, the way all of this has been communicated was incredibly rude and not the sort of level you would expect at such a place! (And we both know what we are talking about, both working in luxury fashion head office!) My friend started to cry because of the unfriendly interactions with the staff so I wanted to speak to the manager right away. He simply said 'I apologise for this', which he kept saying to me instead of apologising to my friend - but he clearly did not care so that was it for him. You would at least expect some sort of compensation but none of the sort!
So we were forced to take the balloon to the cloak room.
Wanting to try to make the best of the rest of the evening, we returned to our seats and you can imagine the daunting atmosphere all of us already had! Shall we stay, shall we just change venue? We stayed and the situation was not improved by having to wait forever to order drinks and then again having to wait forever to receive our drinks.
At 11pm or so a waiter decided to bring me a happy birthday plate with a candle although my birthday wasn't until after midnight (and I am German and it is considered bad fortune to do this before your actual birthday!) So we did not touch the plate until midnight. At midnight, my friends then asked the staff if they could have another candle so we could do it properly. For some reason they wouldn't so that was just another bummer.
Then, we observed the waitresses engage with other guests in the most absurd way, which got me thinking - I am not allowed to have a classic birthday balloon in the bar area because it does 'not reflect the environment' but the staff can act like monkeys? Ridiculous!
I have always been wanting to go to sketch and I was super excited for this day! But no one looked after us properly, no one was accommodating us or tried to be pro active with us. It was a horrible experience and I did not enjoy my birthday at all! I am so disappointed and upset that sketch has ruined this occasion for me completely.
Clearly well thought through interiors and many quirky features, a glam in-crowd, good music, a buzz to the place and friendly staff. Unfortunately the the food was truly dreadful- totally lacking any complexity or sophistication at best and sickly and unpleasant at worst. I'm sad to say some of the worst food we've eaten in a very long time, and at £420 for four adults and two kids not an experience to be repeated. I'd rather eat in KFC!